In the ring: Previewing Mayweather vs. Pacquiao
When people think of sports in the United States, baseball, basketball, football and hockey are the ones that immediately come to mind.
But on May 2, none of those sports will matter. This day will belong to boxing.
Billed as "The Fight of the Century," Floyd Mayweather, Jr will fight Manny Pacquiao at the MGM Grand Garden Arena in Las Vegas, Nevada. Not only will this tilt be the most televised sporting event of the year, but this fight has a chance to make history. Not only because of the two fighters, but because of the hype.
This fight has been in the making for six years and there a lot of people, including myself who, honestly, never thought it would actually happen. It's hard to explain to non-boxing fans just how important this fight is.
The 38-year old Mayweather, Jr has a perfect record of 47-0, with 26 knockouts. A few years ago, The Ring Magazine listed him as the No. 1 pound-for-pound fighter in the world. He is a five-division world champion, having won ten world titles.
Often referred to as the fastest and quickest fighter in the history of boxing, Mayweather also won the lineal championship in four separate weight classes. The man is a boxing genius and is one of the best defensive fighters ever. Guys who have fought him in the past claimed to have had a game plan to beat Mayweather, but when they step in the ring, he's even better than they thought.
He truly is amazing to watch. Many people get bored watching Floyd Mayweather fight. But why?
It's because he's like a robot. His footwork, hand-speed and anticipation are outstanding. He is a fundamentally sound boxer, and people get bored very easily. I mean I understand why, but he's a defensive fighter.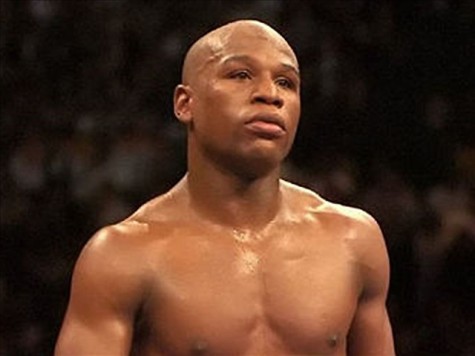 Take the San Antonio Spurs of the NBA for example. Basketball fans watch the Spurs play and simply aren't entertained. They see great passing, great defense and simple plays. But if you watch the Los Angeles Clippers, you'll see a highlight dunk every other play. Yeah, watching the Spurs may be boring to most, but they get the job done. It's the same thing when it comes to Mayweather, Jr. He isn't exciting to watch all of the time, but he gets the job done, hence, his undefeated record.
Pacquiao will be Mayweather's toughest test yet and it's not even close. The Ring named Pacquiao the world's second best pound-for-pound fighter, just behind Mayweather. Pacquiao holds a record of 57 wins, five losses and two draws. 38 of his 57 wins came by knockout.
Many believe Mayweather has been running from Pacquaio for the better part of six years. Yes, I do think if Mayweather truly wanted this fight to happen six years ago, it would have happened, but with that being said, there isn't anyone in the world that can convince me Mayweather is scared of Manny Pacquaio.
No way.
A lot of people may call it "an excuse" but there was plenty of chatter of Pacquaio being linked to steroids and PED's. During Pacquaio's prime, Alex Ariza was his conditioning coach. Freddie Roach, his trainer, said Ariza use to give Manny 'special' drinks before workouts.
According to Roach, Ariza would never tell him what was in those drinks, and Roach said, "one of the reasons I don't work with him [Ariza] anymore is he's a little shady," according to kdramastars.com.
That's basically code for saying Pacquaio wasn't clean, which definitely caught people's attention, specifically Mayweather. I don't blame him for not wanting to put his perfect record on the line against someone who may not be doing things the right way, especially someone of Pacquaio's caliber.
With all of that being said, here are four reasons why Floyd Mayweather will defeat Mr. Manny Pacquaio.
1. Defense: All we ever hear about Floyd Mayweather is how great his defense is. But until you actually watch him fight, you can't really appreciate how special he is. The famous "shoulder roll" is something Floyd has mastered over the years. The shoulder roll makes it almost impossible for his opponents to land punches, but even if a punch is landed, it's not with full power. The less you get hit, the longer you last in the ring.
Pacquaio will be the aggressor all night long, so Mayweather has to prove that Manny just can't throw whatever he wants, whenever he wants. Floyd has to set the tone. Mayweather is one of the best counterpunchers in the history of boxing. Pacquaio has been historically known to struggle with fighters who are good on the counter and at the end of the day, Mayweather's defense will be a huge reason why he prevails.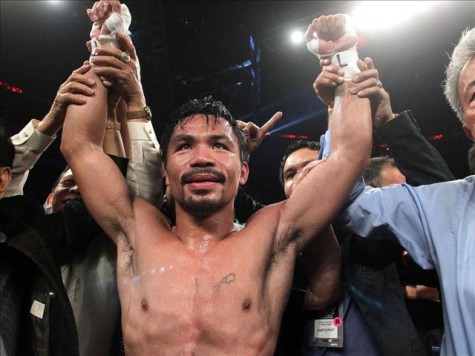 2. Speed: Mayweather has had the speed advantage in every fight he's ever been in. This one will be no different. Pacquaio has more power, but speed beats power every single time. Don't get me wrong, Manny is very, very quick with his hands.
With that being said, Pacquaio will get tired over the course of the fight because he throws a lot of punches. Mayweather will take advantage and you know what they say about speed, right? It kills.
3. Tactics: Boxing is a tricky sport because you may think you have an opening one second, than a second later, it's gone. Baiting is something that fighters do all the time. Mayweather baits by getting his opponents to lean forward and throw their jab. Floyd will then pull, and counter with his right hand.
The peek-a-boo style is something Mayweather has mastered, but will be slightly more difficult against a southpaw. Mayweather will backpedal, making his opponent think they have him where they want him, but in reality, he is just setting up for his next move. That's the key with Floyd. Nobody makes in-fight adjustments like he does and it's little tactics like that which give him an edge.
4. Legacy/will to win: The outcome of this fight will obviously make a huge impact on both of these guys. If Pacquaio wins, he would be handing Mayweather the first loss of his career. Pacquaio would also be able to say he proved his own theory that Mayweather is overrated. Mayweather? He knows what's at stake. Not only is his undefeated 47-0 record on the line, but his legacy and reputation will change for the better or worse come May 2. Floyd is training harder than he's ever trained for a fight in his lifeand he's resorting back to training tactics he used when he was a kid in Grand Rapids, Michigan.
Personally, I think Mayweather will retire if he wins this fight. He has nothing left to prove. Beating the No. 2 ranked Welterweight fighter in the world would be the icing on the cake for Floyd and his team. As much criticism as he gets for flaunting his wealth, there is nobody who is as serious about his craft as this man. He's a smart guy and knows Pacquaio is a different animal. If there's one thing that means more to Floyd than money, it's his desire to win and be the best ever…which he is.
Would I be shocked out of my mind to see Manny Pacquaio win?
Not really.
But if Manny were to win, it's not going to be by knockout. And if you take the amount of punches Manny throws a fight, and put that up against Floyd's speed, it's unlikely he's going to win by decision.
My prediction: Mayweather def. Pacquaio, split decision.