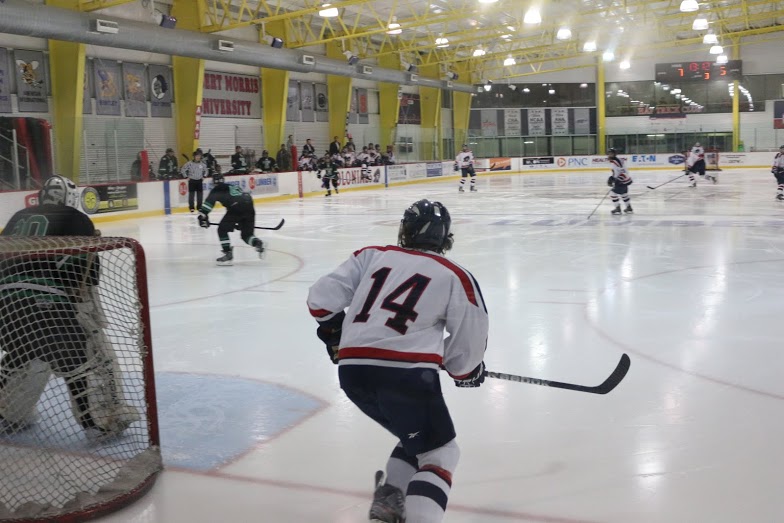 Kristen Kudla
After a weekend of exciting wins, the RMU ACHA DI hockey team took over 84 Lumber Arena in hopes of roaring past the Slippery Rock Pride. Between both teams, a total of 14 goals were recorded, with several players having multi-point nights.
"It feels good, it was a team effort and I couldn't have had the production I had without the great linemates and teammates around," said captain Wes Heinle. "The credit really goes to them for just allowing me to be in good positions and take advantage of that."
With a lot of physical play right out of the gate, it was a fight for the early control. The Pride would pounce first after Alex Shimoloens scored a power play goal just a little past the halfway mark of the first period.
The Colonials would capture two goals from Heinle and Alex Dagnal coming 27 seconds apart, putting them up 2-1 with 2:51 remaining in the period.
SRU, however, had different ideas when T.J. Grahl tied the game with 55 seconds left.
The second period began quickly with SRU scoring their third of the evening at 19:43. RMU would respond with Randy Unger scoring. Heinle claimed a hat trick after scoring the next two for the Colonials, and that wouldn't be all for the senior, who scored his fourth goal at the 6:55 mark.
Thomas Kisela would score the sixth goal, which resulted in a goaltending change for the Pride. With the change in net, SRU would find the back of the net with both a shorthanded goal and a goal during a five-on-three opportunity.
Kisela's goal was his second game winning goal of the season.
"It feels good, especially the one today, it was good work by Lister I got to the point, I think Boyer slid that one over and Cleary with a shot on the net stood in front and found me," Kisela said of his goal.
Justin Reher would find himself in the box along with Josh Mccuean for roughing. Mccuean also received a 10 unsportsmanlike misconduct.
After two, the Colonials were up 7-5.
With the final frame underway RMU continued to come on strong with Reher and Cassidy Galeone finding their way onto the board just 26 seconds apart. Those would be the only goals as play continued, leading to a prideful 9-5 win.
"We've been rolling as of the second semester and we want to continue that till the end of the regular season," said Heinle. "We got a great game in mind, and we're pretty close. If we keep that in perspective, we can keep that going into the next weekend against West Virginia and Duquesne."