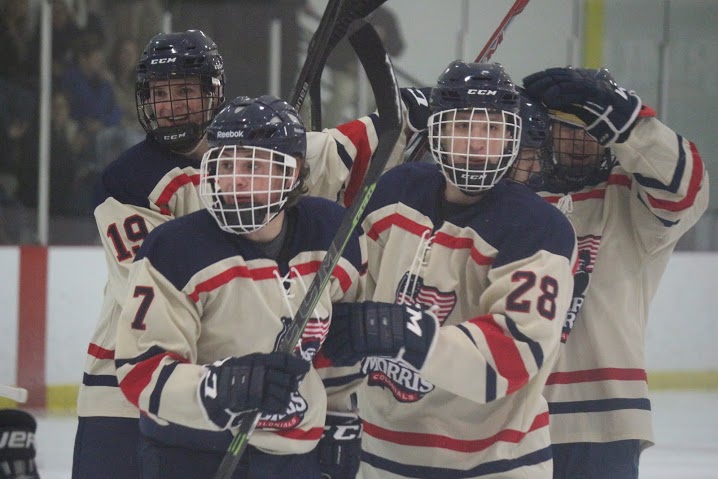 Kristen Kudla
After a 9-8 loss Friday night the RMU ACHA DI Hockey team looked to a new night and new opponent, with high hopes of turning the weekend around. With heightened emotions, the Colonials bounced back and took an 8-2 win from Saturday's game against Rochester Institute of Technology.
Tonight's game came with several changes to the lineup, with the Colonials starting 3 freshman forwards — Jordan Gayso, Ben Kelkis and Nick Mummau. With sophomore Nick Fischer and junior Cody Brightbill on the blue line and Alex Blum got his first start in goal.
"I try to lead by example as much as I can," said Andrew Lister. "So to just try and get the team going off on the right foot here at the beginning of the game, it hopefully got us going."
Andrew Lister would start the scoring off at 17:10 with Kurt Schmidt collecting an assist on the goal. Lister's lone goal would be the only tally of the period giving the Colonials the lead heading into third.
With 1:23 remain in the first, Gayso took a checking from behind penalty which carried into the second period. Giving RIT a 37 second man advantage, they would fail to put the powerplay to good use. Justin Rehrer scored two back-to-back goals about 3 minutes apart.
At the 13:12 mark, the Colonials would go in for the puck and within seconds the Tigers goalie Gavin Lewis was down on the ice. After a few minutes of being down, Lewis would be escorted back the RIT bench and replaced with Curran Allison for a short while later. RIT would score their first point of the night at 10:56, but RMU's Travis Reece would respond with an unassisted goal. To finish out the period, Dallas Savoy scored a shorthanded goal with 39 second remaining putting RMU up 5-1 after two.
Brett Berner, Reece and Mummau tallied goals six, seven and eight during the final frame. On the other end of the ice the Colonials opted to put in freshman goaltender Jake Muzik who played the last 20 minutes against RIT and gave up one goal late in the period. Both Blum and Muzik held down the fort while the team came up big for them as well.
"It feels good [to get my first game in]it feels good to get that first game off the back. It's just a big win for the team coming off a loss last night," said Blum. "It's kind of tough to turn around really quick with that, but the guys showed up tonight and mostly did all the work for me, I didn't have much to do."
The team will host conference rivals Slippery Rock University next Friday and then travel to take on Penn State University. The squad looks to build off of this weekend's games to help guide them in the right direction.
"Those are going to be two really good teams Slippery Rock, being in our conference and all," said Lister. "You just can't take nights off you got to go in every game play your hardest you can, you can't play down the teams, you just have to play your game and come off strong."