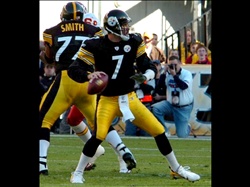 GNU Image
After a short week, the Pittsburgh Steelers were a no show at M&T Bank Stadium Thursday night. They did not play a good game or even half of football against the Baltimore Ravens and lost 26-6. This week to say the least was… "Bad", but at least we can say it was just the 2nd week and there are plenty of games to go. Then again, this was a division rivalry game and the Steelers didn't even make the game competitive.
The Steelers received the ball 1st to start the game and their opening drive looked very promising. After a slow looking start, the Steelers got a gift from the football gods and got a bullsh*t Roughing the Passer call after Ben Roethlisberger took a big hit from Courtney Upshaw. It seems now that when you get hit hard it's always a damn flag. The refs look at each other like "Jesus Burt! Did you done see that hit? These here guys are' sum football players they can't be dern that! Derrr go ahead and throw the flag for Roughing the Pads… I mean Passer." Anyways, the Steelers ended up going 64 yards and into the redzone and chewing up 8 minutes of the clock on that drive. The end result you ask? ZERO, (0), z-e-r-o points were scored. Actually what happened was the second year receiver Justin Brown would fumble the ball at the 15 yard line and with that, I had a feeling deep down the Steelers fate was going to be decided right then and there off of that fumble. The Steelers had nothing really going for them after that drive that night.
The Ravens would put together a touchdown drive off of that fumble, going 85 yards on 12 plays in just under 6 and a half minutes and also add a field goal with 8 minutes left in the 1st half to make it 10-0 Ravens. The Steelers were not totally out of it yet though, they managed to put together a field goal drive just before halftime. The key play on that drive was a Le'Veon Bell run for 21 yards that got the Steelers down to the Baltimore 33 yard line. The Steelers ended up stalling at the Baltimore 7, forcing them to kick a field goal to make it 10-3. That would conclude a very unsatisfying 1st half, but a typical one for a Steelers Ravens game. Unfortunately, the 2nd half would not be the typical 2nd half of a Steelers Ravens game that one would be accustom to.
The 2nd half was a complete wash. The only bright spot was the beginning of the 3rd quarter. The Ravens got the ball 1st to start the half and the Steelers defense came out with a full head of steam and forced a quick 3 and out. The Ravens 1st drive only lasted a minute and a half and they went backwards 9 yards. After the Ravens had to punt out of their own endzone, The Steelers had a short field to work with. They drove up to the Ravens 21 yard line and on 2nd and 5, Big Ben took a costly sack and it forced them into a 3rd and 12 (they did not convert). Easy Suisy ended up knocking down a 43-yard field goal to make it 10-6 Ravens still up. After that it was nothing but disaster. The Ravens would end up scoring on their next 4 drives each and the Steelers never had and answer. Penalties and turnovers killed the Steelers in the 2nd half and the Ravens just kept adding on to their lead. They ended up making it 26-6 and would ultimately win by that score.
A very disappointing night for Steelers fans all over. Most I'm sure were wondering why they completely did not show up in one of their biggest games not only as a divisional game but a rivalry game as well. We all are wondering what the sh*t is wrong with the defense and I am wondering in particular, why haven't the Steelers drafted a solid DB or even sign one in free agency. It is painfully obvious the secondary has not been getting the job done, especially on 3rd downs. Also, where the hell is their 2nd round draft pick Stephon Tuitt? They must have some reason for picking him in the 2nd round right? Instead of starting him, they have Cam Thomas, a 5th year guy out of North Carolina getting blown off the line almost every play. The Steelers must pick it up if they want to avoid the same fate as last year. The defense being played right now is unacceptable and needs to improve and improve quickly; otherwise it may be a very long year for the Steelers and their fans.
Positives: (not too many)
It's still early, no one was expecting the Steelers to go 16-0 at least I hope not but people must give them time and see if they can pick it up and improve
Bell didn't go for 100 yard but he did show some promising runs and with solid blocking, he can really take the Steelers running game to a whole new level.
Negatives:
Penalties were killer again… 9 penalties would cost the Steelers 75 yards (17 penalties for 130 yards thru 2 games)
Bad tackling on defense and no push from the defensive line (3 sacks thru 1st 2 games)
Secondary gave up some big plays on key downs
Offense did not score touchdowns and take advantage with their opportunities and the turnovers really hurt them.
Justin Brown did not look ready to be a starting WR with his costly fumbles and a couple of drops (Veteran Lance Moore should be starting for him next week coming back from an injury)
Next Week's Matchup:
At Carolina against the Panthers… Oh god. I must admit I am not really looking forward to this game seeing as how the Steelers don't play very well on the road and the Panthers have a great defense and Cam Newton may be a tough challenge for the Steelers defense to stop. This game will be primetime Sunday night at 8:30 on September 21st. Tune in and see what Steelers team will show in Carolina!
PS: Earlier I made a joke about the refs in the NFL and a call from this game. Note that Ed Hochuli was reffing this game and I love Ed, he is by far my favorite reff. I would like to say that I would never question Ed and his judgment and ability not only because he is my favorite, but also because he would kick my ass and he would probably kick your ass too.