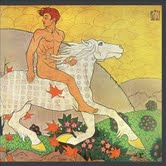 Originally released in 1969, "Then Play On" was Fleetwood Mac's third studio album and their debut with what would become a long relationship with the label Warner/Reprise.
The album marked a change in the band; founder Peter Green would depart the group after the album, and guitarist Danny Kirwan joined the group as tension grew between other guitarists Jeremy Spencer and Peter Green.  Spencer, who was still a member of the group, did not perform on the album.
Without Jeremy Spencer's influence as a songwriter, the group decided to record a number of songs written by newcomer Danny Kirwan.  The track-list of the original album consisted of songs composed by Kirwan and Green.
"Then Play On" was a sign of what the future had in store for Fleetwood Mac.  The influence of blues and rock music are emphasized on songs such as "Rattlesnake Shake," "Searching For Madge," "Fighting For Madge," "One Sunny Day," "Coming Your Way," and "Show-Biz Blues." Songs on the album such as "Oh Well" and "Rattlesnake Shake" became staples at concerts and other live performances.  The song "Oh Well" became a huge hit for the band, that it was continuously performed at concerts year after year. The song was even performed live during the Buckingham/ Nicks era.
The newly remastered deluxe edition of the album features the original running order from when the album was released in England.  The United States and British release varied with a different running order and a couple different songs.  At the time, Fleetwood Mac had released numerous singles that gained the group popularity not only in England but the United States.
One of those singles, Peter Green's composition, "The Green Manalishi (With the Two Pronged Crown)," is featured as a bonus track on the deluxe edition.  Another popular song and single released at the time "Oh Well" was featured on the original U.S album but not the British album.  The U.S. version featured an almost nine minute version of the song while the new deluxe version release features the song as it was originally released as a single; "Oh Well Part 1," and "Oh Well Part 2."
This album identified how the band would change in the near future.  Fleetwood Mac's album "Then Play On," set the foundation for how future albums would be written, produced, and performed.  In the years after, Fleetwood Mac would leave their roots as a blues band and move toward a rock and pop sound.