Apple Co-Founder Steve Wozniak visits RMU
On Wednesday afternoon, computer industry icon Steve Wozniak spoke at a standing room only crowd at Robert Morris University's International Suite inside the Charles L. Sewell Center. The presentation was part of the Pittsburgh Speakers Series, presented by the University itself.
Wozniak, the co-founder of Apple Computer Inc. with the famous Steve Jobs, spoke about everything from his love to computers, calling it, "the passion of my life" in his own words, as well as his time at Apple.
One of the first things Wozniak wanted to clear up was a major misconception.
"We never designed anything in the garage, it was all designed, put together, prototyped, made working in my cubical at Hewlett Packard," said Wozniak in response to the movie 'Jobs' that was released last year, and was about the life of the other founder of the ultra-successful company.
Wozniak even talked about his time with the late Jobs during a question and answer session, saying that, "Steve Jobs was the soul of the machine at Apple."
"Steve and I were a very lucky partnership," he said, due to Jobs' ability to handle the Public Relations side of the business while Wozniak focused on his love of engineering the actual product.
Throughout the question and answer session, Wozniak expressed his love for computers, with a tone of voice filled with passion. The words he spoke were filled with computer jargon that you could tell all made perfect sense to him, as well as his thoughts on the current usage and advancements of technology.
"We never, ever had an idea that life would be like it was. We used words like "everyone will have a computer," he said.  "But we thought it would be doing things that people really wouldn't buy a computer for to be honest."
Before the event wrapped up, Wozniak noted that the next big step for Apple Computer Inc. is to continue to put the human above the technology, as he put it.
The goal is to continue to make human to computer interaction more like human to human interaction.
About the Writer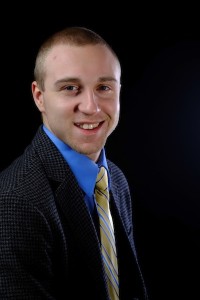 Vince Russo, Assistant News Editor
Vince Russo, a freshman communications major with a focus in journalism, is the Assistant News Editor of the Sentry, RMU's student-run newspaper, where...