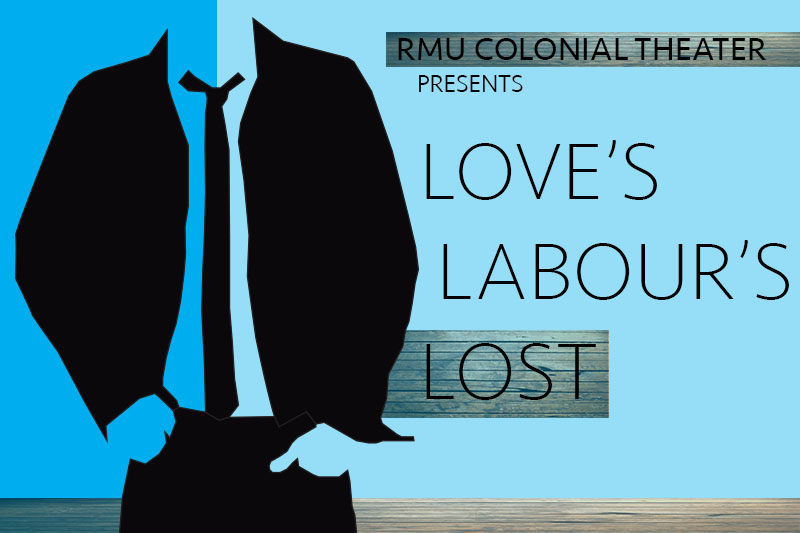 Tori Flick
Robert Morris University's Colonial Theatre is in the midst of production of a Shakespearean play, Love's Labour's Lost. The show runs in Massey Hall on Nov. 11-14 at 7:30 p.m. and a matinee at 2 p.m. on Nov. 15.
Love's Labour's Lost is believed to have been written in the mid 1590s for a performance at the Inns of Court before Queen Elizabeth I. It follows the King of Navarre and his three best friends.
"For me, I think this show is really entertaining and fun," said Ryan Wagner who stars as Boyet, who is described as "one of the girls." "It's a short show and it keeps you interested the whole time. The music is awesome and the content of the show is really funny."
The musical is one of William Shakespeare's early comedies. It is a madcap celebration of true love and coming of age. The plot is about four guys who swear off girls to focus on their studies, but each end up falling in love with girls. It is a refreshing modern twist on a classic Shakespearean comedy.
"I chose the show as part of the Colonial Theatre's Shakespeare project," said Barbara Burgess-Lefebvre, the director. "It is based on the Shakespeare play of the same title but is newly adapted into a musical by the same team that did Bloody Bloody Andrew Jackson which I directed at RMU several years ago."
RMU is doing a series of Shakespeare shows and classes as a part of the theatre's Shakespeare project. This years shows include Love's Labour's Lost, West Side Story and Romeo and Juliet. Burgess-Lefebvre is also offering a Shakespeare in Performance class in the upcoming spring semester.
"This adaptation puts a different spin on the classic Shakespeare play Love's Labour's Lost," said Jason Salamon who stars as, Dumaine, who is described as, a "classic old school Ivy League guy." "This rock show keeps the classic story while pulling in the contemporary audience."