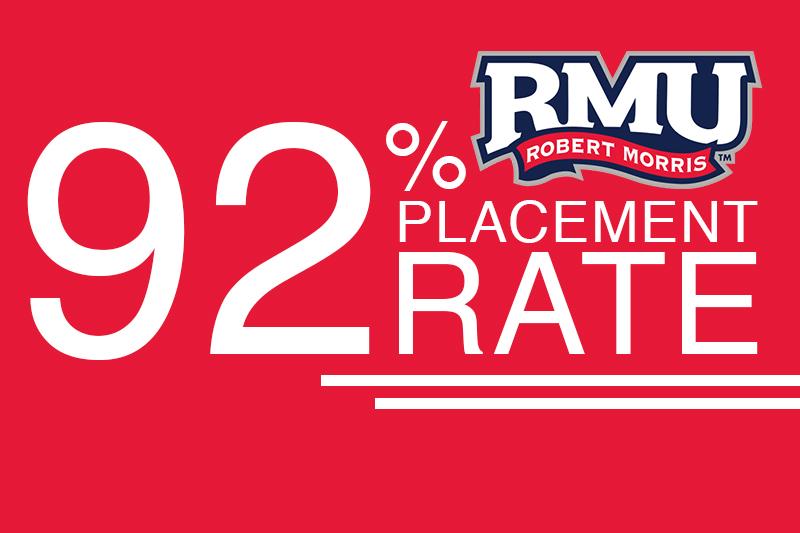 Matt Merlino
Robert Morris University proudly proclaims its job/graduate school placement rate as a top marketing tool. The number seen on numerous pieces of admissions literature, emails, and even a billboard is 92.
If you think that number is high, less than a decade ago, the placement rate was as high as 95 percent.
"That 92 percent comes from a survey sent out to graduates of within a year," said John Michalenko, vice president of student life at RMU, at an October town hall meeting. "About 80 percent of people respond, and of that 80 percent, 92 percent have started careers or are attending graduate school."
These numbers are more broken down on Robert Morris's university website. No school has achieved a success rate higher than 93 percent, while the RMU school of education and social services had the lowest rate at 88 percent.
According to the university's website, 87 percent of placed alumni find jobs or graduate schools in Pennsylvania. The next highest region is the Great Lakes where only four percent of placed graduates find themselves there.
Also according to the university's site, approximately 620 undergrads received their diplomas in 2014, which is the year all prior numbers were taken from. That was the highest number of graduates in RMU's 93-year history.
However, any time a survey is administered, it is susceptible to error. Common errors include non-response, negligence, and "overdoing it."
Examples of this could be: a student who throws away any RMU-related mail or deletes any email upon graduating, a student who simply does not care to respond, or a student who feels that there are too many questions and it is not worth their time.
"I don't think I ever got any type of survey. I definitely don't remember responding to it, and as a freelancer, I suppose I got a job in my field, but not exactly," said Evan Phillips, a 2014 graduate of RMU with a degree in graphic design. "But I'm sure there are a lot of successful people who graduated with me though, don't get me wrong."