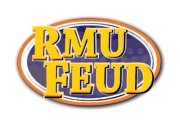 "RMU Feud" is the final project for COMM 4800, Media Management, at Robert Morris University. Based on the classic game show, "RMU Feud" will pit faculty vs. students in a battle of trivia wits. The 30-minute show will be broadcast live on RMU TV on April 23 at 7:30 p.m. AMC Center
Proceeds acquired from the show will benefit the Marco Giovengo Memorial Fund.  Marco Giovengo was a senior at RMU who, despite living with muscular dystrophy, made the most of his college experience. Marco passed away on March 16, 2012 in his apartment on RMU's campus.
Donations for the fund will be accepted at the door.
Help out RMU Feud by taking this quick survey https://www.surveymonkey.com/s/JHTDRZF