RMU sending more and more students abroad every year
October 28, 2015
Over the past few years, more and more Robert Morris University students have taken their education abroad.
Robert Morris has been sending out more exchange students and has seen an increase of students going on the Faculty Lead Education Abroad Program trips. There has also been an increase of interest from university professors proposing more FLEAP trips every year.
"I think students and faculty realize that what can be learned in an international experience is very worth while," said Jim Vincent, Rooney Scholar coordinator.
Over the last five years, the number of students going abroad has increased, and in turn is leading to more graduates that have went abroad. The RMU Class of 2015 had 150 students that studied abroad in almost 20 different countries. This was a 50 student increase from the RMU Class of 2014.
Robert Morris had the most students study abroad on exchange with 12 in the 2014-2015 academic year; which is a large increase from the 2013-2014 academic year with zero students going abroad.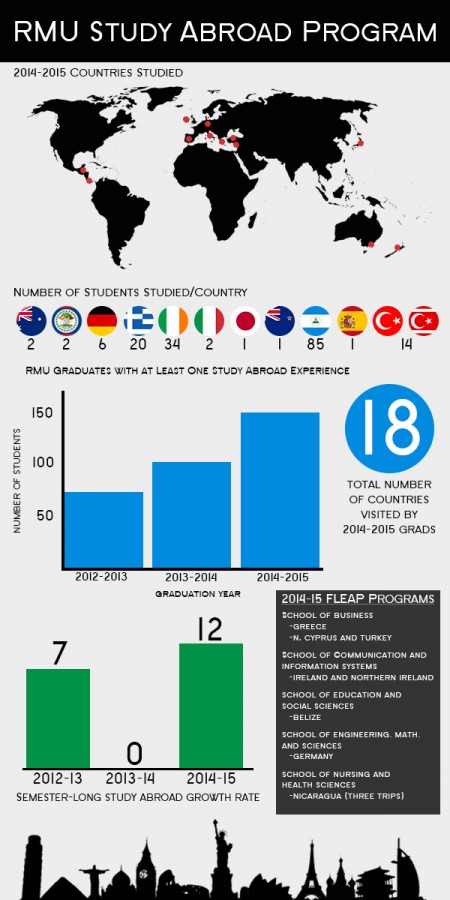 Matt Merlino
These exchange programs are direct relationships with schools in other countries that are similar to RMU in academic courses and other aspects. Students going abroad on exchange pay RMU tuition, while paying the exchange institution housing directly. The same concept applies to exchange students coming to RMU.
The most popular exchange schools are the University of Limerick in Limerick, Ireland; the American University of Rome in Rome, Italy; Deakin University in Melbourne, Australia and Fachochschule St. Gallen – University of Applied Sciences in St. Gallen, Switzerland.
During the 2014-2015 academic year, there was at least one FLEAP trip from each of the five different schools. There are approximately 100 students that go abroad on FLEAP trips every year. Six different trips were also proposed but did not go.
"
"President Dell'Omo was always a big advocate of study abroad. Him doing those trips to different sites and putting his seal of approval on them, I think really helped get more faculty interested in doing it and the students too," "
— Jesse Phillips, manager of immigration, exchange and study abroad services
The most popular FLEAP trip is the Community Health/Health Promotion nursing program to Nicaragua, lead by Carl Ross, Ph.D. There were 71 total students that went during the 2014-2015 academic year on three separate trips.
For students wanting to go abroad for on exchange, they are asked to fill out an interest form and set up a meeting with Phillips or Matthew Brown, study abroad specialist. This meeting helps students figure out where they want to go and if it is possible with classes.
Students then need to fill out the study abroad application that includes medical forms, core substitution forms, letters of reference, waivers and student conduct forms. All students are still expected to adhere to RMU policies while they are abroad.
After all the forms are complete, students must get nominated by RMU to go to the school of their choosing and fill out the exchange school's application. Some schools that RMU has exchanges with only allow two students a semester. If there are more than two students applying, there will be further review of applications.
Students can now study abroad through one of CGE's newest partners in exchange, the Council on International Educational Exchange. So far there have been four RMU students that have done or are currently on exchange through this program.
Faculty members looking do a FLEAP trip have typically been to the country before. If professors have visited before, they fill out a site assessment. In this, professors visit the sites they would like to go, where to stay and costs overall. After this, professors fill out a detailed proposal outlining the trip, which is sent through a committee and other administration.
For first time FLEAP professors, the CGE office works closely with them to make sure everything is set before they depart from Pittsburgh.
"…we work with those faculty members closely to make sure that everything looks good on paper, but then also they feel confident," said Rick Molsen, manager of international student support services. "Because just imagine taking 20 students to a foreign country and you being responsible for them. That's a lot of pressure and that's a lot of responsibility."
Studying abroad on exchange or FLEAP may not be out of reach for some students that think it is.
"Every RMU student should come talk to us (CGE). Because they might think, 'oh, study abroad is too expensive,' 'oh, I'm a blank major, I can't possibly go abroad.' They need to come and talk to us…we could get you into a FLEAP, we could look at exchanges, we could think of all these other options and help make it work…," said Jennifer Creamer, Ph.D, new director of RMU's Center for Global Engagement.