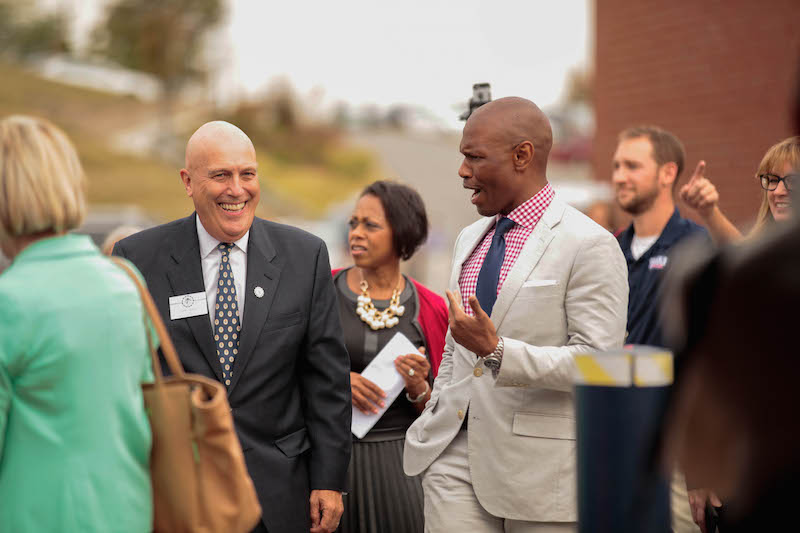 Paul Wintruba
After about a nine-month search for the next president of Robert Morris University, Dr. Christopher Howard was named the eighth president of RMU.
Gary Claus, Board of Trustees Chair; Richard Harshman, Chair of the Presidential Search Committee and David Jamison, Interim President/Provost were all happy to welcome Howard to the RMU community.
"I've said that I've had great days, but I don't think I've had a greater one than this; other than when maybe my children were born and the day I was married. This is a great day for Robert Morris and it's a great day for all of us associated with the university welcoming Dr. Christopher Howard to the campus is a true pleasure…," said Claus.
Putting together two committees for the Presidential Search, the University Advisory Committee (UAC) and the Presidential Search Committee (PSC), sprung into action in January 2015. The search firm Witt/Kieffer was also selected to aid in the Presidential Search.
Harshman said that there were many quality people interested in this leadership position, with all of them having a wide variety of resumes to look over. After looking at all of the interested peoples' resumes, the PSC narrowed it down to about 18 or 19 candidates, who were discussed as potentials. Upon further discussion, it was reduced to 11 candidates that the PSC wanted to meet.
It was then narrowed down to four candidates that were put through a thorough interview process.
"We (the PSC) spent pretty intensive interviews with them and exposed them to broader university community," said Harshman. "And then from that process we arrived at the selection of who we felt was the best person to be the eighth president of Robert Morris University and that's Dr. Howard."
As for who will be provost when President-Elect Howard takes office in February, that will be up to him. Jamison said that he would be interested in continuing to serve as provost and will be working closely with Howard to prepare the university for when Howard begins his reign.
When the Board of Trustees was choosing who would serve as interim, Claus said that choice was easy.
"There was no second choice, there was just one choice and it's David Jamison," said Claus.
When Howard was giving his presentation to the board during the search process, Claus noted that he really understood what RMU was about and the challenges that not only RMU faces, but the challenges with education itself.
"I think his projection for us (RMU) is extremely high, but it's based upon a solid understanding of what the student needs are, the student restrictions are and more importantly the student's potential," said Claus.
Not only was the board impressed with Howard's credentials and accomplishments in his career, but most of all his mindset of wanting to be innovative and wanting to propel RMU forward, said Harshman.
Jamison said that the university will continue on the path of the strategic plan and that Howard can make his own adjustments upon his arrival.
"We're (the university) going to continue to pursue accreditations, we're going to continue to pursue quality education for all of you (the students) and the right resources to allow our students to have the ability to get the best education and we're going to continue to hire the most outstanding faculty." said Jamison.