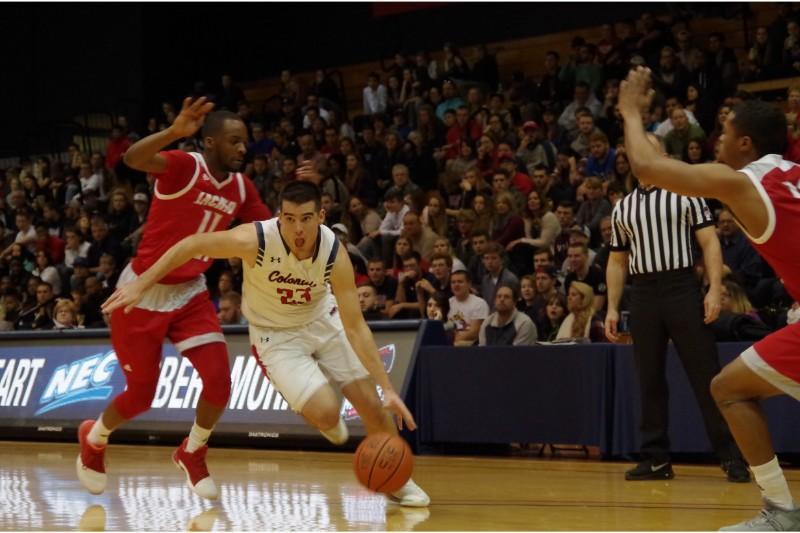 The Robert Morris Colonials men's basketball team (13-12, 7-5) has dropped four of their last five games, including three straight in Northeast Conference (NEC) play.
Lately, the games have not been pretty, with the Colonials losing those four games by a combined 57 points. To the naked eye, the Colonials have been playing awfully.
Before the matchup against the Wagner Seahawks on Jan. 20, the Colonials sat in first place in the NEC standings. Going into the game Feb. 8. against St. Francis Brooklyn, the Colonials sit in third place with St. Francis Brooklyn, St. Francis (PA), and LIU Brooklyn. All teams enter with a record of 7-5 in NEC conference play.
This upcoming week, Robert Morris travels to Brooklyn to face LIU Brooklyn and St. Francis Brooklyn. With only six remaining NEC conference games before the conference tournament, the Colonials need to win against these two conference foes. If Robert Morris wants to host a tournament game, they must beat both of the Brooklyn schools this weekend. Playing as a top seed is extremely important in the NEC Conference Tournament because the higher seed hosts the tournament game at their home arena.
Wagner has not lost at home this year and the Colonials do not want to play them at their arena in Staten Island.
Last year, the Colonials entered the tournament as the seventh seed and beat second seed LIU Brooklyn before falling to first seed Mount St. Mary's in the semifinals.
Robert Morris enters this weekend with the worst shooting percentage of any NEC team with 40.6 percent. The Bryant Bulldogs (2-23, 1-11), the worst team in the NEC, enter the upcoming weekend with a better shooting percentage. If the Colonials want to win games in the NEC and advance into late rounds of the NEC Conference Tournament, they cannot play worse than Bryant in any circumstance.
In the end, every conference game is important, but a team that is struggling like Robert Morris cannot afford to continue a dreadful losing streak. If they win these two games and get back to their winning ways, people will soon forget about the losing streak. Colonial fans just want to see a win.
Robert Morris will take on LIU Brooklyn and St. Francis Brooklyn this weekend before playing Bryant and Central Connecticut State at home. The Colonials will conclude the season with two away games at Mount St. Mary's and St. Francis (PA).