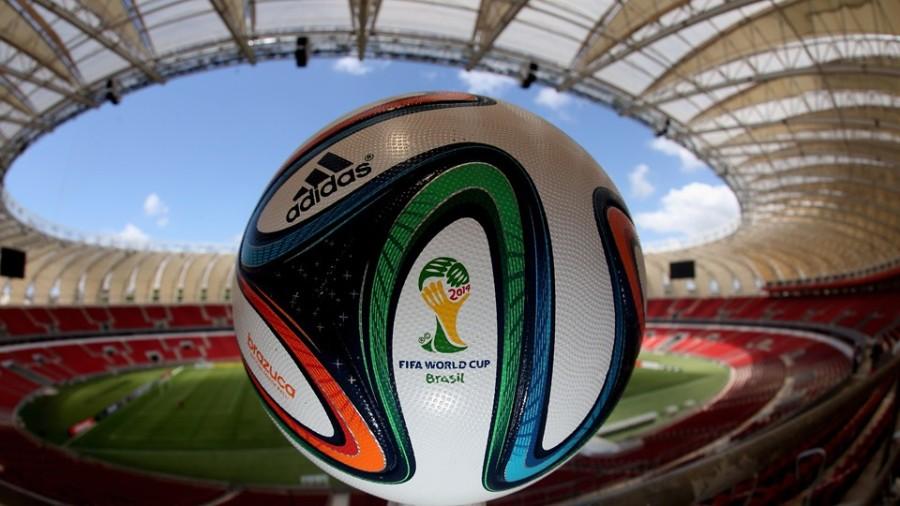 Getty Images
Group A (Brazil, Cameroon, Croatia, Mexico)
Kenny: The home team, Brazil, is joined by a trio of teams in disarray with Cameroon, Croatia, and our North American counterpart, Mexico. Brazil will have little trouble here with their uber talented side, including world class youngster Neymar, but picking second place is another matter. The Croatians are talented with Mario Mandzukic, Ivan Rakitic, and Luka Modric but struggle to be a cohesive unit. Cameroon has a super star in Samuel Eto'o but have struggled against upper echelon talent and unrest amongst the players. The Mexicans will be without many of their big names but have shown a renewed effort under manager Miguel Herrera.
Advancing: Brazil, Mexico
Player to Watch: Neymar (Brazil)
Dante: Brazil got a very favorable draw with Group A, landing Cameroon, Croatia and Mexico. Last week, both Brazil and Mexico's managers, announced the 23 men that will represent their countries in the World Cup next month. For Brazil, manager Luiz Felipe Scolari, he left off national team veterans Kaka, Robinho, and Ronaldinho, in favor of the youth movement. Scolari's decide to keep most of the squad that help Brazil beat reigning world champion Spain in last summer's FIFA Confederations Cup. With Neymar making his debut in the World Cup, all eyes will be on him and the rest of the Brazilian team as they look to put to rest the devastating lost in the 1950 final vs Uruguay in front of 173,850 fans at the historic Estadio doMaracanã.
Along with Brazil in Group A is a Mexican side that many believed, eight months ago, may not be making a trip to Brazil, following multiple coaches changes during qualification, and an incredible bicycle kick goal from Raul Jimenez against Panama; El Tri is back in the World Cup for the sixth consecutive time. Manager Miguel Herrera's 23 man squad is loaded with talent coming from La MX giants Club America and Club Leon. With Manchester United forward Javier "Chicharito" Hernández leading the way, Mexico is a side that could make some noise in both the Group Stages and the Knockout Rounds.
Advancing: Brazil, Mexico
Player to Watch: Neymar (Brazil)
Group B (Australia, Chile, Netherlands, Spain)
Kenny: Group B will be a three horse race with European powers and 2010 finalists Spain and Holland being joined by South American dark horse Chile and lowly Australia. Australia has earned a point in every World Cup they have played in but I do not see that streak continuing this year. Spain is still World number 1 and defensively sound but seem to be having trouble in front of net. Holland and Chile are brimming with talent and ability, the winner of their match will certainly go through. Tough group to predict but Holland and Spain still standout to me.
Advancing: Spain, Holland
Player to Watch: Alexis Sanchez, Winger, Chile
Dante: Group B is one of the most interesting groups in the entire World Cup. At the group selection show, millions of soccer fans around the world jaws dropped when they realized that we would get a re-match of the 2010 final between the Netherlands and Spain in the first match of the group stage. Being torn apart by Brazil in last year's Confederations Cup final and almost not directly qualifying for the World Cup thanks to draw against France and Finland, Spain is back in the World Cup as the current number one team in the world according to FIFA's rankings. While the reigning runners up, The Netherlands will be a very powerful side with Ajren Robben and Robin van Persie; the dark horse of this group has to be Chile. Finishing third in the CONMEBOL qualifications and regarded by many as the toughest in all of the FIFA, the Chileans go into Brazil looking to surprise many as they look to make it into the knockout rounds. Last but not least, poor Australia, what in the world did they do to get into this group.
Advancing: Spain, Chile
Player to Watch: Alexis Sánchez, Forward, Chile
Group C (Colombia, Greece, Ivory Coast, Japan)
Kenny: A small group of death here, as Colombia, Japan, Greece and the Ivorians meet. Colombia suffered a blow with Radamel Falcao being ruled out with a torn ACL but are still one of the most talented squads in the world. Japan has talent with Keisuke Honda, Shinji Kagawa, Yashuita Endo but struggled in defense in the Confed Cup. Greece is one of the most stable squads that always stay in games but don't have that superstar player. The Ivorians are ending their golden age with Drogba and Yaya Toure calling it quits after this one. The Elephants have plenty of attack but little in defense; another solid group that should have a lot of goals.
Advancing: Colombia, Greece
Dante: A group that many thought was Colombia's until AC Monaco forward Radamel Falcao's injury which could leave him out of the World Cup, has now opened up to where you can make a case for each team in this group to make it to the knockouts. This will be Colombia's first World Cup since France in 1998. The Tricolor is a serious contender but the biggest question is whether they can succeed with or without Falcao. Aside from Colombia, this group is loaded with teams that are veterans of the World Cup. Greece comes into the World Cup ranked tenth in the FIFA Rankings, yet in their last two trips to the big dance, they have not made it out of the group stage. While the Ivory Coast, a veteran squad, comes into their third World Cup looking to make it to the knockout round for the third time in a row. Finally Japan, led by Shinji Okazaki, comes in ranked 47 in the FIFA Rankings, but they have made it out of the group stages two out of the last four tournaments, including a ninth place finish in South Korea Japan 2002. They will be looking to be the surprise team in this group.
Advancing: Colombia, Greece.
Player to watch: Dimitris Salpingidis, Winger, Greece
Group D (Costa Rica, England, Italy, Uruguay)
Kenny: England disappointed in the last World Cup and could be in for the same this year as they have to deal with the physical scoring attack of Uruguay and the ever strong Italians. Costa Rica sits in this group as well but doesn't offer much of a threat. The Italians will go for the last time with Gigi Buffon in net and the master of midfield Andrea Pirlo and after a dreadful performance last time they want revenge this time around. The Uruguayans are strong with one of the most potent goal scoring duos in the world with Luis Suarez and Edinson Cavani spearheading the strike force.
Advancing: Uruguay, Italy
Player to Watch: Mario Balotelli, Striker, Italy
Dante: Much like Australia in Group B, what did Costa Rica do to end up in this group? Group D will be a three headed horse for the knockouts. Uruguay, much like in 2010 qualification, needed a playoff round just to make it to the big dance in South Africa. But once they reached South Africa, they made some serious noise; Diego Forlan was awarded the Golden Ball as the tournament's best player and La Celeste finished fourth in the tournament. This time around Uruguay will be led by one of the best scoring pairs any team will bring to Brazil in Liverpool, striker Luis Suarez and PSG striker Edinson Cavani. With the veteran leadership of Forlan and team captain Diego Lugano, Uruguay will look to improve on its fourth place finish in South Africa. Powerhouse England comes in looking to wash away the memory of a rough time at the 2010 World Cup, coming in second in the group stage to the USA and losing to Germany in the first round of knockouts. England is a side that looks to just have gotten older and not have any young promising talent. Wayne Rooney will have to lead this team if it wants to make it to the knockouts and farther. Italy, much like England, is looking to forget one of the most incredible collapses in World Cup history. Going into the 2010 tournament they were the reigning World Cup champions; they went winless in a rather soft Group F; and were eliminated in the group stage. This time around they will still have veterans Gianluigi Buffon and Andrea Pirlo, both coming of a Serie A Championship with Juventus. They may also now have the missing piece in AC Milan striker Mario Balotelli, making his debut in the World Cup. Hopefully those three together will help rid Italian "futbol" fans of the memory of the 2010 World Cup.
Advancing: Italy, Uruguay
Player to Watch: Luis Suarez, Striker, Uruguay
Group E (Ecuador, France, Honduras, Switzerland)
Kenny: An interesting group here with traditional powers France being joined by the Ecuadorians who will still play with heavy hearts after losing star striker Chucho Benítez, and surprising seeded team Switzerland who could be a small dark horse this year. Honduras joins the trio but shouldn't pose much of a threat. Switzerland will come in with much confidence and will most likely debut Fabian Schar who has become a stalwart for Basel in the Champions league. This should be a fun group to watch as the trio of France, Ecuador, and Switzerland all play contrasting styles.
Advancing: France, Switzerland
Player to Watch: Xherdan Shaqiri, Winger, Switzerland
Dante: Another group where a case can be made for each team to make the knock-outs. Honduras qualified third in the CONCACAF and should not pose much of a threat, but watch out for former DC United and MLS Rookie of The Year Andy Najar in the tournament. Ever since the sudden and tragic death of Chucho Benítez, Ecuador only won one of the four qualification games following his death. Thankfully for La Tri, they will be playing close to home in temperatures and atmospheres which would not be a drastic change for manager Reinaldo Rueda and his team. France comes into the World Cup by the bare skin of their bottom.
Following a 2-0 loss to Ukraine in the first leg of their UEFA playoff series, France stormed back in the second leg at home in Paris scoring three goals and punching their ticket to Brazil. They will be looking to erase the memory of their performance in the 2010 World Cup, in which they finished dead last in their group after reaching the final in 2006. Led by Ballon d'Or finalist Franck Ribéry and World Cup new comer Olivier Giroud, The Frenchmen should be able to make it deep into the competition. While Switzerland did not lose a game in qualifying, their numbers are deceiving as it was against a very weak group in the UEFA qualifiers. The Swiss are a very young side qualifying in its third consecutive World Cup and they look to make it out of the group stage for the first time since 2006.
Advancing: France, Switzerland
Player to Watch: Franck Ribéry, Winger, France.
Group F (Argentina, Bosnia and Herzegovina, Iran, Nigeria)
Kenny: This group looks rather easy to predict with Argentina and the massive strike force they have coming up against three teams with very little defensive abilities. Bosnia-Herzegovina, Nigeria, and Iran will all battle for second in this one and it's the Bosnians making their first appearance who look to have the advantage. Iran plays with a compact midfield but won't have the talent to match their opponents. Nigeria has good top stars with Victor Moses, Ahmed Musa, and Emmanuel Emenike but they won't be able to deal with the Argentinean power and speed combination. The Bosnians tore apart their group in qualifying but will struggle against more talented teams like Argentina. Edin Dzeko and Miralem Pjanic are wonderfully talented in attack but they have very little in defense.
Advancing: Argentina, Bosnia- Herzegovina
Player to Watch: Lionel Messi, Striker, Argentina
Dante: Group F is a lot easier to look at compared to many other groups in the tournament. Argentina has to be thanking to "futbol" gods for such an incredible draw for the power house. Led by the three headed scoring monster of Captain Lionel Messi, Sergio Agüero and, Gonzalo Higuaín, Argentina should have no problem making it to the knockouts and much farther. Bosnia and Herzegovina, the youngest country in the tournament, will make its first appearance in the World Cup. Led by Manchester City striker Edin Džeko, they should have no problem in moving on to the knockouts. Iran and Nigeria will both give Argentina and Bosnia and Herzegovina a good fight, but in the end the talent both of the latter teams process will be to much to handle.
Advancing: Argentina, Bosnia-Herzegovina
Player to Watch: Lionel Messi, Striker, Argentina
Group G (Germany, Ghana, Portugal, United States) 
Kenny: The group of death if you're an American fan as we see our heroes of the pitch matched up with the German superpower, the Portuguese Cristiano Ronaldo's and ever pesky Ghana Black Stars. This might be one of the best squads the Americans have ever had but a group against these teams was very undesirable. Germany with their powerful strikers and creative midfield look a good bet to make the semi-finals while Portugal is blessed with a top 3 player in the world who can completely take games over. Ghana the small African side always seems to churn out strong teams and knocked the US out in the last World Cup and beating them in the group stages of the 2006 World Cup. In other words…it doesn't look good for the USA.
Advancing: Germany, Portugal
Player to Watch: Thomas Mueller, Striker, Germany
Dante: In terms of how good/ bad the group is for the United States, this could be the absolute worst possible draw they could have asked for. They will start the group stage with Ghana, the team that has ousted the Yanks in the last two World Cups, followed by 2013 Ballon d'Or winner Cristiano Ronaldo, and a Portugal side looking to make up for a poor performance in the 2010 World Cup that saw them ousted by Spain in the round of 16. Then come world power Germany, who is so deep with talent that they could send three squads to the World Cup and odds are all three could make it out of the group stage. But there is a silver lining for the Americans; if they are going to somehow run the gauntlet in Group G and make it to the knockouts they have the right manager to do it in German legend Jürgen Klinsmann. Klinsmann, who won a World Cup in 1990 with West Germany and then led Germany to a third place finish in the 2006 edition held in his home country, has led the US National team to numerous first since taking over in 2011.
In February 2012 he led the American team to a historic 1-0 victory against Italy in Genoa. This victory tied in with the USA's first victory against Mexico at the iconic Estadio Azteca and winning the 2013 CONCACAF Gold Cup, the US is going into Brazil riding high looking to make some serious noise. The big question is will the opposition of Ronaldo, Germany and the USA's kryptonite in Ghana prove to be too much to handle? Unfortunately, I think so.
Advancing: Germany, Portugal
Player to Watch: Cristiano Ronaldo, forward, Portugal
Group H (Algeria, Belgium, Korea Republic, Russia)
Kenny: The most boring of the eight groups features a new European powerhouse with Belgium along with a defensive enforcer, Russia, and a pair of teams that are probably in over their heads, Algeria, and South Korea. Algeria won't pose much of a threat to either European power but will look to steal a point and hope to beat South Korea. The Koreans meanwhile come in playing well but it is unlikely they will be able to do much. The match featuring Belgium and Russia will be an interesting one to watch as the defensive style of Russia, takes on the offensive flair of the Belgians
Advancing: Belgium, Russia
Player to Watch: Eden Hazard, Midfielder, Belgium
Dante: This group is very straight forward. Belgium is making a name for themselves with their attack offensive style will make it through will ease. Russia is quite the opposite, with a very defensive style looking to hold the midfield. When these two teams meet on June 22 at the Maracanã, it should be an incredible tactical battle. As for Algeria and Korea Republic, much like Australia in Group B and Costa Rica in Group D, what did these two teams do to deserve being in this group?
Advancing: Belgium, Russia
Player to Watch: Eden Hazard, Midfielder, Belgium
Finals Prediction
Kenny: Brazil vs Spain
Champion: Brazil
Dante: Brazil vs Argentina
Champion: Brazil