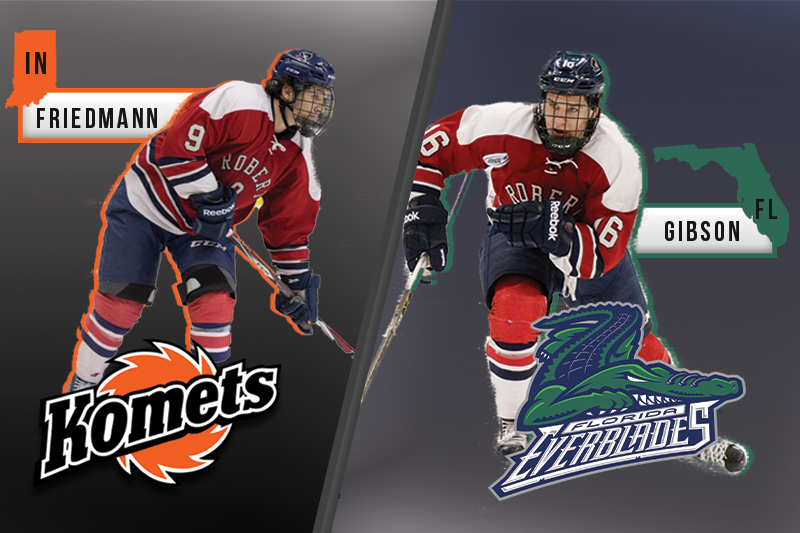 Tori Flick
The winningest class to ever come through Robert Morris University Men's Hockey may have finished their collegiate playing days, but two of their nine members have just begun the next step of their playing careers, signing on to teams in the East Coast Hockey League.
Greg Gibson and David Freidmann, both forwards, have agreed to tryout agreements within the ECHL. Gibson reached terms with the Florida Everblades, and Friedmann joined the Fort Wayne Komets. Both teams are ECHL affiliates of National Hockey League franchises – the Carolina Hurricanes (Everblades) and Colorado Avalanche (Komets).
Gibson was second on the team in points this season with 51, including 29 goals, which led RMU. Those numbers put Gibson third nationally (goals), and in the top ten in points (seventh) and powerplay goals (sixth, with eight total). Gibson also helped aid the Colonials to a Three Rivers Classic title in December, recording a goal and two assists in the two-game tournament.
His performances this season also earned him multiple awards, including both conference and national Player of the Month awards, and a nomination for the Hobey Baker Award, the most prestigious individual award in college hockey.
Friedmann tied for third on the team in points this season (42), with 12 goals and 30 assists (seventh in the nation). He was the leader of the team in their run to the championship game of the Atlantic Hockey Tournament, scoring three goals and six assists for nine total points, two more than the second-place finisher for the Colonials.
In the deciding game of their series with the Bentley Falcons, Friedmann recorded two goals and assists each, including what would become the game-tying and game-winning goals for Robert Morris. In addition to his on-ice performances, Friedmann was also one of 18 players in all of college hockey (men's and women's) to be nominated for the Hockey Humanitarian Award for his contributions to the community off the ice.
Both players leave the school among the most-decorated in program history.
Friedmann is ranked in the top ten in six of the eleven offensive categories in program history, breaking the top five in game-winning goals, where he ranks second with eleven. Gibson becomes just the third Colonial to appear in the current top ten of all eleven categories, joining fellow senior Zac Lynch and 2015 graduate (and current ECHL player) Cody Wydo. Gibson is in the top five in nine of those eleven categories as well.
Both players follow a long line of recent alumni to join the ECHL following their final season at RMU. They will join former teammates and 2015 graduates Wydo (Wheeling), Scott Jacklin (Brampton), and Jeff Jones (formerly Florida, now in the SPHL), along with two 2014 grads, Evan Renwick and Andrew Blazek. Friedmann will actually get to face Wydo and the Wheeling Nailers in one of his first games in the league Wednesday.