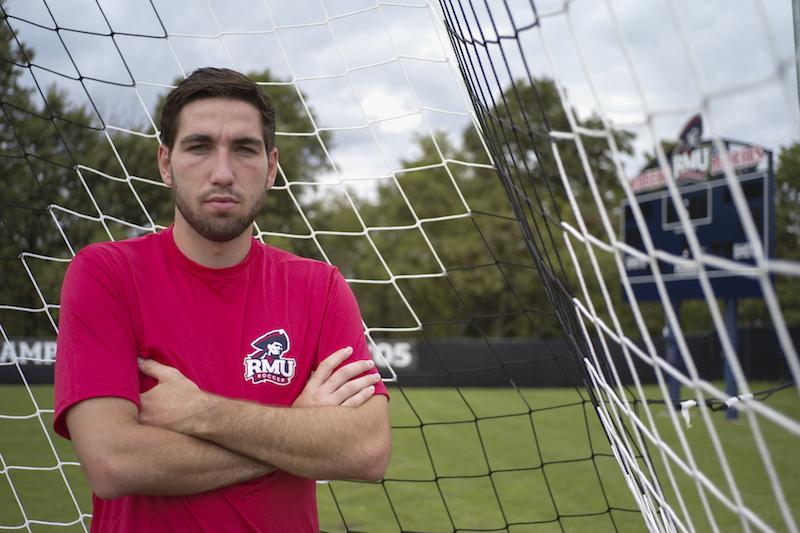 Paul Wintruba
At a mid-September practice, a few RMU men's soccer players can be seen from afar standing in a group.  One figure looms taller than the rest.
That figure is Miro Cabrilo. Miro being short for Miroslav, which translates to "peace and glory."
This RMU alum has both already.
The glory stems from athletic achievement.  In his time with the Colonials, Cabrilo earned himself the title of captain his senior year, placed eighth all-time in career points with 42 and was a four-year starter.
"When he came in he was a good player, a good teammate," said Neil Shaffer, a senior on the team when Cabrilo entered his freshman year. "Very good on the ball.  But most of all, he's a hard worker.  You could tell that he wanted to get better."
The desire to get better paid off.  Cabrilo began training with the Pittsburgh Riverhounds of the United Soccer League thanks to a coach connection through RMU.
Cabrilo grabbed the attention of the Riverhound brass and held it.  He was offered a tryout and later, a contract.  On May 12, he signed a one-year, optional second year professional contract with the Hounds.
"The signing process was an anxious time," said Cabrilo.  "It was just after one day at training the management and the team asked me to come up to the office.  They sat me down and that's when they told me about wanting to sign me and offered me a contract."
With the Riverhounds, Cabrilo had the chance to travel the country, advance his game and eventually take the field against former teammate and coach in Shaffer.
"It was pretty crazy," Shaffer said, currently on defense for the Harrisburg City Islanders.  "He subbed on later and he came on the field and I heard 'Miro Cabrilo' and all of the sudden he's standing right next to me and I'm marking him.
"It was good to see Miro on the field playing professionally.  But once you're on the field, once you're playing, you don't even think about anything.  You don't think about it.  It's just another game.  And then after, you're friends."
Cabrilo finished his first professional season with two goals of his own.  Although he's currently not listed on the Pittsburgh roster, the pieces are in motion for his future.
"At the moment I'm not [on the roster], but some things are working now behind the scenes with the coaching staff and the management and myself and making some decisions," said Cabrilo.  "We'll have to wait a little bit to find out what's going to unveil in the new year."
Others have hope and high expectations for him as well.
"One of the key attributes is you've got to love soccer.  You've got to want to work at it.  It doesn't come easy," said Shaffer.  "So I just told him to keep working at it until you get an opportunity and when you get an opportunity, take it.  And then what you do with that is on you.  And he did."
"[I'm] a little disappointed that he had to start there but I don't think he's finished and I think he learned some good lessons and I hope he doesn't have to play there next year," said RMU head coach Bill Denniston.  "I think he's a little better than that.  I think it was very good for him."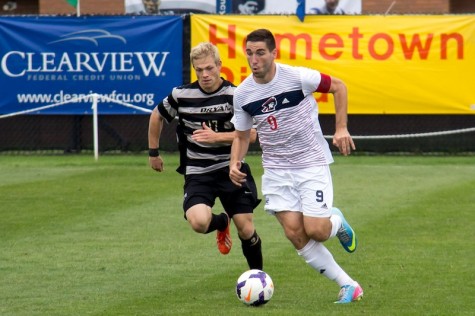 Glory can be found through achievements, but Cabrilo is at peace the most at the one place usually unexpected– the practice field.
While waiting on the next phase of his professional career, Cabrilo has been added to the men's soccer coaching staff at RMU.  It was a no-brainer, especially since he will be taking classes at the university until December.
"I figured it would be hard for me to stay away from the whole scene," said Cabrilo, now a student assistant coach.
It's easy to get that impression.  At practice, he's active in drills, fighting for a ball or marking one of his players.  He works with them while adding instruction, and shouting encouragement. Players respond to him.  After practice, they line up to ask him questions or seek advice.
When not eagerly giving explanations, he can be spotted casually dribbling a ball with a player. He's already got the makings of a real player's coach.
"I love all these guys and working with them every single day and helping them with extra work," he said.
"They know what I've accomplished here while playing with them.  They believe in me and know that I can help them out.  On top of helping Coach Bill [Denniston] and the rest of the coaching staff, I like to help all the guys.  Hopefully they can learn and hopefully I can be a part of that."
The move to the coaching staff has not only benefited just Cabrilo.
"We're not going to waste four years of experience by letting him sit on the sidelines," said Denniston.  "It's helping the team.  A little more experience on the coaching side along with the other guys that are helping, too.  We've got a coaching team right now."
Coaching serves Cabrilo the dual purpose of keeping him in playing condition while expanding his knowledge of the game.  It's a good place to be while his future is undecided.
"I'm just taking it one step at a time to try and help the team here win a conference championship," he said. "At the same time keep, I'll keep my conditioning up so that when I do get a chance to play somewhere I'll be ready."
Peace and glory, if only for the moment.