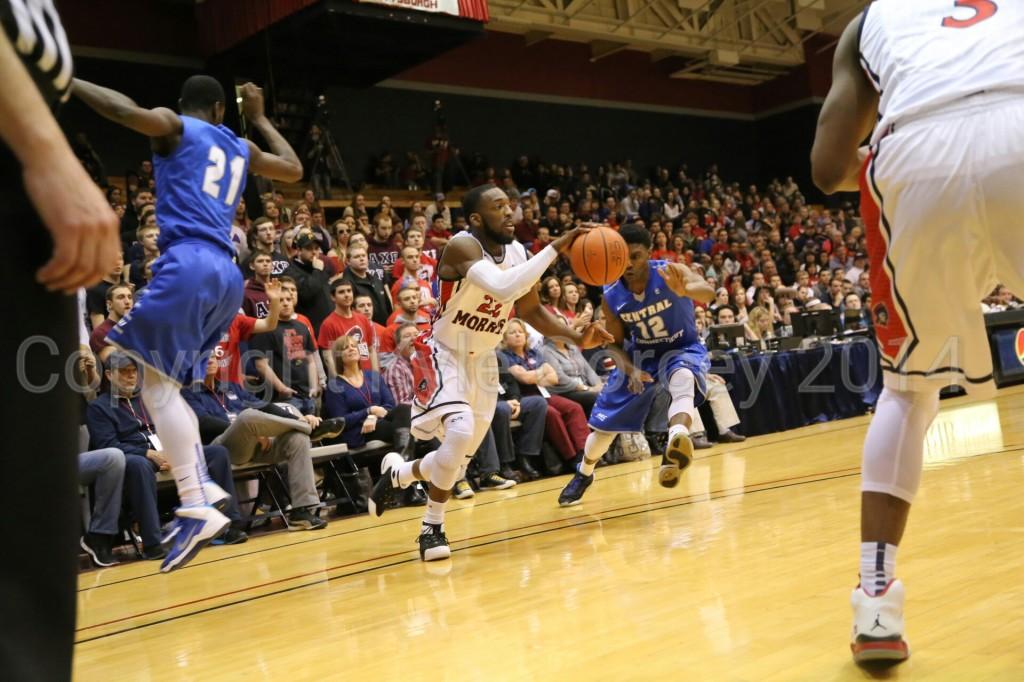 Kyle Gorcey
While most teams have instances in which they utilize runs to chalk up the score of a basketball game, Robert Morris was putting together a pretty impressive run of its own involving victories.
But like all other runs, the Colonials' unbeaten sprint through the Northeast Conference had to eventually come to an end.
Unfortunately it was against a team that was 1-6 in league play coming into the contest.
A 15 point lead with 5:53 remaining was not enough to fend off a surging Central Connecticut State team and, as a result, the Colonials (12-11, 7-1) fell, 74-73, to the Blue Devils (6-15, 2-6) Saturday afternoon at the Charles L. Sewall Center.
"It's hard to stay undefeated. You need a lot of humbleness, a lot of urgency every time you step on the court, you can't take any team for granted," said Lucky Jones, who led all scorers with 22 points. "A win like this can put them [CCSU] right back in the playoff hunt. Games like this happen, it's not the end of the world. We didn't lose the championship game, we didn't lose the regular season championship. Everything is still in place, but we just have to know that this is a wakeup call."
Central Connecticut State jumped out of the gate early, knocking down three of their first four shots from the field to take an 8-2 advantage.
It would take nearly nine minutes from the opening tipoff for Robert Morris to gain the lead and once they did, the Colonials didn't look back.
Until there the final minute of play.
After using a 22-8 run to close the gap to one with 42 seconds left, CCSU elected to not to foul on the ensuing inbound, which forced Karvel Anderson to attempt a jump shot that he was unable to sink.
The Blue Devils then corralled the loose ball and Matt Mobley drove the length of the floor looking for a layup, but was fouled by Anderson with two seconds remaining.
That's when the freshman guard went to the charity stripe with the fate of the contest in his hands.
And he knocked down both shots, securing Central Connecticut's one point victory.
"You could kind of see our lack of urgency. We weren't as urgent as we were in the first half. We got kind of comfortable and we just let it go away," Anderson said. "They were able to make plays and we weren't able to rebound from it."
However this wasn't the first time that CCSU took down a conference powerhouse. On January 23, the Blue Devils defeated Wagner, the preseason favorite, 87-83.
"It's just a lesson to be learned. We honestly didn't take them as serious as last game, that's kind of our fault, but that's the way the game goes, you know, if you don't respect your opponent, you come out thinking it's all good, and you got the lead the rest of the game and you slack off," said Jones, who notched his 1,000 career point versus CCSU. "They did the same thing to Wagner, who was in first place, I believe, before this happened and it's just another game. We lost, we have to keep our head up."
Before RMU embarks on a three game road swing to take on LIU, St. Francis Brooklyn and Saint Francis (Pa) respectively, head coach Andy Toole has to make sure that his program doesn't make the same mistakes that they did against Howie Dickenman's squad.
"I'm not sure if I plan on taking anything into the road trip, to be honest with you. We could be in fourth place by next Sunday," he said. We didn't make free throws at the end of the game when we needed to make free throws at the end of the game, didn't get stops when we needed to get stops, didn't get rebounds when we needed to get rebounds, so I'm not sure what we're going to take, maybe other than trying to do the polar opposite of the way we finished the game today."