Brett getting a kick out of his time at RMU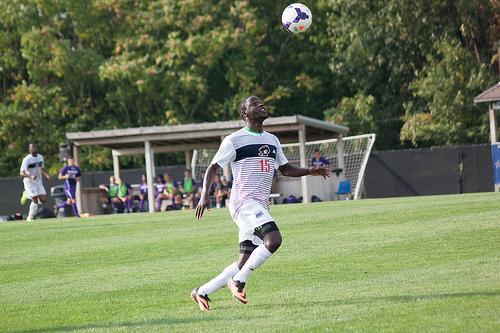 Neco Brett's 13 goals this season has marked a dramatic change in his performance, which has built confidence in both himself and the Robert Morris men's soccer team.
"It feels amazing. Scoring goals feels great," said Brett. "I have been working hard this season and it has paid off."
In his second year as a Colonial, Brett has racked up a tremendous 34 points (13 goals and 8 assists), which currently leads all of Division I.
RMU head coach Bill Denniston believes that Brett's talent and unselfish characteristics have played a huge part in the club's success.
"Neco is a class player. He could be selfish and score more goals, but he has had four assists this weekend," the 17th year coach said after the final home contest of the season. "He is very unselfish and a very talented player."
Denniston also said that the improvement of Brett over the past year has been unlike any he has ever seen, a complete turnaround in his mind. A turnaround, he said, that is not only apparent in Brett, but in the team as well.
"I just think that he [Neco] gives the team confidence," said Denniston, "If we give up a goal early in the game, we know that we have a guy that can put it in the back of the net. We have a weapon that not a lot of teams have and that helps us keep our focus, which was a problem last season."
Brett's 13 tallies in the last 16 games not only put him at the top of RMU men's soccer in scoring, but it is also two goals fewer than last season's total for the entire team.
Born in Kingston, Jamaica, Brett picked up the game of soccer at age six and never looked back. His determination and passion for the game earned him spots on the Jamaican U-17, U-20, and U-23 National teams.
Now in his second year at RMU, Brett has found a home with the Colonials, helping the team in any way that he can, even if that means keeping spirits up with a few pranks.
"He is a great player on the field and he is prankster off the field," said Matt Fonagy, a midfielder. "He likes to joke around and he keeps the team together. He's just an overall great kid."
Although only in his second year with the Colonials, Brett already has his sights on the pros and is keeping his options open.
Denniston believes that at the rate Brett is going, his options aren't limited.
"I don't think there is any stopping him from getting in the top spots in scoring," he said. "And that is going to greatly affect his chances for the pros and open all kinds of doors for him."