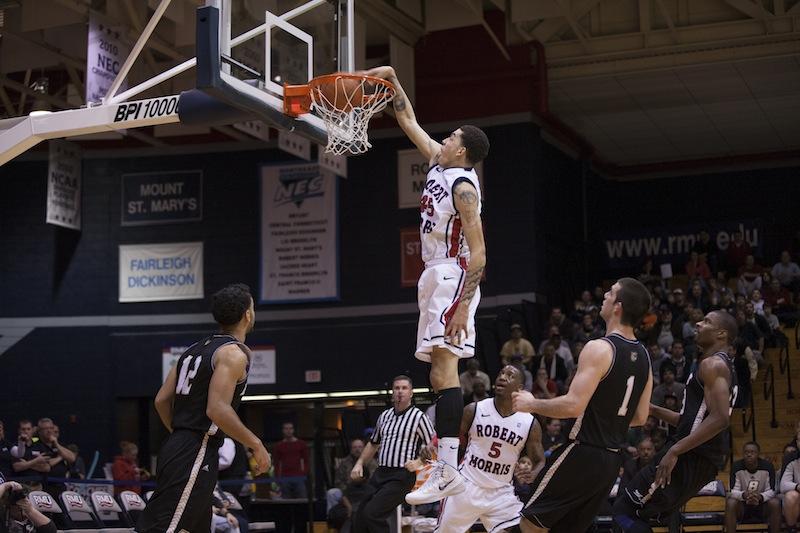 Paul Wintruba
There wasn't too much that was conventional about Robert Morris' matchup against Bryant University Thursday night.
It was a nationally televised game in front of an enthusiastic Charles L. Sewall Center crowd, something that doesn't occur that often, but the sole facet that has been consistent throughout the season was the ending result.
An RMU win.
The Colonials (12-10, 7-0), the first place team in the Northeast Conference, survived a late game scare by Bryant (13-9, 5-2), holding on for the 79-76 win on ESPNU and in front of 2,455 fans, the highest home attendance for a men's basketball game since the Kentucky contest last March.
"Tonight I just fed off the crowd, the crowd had so much energy and I really wanted to win the game for them," senior Anthony Myers-Pate said. "I appreciate all the fans coming out. The school did a great job of promoting the game and we also tried to promote it on Twitter, Instagram, and our fans responded."
Down by three with four seconds remaining, Bryant's Corey Maynard inbounded the ball to the corner and quickly received it back on the give and go, firing a 23 foot three pointer that hit the rim and bounced out, preserving the RMU victory.
BU's Alex Francis led all scorers with 30 points, but Karvel Anderson shot 50% from the field for 24 tallies and Myers-Pate chipped in 21 points en route to Robert Morris' seventh consecutive win.
"I thought it was another really excellent basketball game between two really good teams and I thought that our guys did a great job of being able to hang on for the win. I thought we had great contributions, obviously Ant Myers jumps off the bat with the way that he shot the ball tonight," head coach Andy Toole said. "Karvel was Karvel, but Dave Appolon, and Aaron Tate, and again, everybody that played on the floor contributed and made big plays."
After winning the opening tipoff, RMU initiated the scoring courtesy of Anderson's trey 25 seconds in.
Beginning the game on an 11-2 run, the Colonials' offense was on fire for the majority of the first half, but Bryant hung close, closing the gap to eight points at halftime.
Trailing by 13 with 10:43 left in the game, Maynard, who netted 14 of his 19 tallies in the second half, took the game into his own hands.
The Adelaide, Australia native sparked the Bulldogs' 26-14 run that left them trailing, 75-74, with 44 seconds remaining.
But Anderson and Myers-Pate, who played despite suffering from the flu, drained both of their free throw shots, which gave Robert Morris a three point cushion.
That's where Maynard's heroics, along with his desperation game-tying triple, fell short.
"We stuck together. In practice, we've done more focusing on late game situations and focusing on closing out halves and closing out the end of games," Anderson said. "So we've been doing a good job of staying urgent, even when we do have the lead toward the end of games and not giving up, not letting up, and keeping our foot on the gas pedal."
The Colonials will look to extend their winning streak to eight straight games Saturday afternoon against Central Connecticut State at 4 p.m. at "The Chuck."