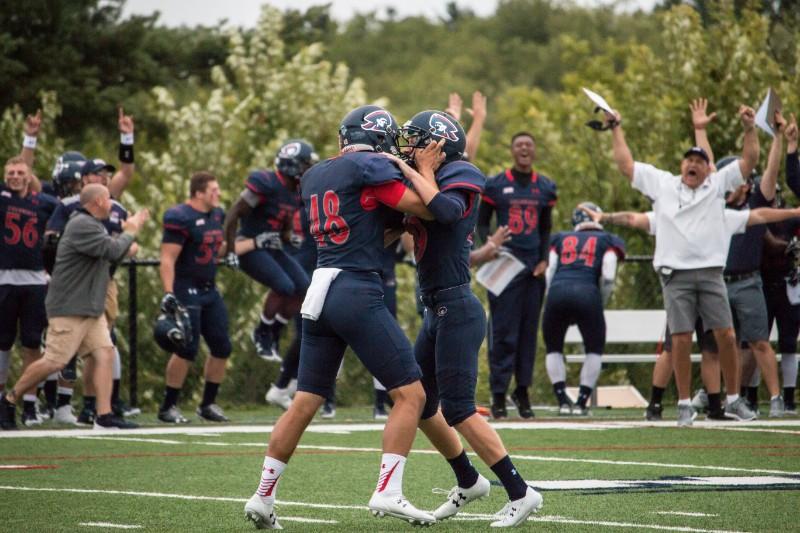 In an RMU athletics season that saw plenty of action from all of their teams, here are the top photos from this school year's athletic teams.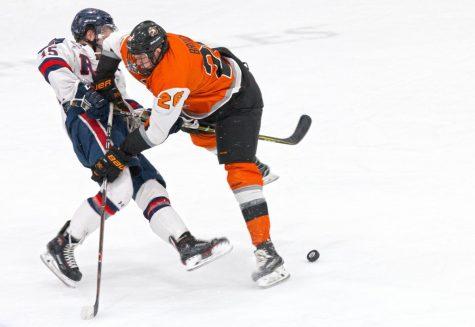 Taken by Katey Ladika
Men's Hockey vs. RIT, Feb. 9
This picture from February 9th does a fairly good job representing the Robert Morris men's ice hockey team during their 18-20-3 season. Senior Forward Spencer Dorowicz Receives a hard hit from Forward Nick Bruce en route to a 4-3 loss in the first game of a two game series, both of which RMU lost.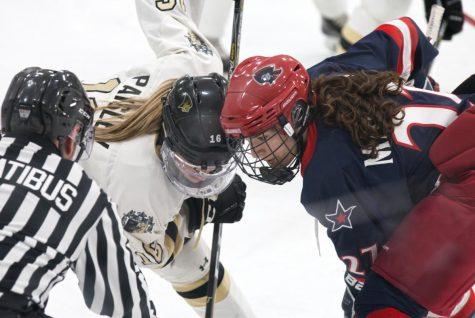 Taken by Katey Ladika
Women's Hockey vs. Lindenwood, Feb. 9
RMU forward Natalie Marcuzzi faces off against forward Cierra Paisley during a 1-0 victory against the Lindenwood Lions on Feb. 9, 2018. RMU won the next game of the series 5-0 and finished the season with an overall record of 21-8-4.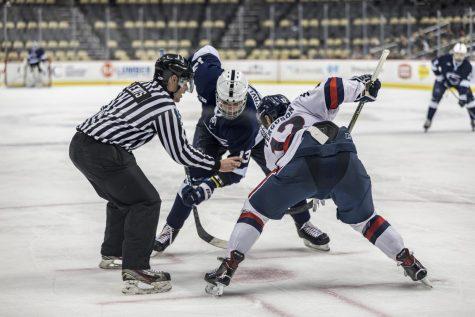 Taken by David Auth
Men's Hockey vs. Penn State, Dec. 8
Location look different in this one? Men's hockey faced off against Penn State University at PPG Paints Arena, home of the Penguins, on Dec. 8. Forward Brady Ferguson faced off against Nikita Pavlychev in this photo and helped RMU go up early with a goal from Michael Louria, but PSU wound up taking the game 5-2.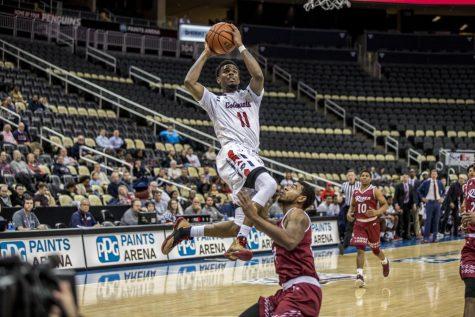 Taken by David Auth
Men's Basketball vs. Rider, Dec. 6
Men's basketball played at PPG Paints Arena on Dec. 6 in a game that came down to the last second against the Rider Broncs, 78-75. Koby Thomas scored 20 points, while Dachon Burke, who is seen in this photo leaping up to score a layup, scored 15.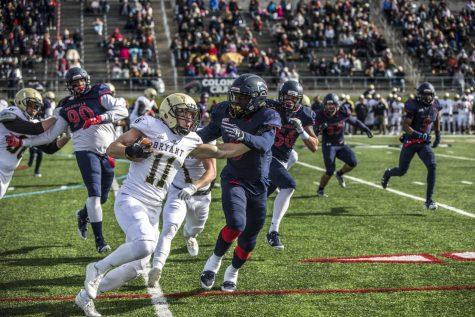 Taken by David Auth
Football vs. Bryant, Nov. 11
The Robert Morris football team took a hard 42-17 loss to the Bryant Bulldogs the morning of Nov. 11 this past season. Linebacker Gerald Ferguson is seen in this photo being stiff-armed away from the tackle by Bryant's running back.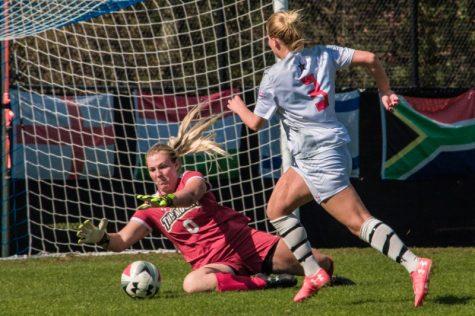 Taken by Katey Ladika
Women's Soccer vs. Mount St. Mary's, Oct. 22
Women's soccer forward Erin Ritzer is seen sprinting towards Mount Saint Mary's goalie shortly before scoring RMU's fourth goal of the game, which they went on to win 4-0 on Oct. 22.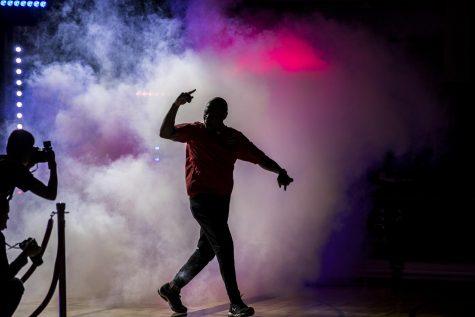 Taken by David Auth
Meet the Colonials took place on Oct. 19 this past fall. The event is held every year as a sort of pep rally for both the women's and men's basketball team, and took place in the newly opened rec center. The banners were hung up for the women's team winning the NEC division and making the NCAA tournament the previous year. Seen in this photo is RMU president Chris Howard making his thematic entrance shrouded in smoke and getting RMU students ready for the season to come.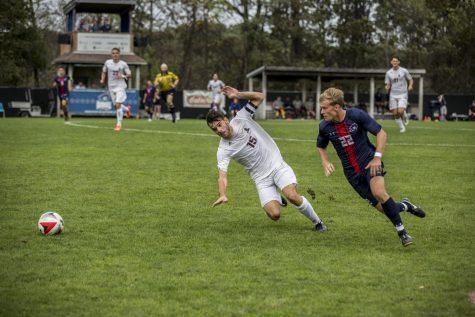 Taken by David Auth
Midfielder Bayley Winkel races past Fairleigh Dickinson defensive mid Casey Abelein when the two teams met on Oct. 15. RMU lost the game 1-0 on their way to a season that saw them go 4-11-3.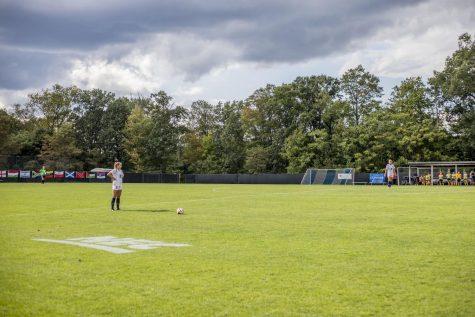 Taken by David Auth
Maddison Duncan takes a second to pause before taking this free kick on Sept. 8 in a game against Canisius. The game was close until the very end when the Griffin's scored to take the win 1-0.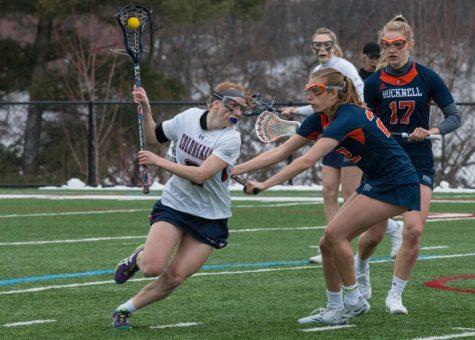 Taken by Katey Ladika 
This photo was taken in the women's lacrosse season opener on Feb. 10. The game was close until the end, yet Bucknell won 4-5 in double overtime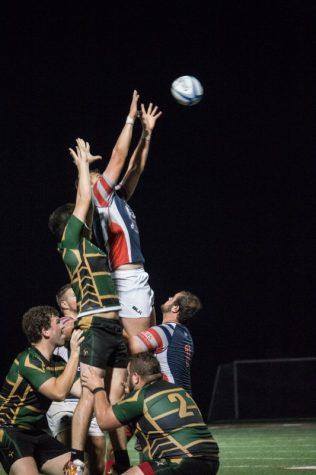 Taken by Katey Ladika
RMU gains control of the ball after a lineout in this photo from Sept. 14 when the Colonial rugby club faced off against Point Park.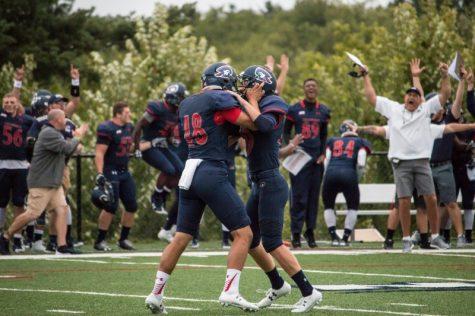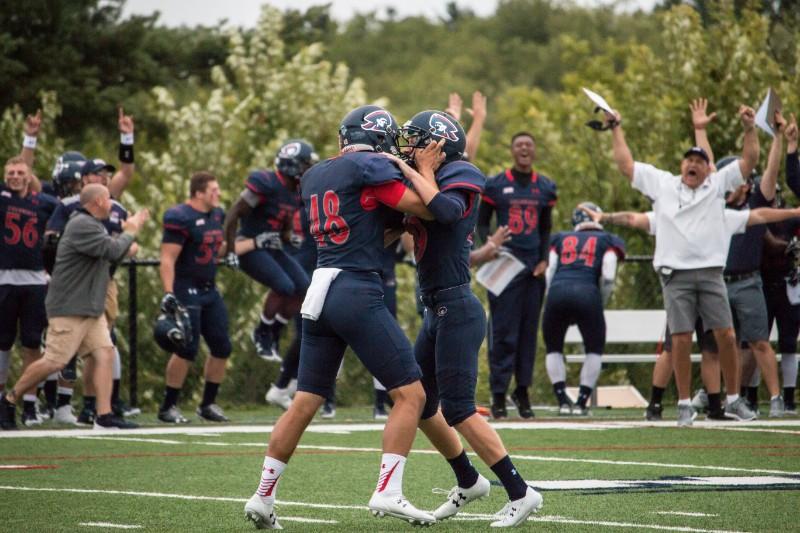 Taken by Katey Ladika
In a season that saw the Colonials football team go 2-9 and finish last in their division, there weren't many happy moments. However, that wasn't the case when RMU upset Dayton on Sept. 2. This photo captures the moment immediately after freshman kicker Nick Bisceglia nailed the game-winning kick to upset the Dayton Flyers 13-10.