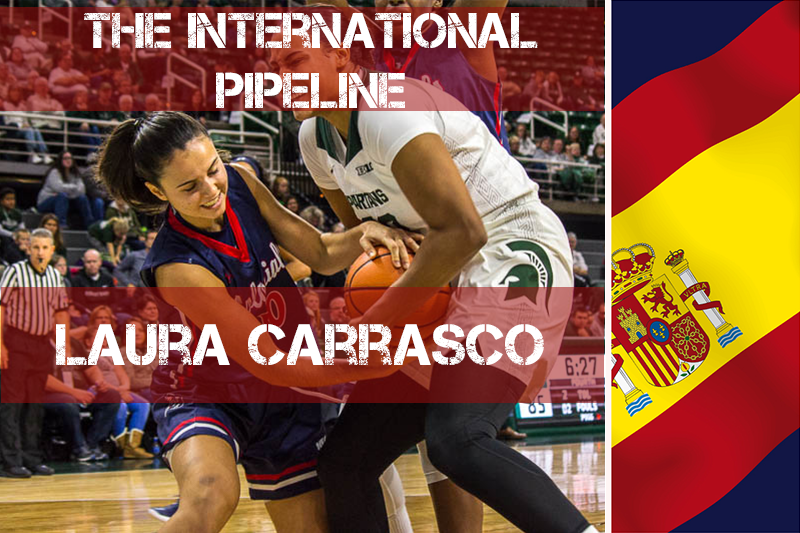 A total distance of 3,873 miles.
That's the distance Laura Carrasco traveled to make the move to Moon Township at just 18 years old to become one of five new freshman on this Robert Morris University women's basketball team.
Carrasco signed her national letter of intent on April 12, 2017, in the middle of her team's run for their third consecutive F4 state championship for her team Real Canoe NC. Before that on her previous team, she led her squad to a sixth place finish in the Spanish National Tournament.
But what made Carrasco wasn't her success, it was that through it all, it was the process that got them there.
All that experience and talent was somehow persuaded by Robert Morris head coach Charlie Buscaglia and his coaching staff to travel halfway across the country to come and spend the next four years in Colonials country. Carrasco said the biggest pitch made to her had nothing to do with basketball.
"Robert Morris when they recruited me they told me it's not only basketball, there are more things like the values you have as a person" said Carrasco.
The American method of combining academics and athletics was the deciding factor for Carrasco. So four months after signing her national letter of intent, she hopped on a plane and entered the campus of just over 5,300 students, all speaking a language unfamiliar to her, but focused and ready to make an impact on the court.
"I wanted to play basketball and study at the same time," said Carrasco. "And I knew in Spain I couldn't do it because my major is pretty hard, so I wasn't going to be able to combine both."
Following in the footsteps of graduating guard and one of the greatest shooters in RMU history, Rebeca Navarro, who hailed from Galicia, Spain, Carrasco filled the void Navarro left after the team's third NCAA tournament appearance in the past four years, looking to be part of both the present and the future of RMU's success.
But Carrasco wasn't alone, she joined the team with four other freshman, three of which were also international students, making the move easier by surrounding herself with those who are dealing with similar experiences.
But still, despite having teammates coming from similar situations, Carrasco was still feeling homesick.
"I'm pretty close with my family, so for me at the beginning it was hard," said Carrasco.
The Spanish product would not let the distance bring her down.
As soon as the season began on Nov. 11 against Michigan State, Carrasco made her impact felt right away, playing all but one game in her freshman season, averaging 13 minutes a game and dominating on defense with almost a steal in every game.
Her contributions as a role player helped the Colonials finish with a share of the NEC regular season title and earn a berth in the Women's NIT tournament.
As a freshman, Carrasco has already made her mark and she will continue to make an impact on a team which contains so much talent. And for a player who truly loves the process, the next three years will be something to watch.