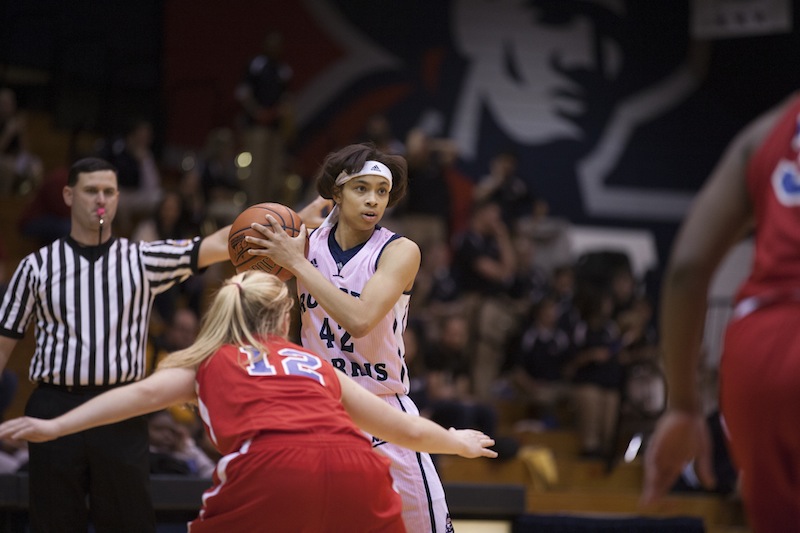 Paul Wintruba
The Robert Morris women's basketball team, fresh off clinching a NEC tournament berth with their win over Sacred Heart last Monday, head into a weekend stretch in which they face CCSU and LIU Brooklyn at the Sewall Center. Here's what you need to know heading into the matchups.
Record: 14-9 (10-2 NEC)
Home: 10-4
Away: 4-5
Streak: W2
It all starts with Artemis: Artemis Spanou just recently reigned in her third Choice Hotels NEC Player of the week honor of the season. She posted 70 points in her last two games, but her efficiency was probably the most impressive. She shot a high 57 percent from the floor, and was automatic from the charity stripe, where she made 29-of-33 attempts (.879). She's definitely deserving of NEC Player of the Year recognition, which would be the second consecutive year for her. As the Colonials get closer and closer to the NEC tournament, look for her minutes to be limited a bit in order to preserve her stamina for a postseason run. She's the most important piece to RMU success right now.
"She made a tremendous impact in both games," said associate head coach Charlie Buscaglia. "I feel that Artemis has been the glue of the team both offensively and defensively. Things center around her and I think she's doing a great job of handling that load."
Fresh legs: Kelly Hartwell and Rebeca Navarro have been key off the bench for the Colonials as of late. Hartwell, a senior, is the true sixth-man of the team, and her presence off the bench late in games has been integral. She's more of a utility player, and is averaging six points and four rebounds per contest. Navarro, on the other hand, is more of a scorer. She's a very streaky shooter, as shown against Sacred Heart where she posted a career-high 20 points on 6-of-7 shooting from long range. But in practice, she's working on the other areas of her game, which is what's ultimately going to earn the freshman more minutes.
"[Sacred Heart] was a great game for Rebeca," said Buscaglia. "I thought she did more than just shoot. She got beat on defense a little, but her struggle has been defensively. She's working harder and we've made strides with that."
"We've always known Rebeca can shoot," he said. "It's the other things that we've got to have her do."
Protecting the paint: Freshman Cassie Oursler has progressed enormously from the start of the season in all areas of her game. At 6-foot-3, she's the tallest member of the Colonials' roster, and her presence is felt down low. She's currently averaging one block per game but it definitely feels like it should be higher just by the way she alters shots and fills the lane. Consistency is key for Oursler, who showed flashes of promise in a two-game span against Mount St. Mary's and Wagner two weeks ago, where she put up 16 and 17-point performances respectively. Her scoring has dipped since then, but look for her to continue to find her niche as she's now cracked the starting lineup.
"She definitely has a lot of talent," said Buscaglia. "If she continues to work hard, then she'll be a good player. I think she hit a point in the season where she really hit a lull. We sat her down like we do with freshman a lot and talked about what she needed to do to go back upward. I think she's embraced that and responded well."
Player to watch: Rebeca Navarro. It will be interesting to see how Navarro responds to her game against Sacred Heart. Will she continue the strong play and stay on the incline, or go back to the 4.5 ppg average she had displayed all season?
The CCSU game is part of a double-header between both RMU men's and women's basketball. The interesting angle about it is that in the Colonials' previous victory over the Blue Devils, they came back from a 21-point deficit to win 61-59.  Tip-off is set for 1PM.