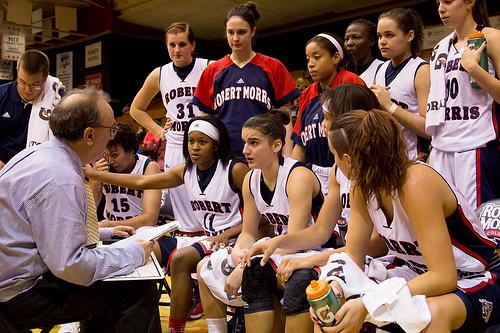 Chris Bombardo
What's been going on around the RMU Women's Basketball team over the last week? They're currently tied for first place in the NEC and on a four-game winning streak. Read here for a few quick thoughts. 
Record: 9-8 (5-1 NEC)      
Artemis Prime: Artemis Spanou has been everything for the Colonials as of late. She earned her second consecutive Choice Hotels NEC Player of the Week honor, where she averaged 27.5 points, 19 rebounds and 7.5 assists over the span. She's doing everything like usual pertaining to points scored and rebounds, but she's made more of an effort lately to get her teammates involved. It's showing in both the assist and win column, with the team winning its last four games and outscoring opponents 307-256 in the process. There isn't anyone more valuable to their respective team in the NEC right now than Artemis Spanou
Freshman phenom: Point guard Anna Niki Stamolamprou is really beginning to blossom into a great second scoring option behind Spanou. In her last four games, she's averaged 13.7 points per outing and was integral in controlling the tempo against St. Francis PA on 1/18, a team that runs a full court press the entire time. She has a smooth style to her game and is shooting .341 from beyond the arch. It's easy to tell by watching her play that her game is more mature than that for a freshman, and it will be key for Stamolamprou to be consistent in order for the Colonials to make a serious push for a NEC title.
Defense wins championships: A big part of the Colonials' recent success has been their play on the defensive end. They are currently second in the NEC in opponents' points per game, due to a couple of reasons. The team focuses a large amount of time on defense in practice, as it looks that head coach Sal Buscaglia and his staff don't underestimate the benefits of a strong team defense after watching practice a few times. Look at St. Francis PA for example, an extremely talented but poor defensive ball club. A big reason for their 5-12 record (3-3 NEC) is their 89.5 points allowed per game, worst in the conference. This is a team that's scored over 100 points twice this season. They may be able to shoot the lights out, but if they're not playing defense, the wins won't come.
Another defensive factor has been the play of forwards Artemis Spanou, Jolie Olingende and Cassie Oursler. The bigs on the Colonials squad have really grasped the NCAA rule changes, and make a conscious effort of putting their arms straight up against defenders rather than going for contact. This is another product of good coaching. Also, the fact that Spanou pulls down almost 15 rebounds per contest plays a large factor in eliminating second chance opportunities. This has helped the team tremendously.
Player to watch: Ashley Ravelli. Ravelli has quietly put up solid numbers this season, averaging 10.1 points per game. She may not be getting the same amount of shots as last year with the addition of Stamolamprou, but the sophomore guard went 4-4 from long range against Bryant. It's all about open shots with her. She's a streaky shooter, and if the offense can get her open looks, after she hits one, the makes keep coming. Like Spanou, the reigning NEC Rookie of the Year is another very important asset to the success of the team.
Next Game: 1/25 AT LIU Brooklyn. Streaming available via NEC Front Row.