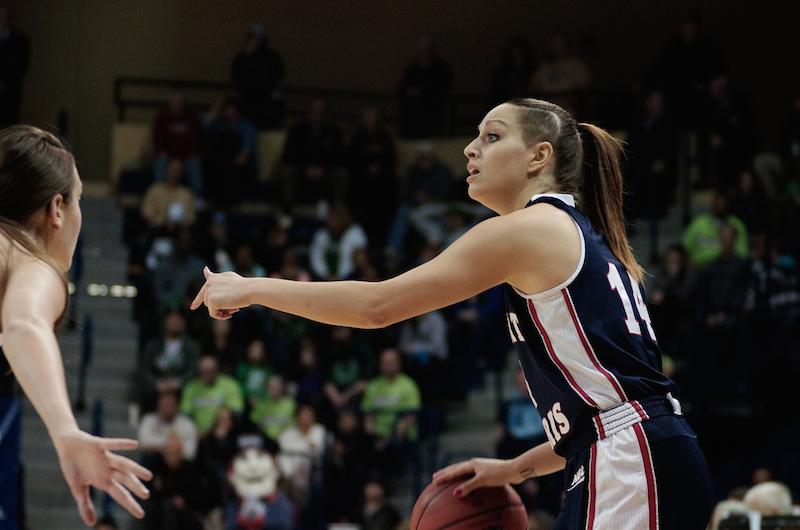 Paul Wintruba
The Robert Morris women's basketball team still has the respect of the Northeast Conference despite losing star forward Artemis Spanou to graduation.
The NEC media day, held annually at the Barclays Center in New York City, unveiled the 2014-15 preseason coaches poll. RMU came out on top for a second straight season and for a third time since 2007, receiving five of the possible ten first-place votes.
"I really appreciate the respect the coaches have shown for our program picking us as the number one team," said head coach Sal Buscaglia via RMU Athletics. "As all coaches will agree, though, it's where you are in the standings at the end of the season that really counts. Although we lost a great player in Artemis Spanou, and although we are very young with 10 underclassmen, I am confident that these outstanding young ladies will define what the word team is all about."
After winning both the regular season and conference tournament titles last season, the Colonials come into this 2014-2015 season with plenty of momentum. The talent is there, but with only one senior returning in forward Jolie Oligende, the leadership will be the key factor over the course of the season.
"One of the keys to us winning the NEC last year was our outstanding leadership. And I feel, once again, it is the main ingredient to help us to stay on top and challenge for another title," said Buscaglia.
RMU returns junior guards Ashley Ravelli and Lou Mataly, who will both be looked upon to step into leadership roles this season. Last season's freshman class tops off the returning talent in guard Anna Niki Stamolamprou and center Cassie Oursler. Both were NEC All-Rookie selections and look to build off their outstanding freshman campaigns.
The Colonials tip off the season on the road against Iowa on Nov. 16.