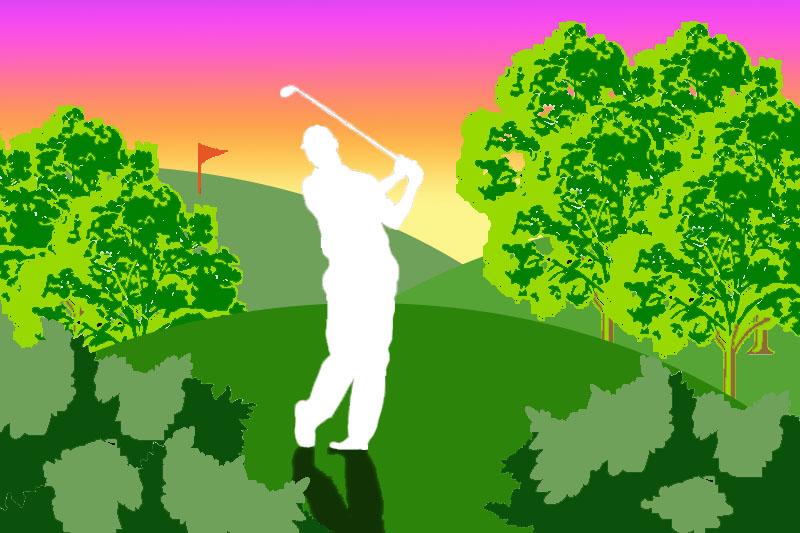 Erik Schmidt
Apalachin, NY.- The Robert Morris Colonials men's golf team (+13) heads to The Links at Hiawatha Landing for the Matthews Auto Collegiate Invitational.
Last week the Colonials won the Northern Kentucky Fall Classic with a score of +13, three shots ahead of the second place Northern Kentucky University Norse (+105) who shot a +16. Freshman Chase Miller was the lowest scorer for the Colonials in the tournament. He shot a -3 (210), which was the only score under par for the whole tournament. Junior Max Palmer finished tied for 5th with a two over par (215), while seniors Bryce Gorrell finished ninth with a score of five over par (218) and David Szymanski finished tied for 17th (222), shooting a nine over par.
The Links at Hiawatha Landing is a 7,104 yard, par 72 courses located in Apalachin, New York; located about 20 miles west of Binghamton, and just over 300 miles from the Robert Morris University campus. The course was designed by Brian Silva and Mark Mungeam and is reminiscent of the legendary golf venues located throughout Great Britain and Scotland, but without the picturesque oceanside views. Water is a factor on seven holes, and the course finishes on a tough par five that doglegs around a large pond and can challenge even the best golfers.
The Matthews Auto Collegiate Invitational is hosted by the Binghamton Bearcats (+92), whose lowest round this year was a five under par shot by Justin Lane. Also at the tournament will be an NEC rival, the LIU Brooklyn Bluebirds (+104). Their lowest round so far was a two over par, shot by 2 different players. Jared Nelson shot a four under to give the Siena Saints (+53) their lowest round of the year.
The St. Bonaventure Bonnies (+69) lowest round of the year was a four under, twice shot by Brent Morgan. For the Niagara Purple Eagles (+158), Tyler Edholm shot a two under par to give the Purple Eagles their lowest round of the year. To complete the "Little Three", the Canisius Golden Griffins (+126) are led by David Hanes, who shot a one under par at the Little Three Championship.
Other teams making the trek to Apalachin include the Lafayette Leopards (+16), the Lehigh Mountain Hawks (+19) and the Rider Broncs (+61). The lowest score for the Leopards was a six under, shot by Brendan Cronin. Both Ryan Kelly and Owen Quinn both shot one under at the Alex Lagowitz Memorial Invitational for the Mountain Hawks lowest rounds of the year. Finally, for Rider, Jake Sollon has the lowest round of the year, with a four under at 68.
Last year at the Matthews Auto Collegiate Invitational, the St. Bonaventure Bonnies and the Lehigh Mountain Hawks finished tied for first with a 10 over par at 586, but St. Bonaventure won in a tiebreaker. Nikolas Maff of the Monmouth Hawks (+33) had the lowest round of the tournament, carding a second round 69, good enough for three under par.