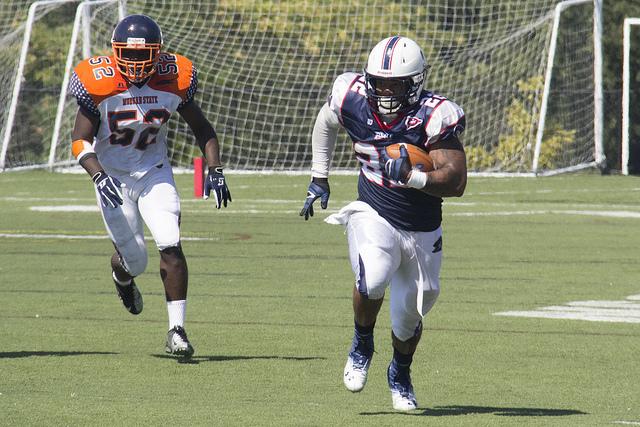 Chris Bombardo
History hasn't fared well for the Colonials when facing the Dayton Flyers, RMU's opponent Saturday.
The Flyers have had RMU's number over the past two decades, holding a 13-2 all-time record against Joe Walton's teams, including a current 10-game winning streak. But coming off a solid win against Morgan State last weekend, the RMU football team is looking to keep the train rolling with a win on Saturday afternoon at Joe Walton Stadium.
In order to do so, the Colonials are going to need to play a sound, turnover-free football game. In last year's 20-14 loss to the Flyers, RMU turned the ball over three times, ultimately killing any chance of a late game comeback.
The focus this week for the offense has been getting off to a fast, physical start, something they were able to do quite successfully a week ago.
"We want to get off the ball fast and hit them in the mouth," said junior fullback Ryan Thermil. "Usually, against them, we beat ourselves with penalties and everything. They're well-disciplined team and come off the ball hard."
Thermil, along with senior Deontae Howard will be crucial factors in establishing the running game early Saturday, which proved to be the Colonials' Achilles' heel a year ago when they only managed 77 yards on 37 attempts against the Flyers.
"[The running game] is going to be just as important as it was last week," said Thermil. "We're playing a better team than Morgan State. Morgan State was good and everything, but they're not Dayton. If we come off the ball the same way, I believe we should be good. We just have to knock off some of the mental errors."
Starting quarterback Paul Jones is also anticipating an early start to the Colonial offense's running attack. He believes that once they establish a presence on the ground, it will open up more opportunities for the offense down field.
"Without the running game, it really messes up the whole offense since you can't really pass or do play-action," he said. "Having the run game will be good, and we're just looking to dominate off the ball. We had a lot of little mistakes last week, so we're just focusing on the little things and having a good game."
The defense has been game planning for Flyers elusive quarterback Will Bardo. Last season, Bardo threw for 1,687 yards and eight touchdowns. In Dayton's two games this season, the senior signal-caller has completed 37 of 76 passes for 366 yards and a touchdown, while also rushing for two scores as well.
As junior outside linebacker Mike Stojkovic pointed out, containing Bardo will be the key focus for the RMU defense.
"Their quarterback is extremely athletic," said Stojkovic. "We know we've got to stop him and just be physical and do our game. "
Ending a 10-game losing streak against the Flyers would provide serious momentum heading into the rest of RMU's season.
"They've beat us every year I've been here, so everyone is just trying to focus up and get a win," said senior linebacker Mike Cook, RMU's leading tackler. "Mental mistakes have killed us, so if we cut them down, we should be fine."