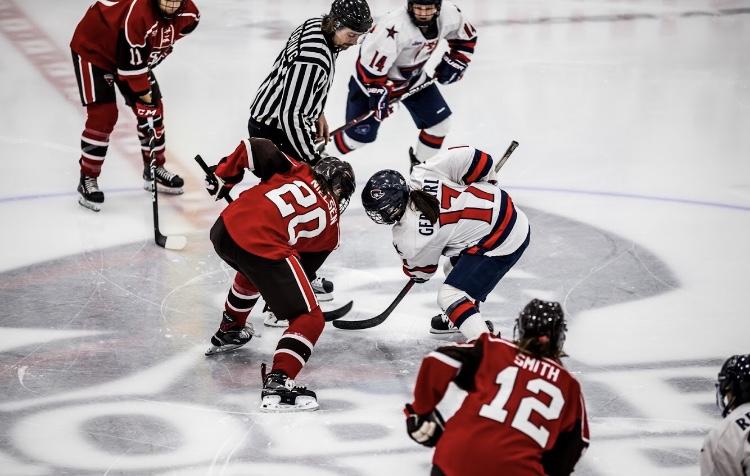 The Robert Morris University Colonials (1-3-0) of the CHA look to take on the Rensselaer Polytechnic Institute Engineers (0-2-1) of the ECAC. The Colonials have a weekend homestand at Colonial Arena in Pittsburgh, PA. The Engineers took on Holy Cross (0-1-2) less than a week ago in a game that ended in a 1-1 tie. The Colonials are coming off a couple losses on the road against the no. 1 ranked team in the country, the Clarkson Golden Knights (4-0-0).
The Colonials battled hard in both games against the Golden Knights, but fell short 4-2 and 4-3 last Friday and Saturday, respectively. This series came right after a weekend battle against the no.10 St Lawrence Saints in which the Colonials were shut out 2-0, but then snatched a victory from the Saints with a 3-2 overtime win. The Engineers are hungry for their first taste of victory in this young season, while the Colonials will look to change their fate against ECAC teams this year.

RMU Recap
The Colonials must have turned some heads in last weekend's series against Clarkson. They battled ferociously with the Golden Knights, making the no.1 team in the nation battle all 60-minutes of both games before ultimately falling just short. The Colonials heavily outplayed Clarkson in the third period of both games, but unfortunately, they were having to play catch up after allowing seven total goals in the first and second periods between both games combined.
The Colonials special teams performed well during the weekend, scoring three goals on eleven power play opportunities while clearing six out of the seven penalties that they faced. In total, the Colonials outshot the Golden Knights 55-52, with third-period shots being heavily in RMU's favor. The fact of the matter is that it was just too hard to try and play comeback hockey against the no. 1 team in the nation. A few separate bounces go in RMU's favor, and the outcome could've been a lot different.
Looking at the bright side, the Colonials managed to hang in there with the no. 1 team in the nation, the narrative is repetitive, but the point is that this should be a series for the team to build off of and not dwell on. RMU goaltender Lauren Bailey saved 36 out of 44 shots during the weekend, which in turn dropped her save percentage from the St. Lawrence series to a .870 on the season with a 3.02 goals against average. Seven different Colonials had a point in the series, including four points total from the tri-captains in Kirsten Welsh, Amber Rennie and Maggie Lague. The leadership among these captains along with assistant captain Gebhard will play a key role in how this RMU team will respond after their first two weeks of this season. The Colonials are currently tied for third place in the CHA standings with Lindenwood (1-3-0), behind Penn State (1-2-1) and RIT (1-2-1).
RPI Examination
The Engineers are still searching for their first win of the season after losing both games in their first series to Minnesota State University (2-0-0) and tying the Holy Cross Crusaders 1-1 less than a week ago. Their lack of offensive production is obviously a huge part in why they are without a win through their first three games.
Offensively, they have only managed a mere 24 shots per game and that has put them on the board only twice. They are one for eight on the power plays with the singular strike coming in their tie against the Crusaders.
The defense has been their bright spot thus far this season, despite allowing roughly 30.6 shots on net per game. That and netminder Lovisa Selander, who has only allowed three total goals on 87 shots faced, boasting a wicked .966 save percentage.
They are also perfect on the penalty kill so far this season, with their toughest job coming against Holy Cross where they had to kill off three of them, but as said, they remained perfect.
The Engineers are currently ranked fifth in the ECAC standings, but six of the teams in the division have yet to even play a game. With that being said, among teams that have played a game in this conference, the Engineers are in last with their 0-2-1 record and may have a tough time catching up with St. Lawrence and Cornell at the top of the ECAC.
Highlighted Players
Lovisa Selander (RPI):
The aforementioned goaltender for the Engineers is going to look to build off of what has been an incredible year so far for her. She will need to have some help on the other end in her offense, but look for her to be standing on her head yet again to try and keep her team in the mix this weekend. A .966 save percentage is a stellar number in any hockey league, but without the offensive production, her win/loss ratio will continue to dwindle.
Jaycee Gebhard (RMU):
No way can she not be on the players to watch list with the way she has lit up the score sheet. She has six points (two goals, four assists) in four games this season against two top 10 teams in the nation. She has two straight games with a goal and three straight multi-point games. With how dominant her line was, specifically in both third periods, against Clarkson, don't be surprised to see her with another multi-point weekend.
Natalie Marcuzzi (RMU):
Without a point yet this year, this Junior forward seems to be due for a goal. If not, you can still bet on her coming up big defensively. She's has five blocked shots through the teams first four games, showing she is not afraid to sacrifice her body for this team. She uses her speed to fall back and help her defenders on the back-check which could be key in this match-up.
Emily Curlett (RMU):
The Sophomore defender, much like her previous mentioned teammate, is not afraid to give up her body. She has 13 blocked shots in the team's first four games of the year. She will look to continue to make RPI's offensive numbers look pitiful while looking to bolster the Colonial's offensive as well.
Who will be victorious?
RPI's defense along with goalie Selander is going to have to come up huge, or else this thing could potentially get out of hand. Not much else can be said about their defense, but RMU's offense has managed to put up eight goals on two top 10 teams. RPI will have to find a way to beat RMU five-on-five because RPI's perfect penalty kill must become tarnished at some point, it is inevitable. If they cannot find a way to do so, RMU will take out their frustration of starting out 1-3 and really take it to this team.
RMU 3-0, RMU 5-1