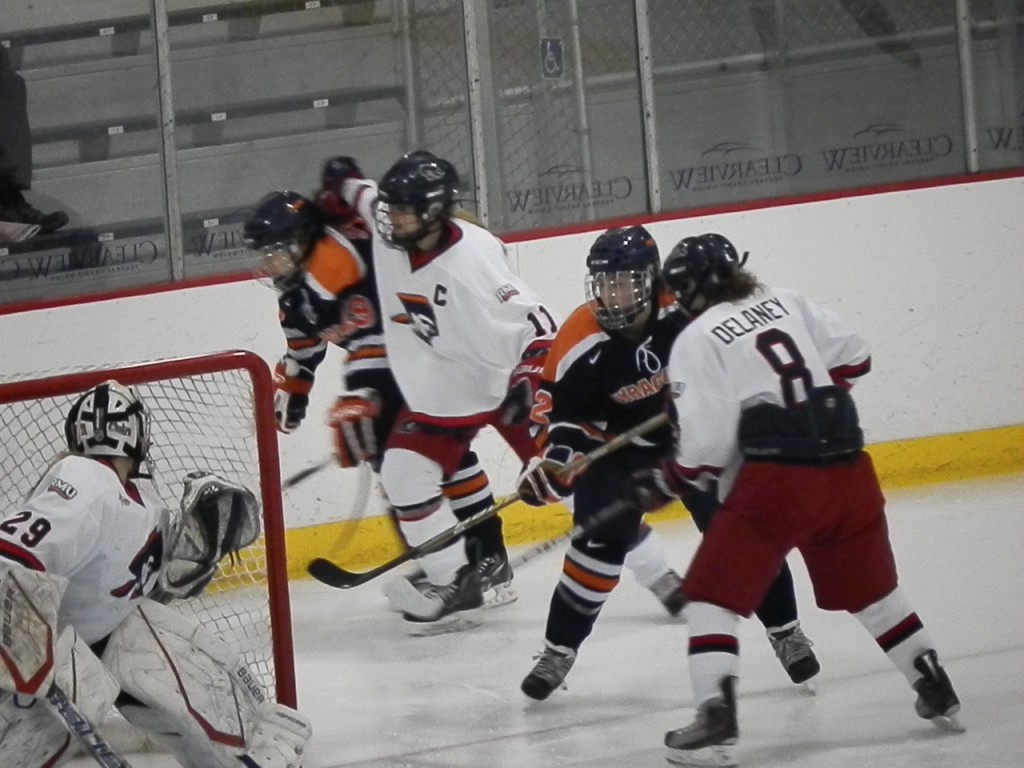 Two members of the Robert Morris University women's ice hockey team were nominated for the Dapper Dan Sportswoman of the Year award, which is sponsored by the Pittsburgh Post-Gazette.
  Assistant Captain, Brianna Delaney and goaltender, Kristen DiCiocco were both nominated for the award based on their exceptional play this season.
  Delaney, a senior, is currently the all-time leading scorer in Colonials history with 110 points while DiCiocco, a junior, holds a 9-4-2 record with a 1.78 goals against average and a .931 save percentage. DiCiocco currently holds the eighth best goals against average in all of Division I women's hockey.
  Both players are excited to be nominated, and feel that it is exciting not only for themselves but the women's hockey program as well.
  "I am honored to be nominated along with fellow teammate [Brianna Delaney] for the Sportswoman of the Year award.  It is great to have our team and school recognized," said DiCiocco.  "Looking at the other nominees, I can't believe I am one of them, but I am extremely grateful for the opportunity Robert Morris has given to me, and I'm thankful to my coaches and teammates for all the support."
Delaney reiterated what DiCiocco said and is happy to be nominated next to her teammate.
"It's an honor to be recognized for this award," she said. "It's nice to be honored by the community, especially being nominated next to a teammate. This just shows how well our team is doing, to have two different people nominated."
The Dapper Dan Sportswoman of the Year award is awarded annually to the most outstanding local sports figures, with voting by the public being part of the selection process. After the top vote-getters are tallied, Dapper Dan Charities will then select the winner from each category based on the results. This year's award will be the 76th time it has been handed out, and will be presented on Monday, March 12 at the David L. Lawrence Convention Center.
  The other two nominees for the women's award are Alex Gensler, a basketball player from Duquesne along with the entire Pittsburgh Passion women's football team.
  You can vote for Delaney or DiCiocco at http://www.post-gazette.com/dapperdan/ballot/ until noon on January 13, 2012.