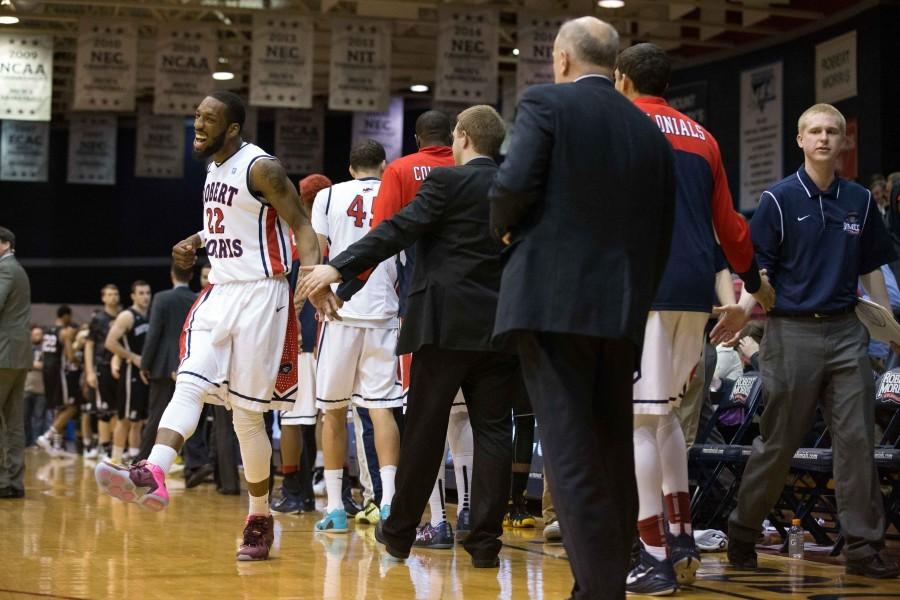 Kyle Gorcey
Rodney Pryor is the first to admit that he started the trend. Lucky Jones believes it's the reason he's been shooting so well of late. And undoubtedly, Kavon Stewart has the most pairs.
But after a dramatic 66-63 victory over St. Francis Brooklyn in the Northeast Conference Championship, members of the Robert Morris basketball team will soon be trading in their Nike Kyrie I sneakers for a different type of footwear.
Dancing shoes, to be exact.
Junior college transfer Rodney Pryor cut loose, scoring 17 points in 35 minutes, while freshman Elijah Minnie contributed nine rebounds and four blocks en route to a three point RMU (19-14) win over SFC (23-11) in the Pope Physical Education Center in Brooklyn.
"It's one of the best feelings in sports," said head coach Andy Toole, who led Penn to the 2002 and 2003 NCAA Tournaments. "I'm glad they get to experience it."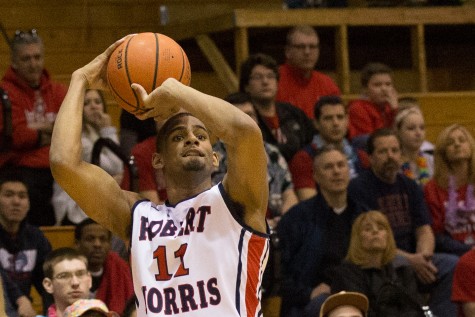 As expected, the two evenly matched teams matched each other shot-for-shot throughout the first half, but the Terriers' stringent defense – which held RMU to three points in the final five minutes – allowed them to take a six point advantage into the locker room.
But Pryor caught fire in the final frame, draining three pointers on two consecutive possessions to cut the deficit to one three minutes in.
Robert Morris then used a 16-3 run to go ahead by 10, its largest lead of the contest, at the 6:53 mark.
But a resilient Terriers squad, led by NEC Player of the Year Jalen Cannon, began shrinking the gap and got within one, courtesy of a Glenn Sanabria trey.
This is where things got interesting.
On the ensuing possession, Jones was fouled, sending him to the charity stripe. He sank both shots, giving the Colonials a three point cushion.
With 13 seconds remaining, Yunus Hopkinson's game-tying three was off the mark; however, the rebound caromed into the hands of Tyreek Jewel, who then pump faked Minnie and put up a 25-foot three-pointer.
But since Minnie came in contact with Jewel, he was whistled for the personal foul.
Evidently, Jewell missed all three free throw attempts and in a last ditch effort, SFC fouled Jones, an 81 percent free throw shooter, with two seconds left.
After both of the senior's shots rimmed out, Lowell Ulmer unleashed a game-tying half-court heave that hit the back iron and bounced out, ultimately punching RMU's ticket to the tournament for the first time in five years.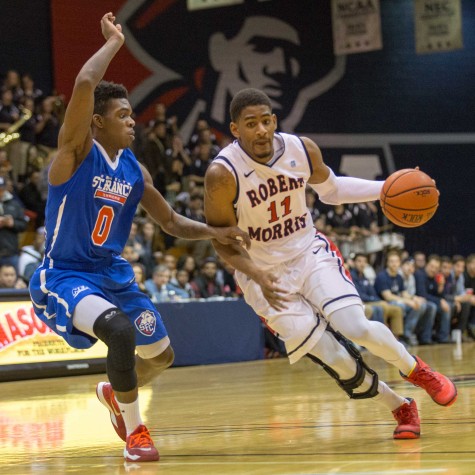 "Obviously it is very disappointing, the result tonight, and we're all down, we're all disappointed. But I'm also real proud of my guys, they've had a great run," St. Francis head coach Glenn Braica said. "Even with the disappointment tonight, the atmosphere that we had tonight, no one thought that was possible at St. Francis College."
Even though the Colonials won't find out who they'll play until Selection Sunday on Mar. 15, Toole is just happy he's finally been able to duplicate the success of his predecessor, Mike Rice, after falling short the previous three seasons.
"It breaks your heart sometimes as a coach that we've had teams that have been so close and not been able to get over the hump," the 34-year-old said. "And that's why we push, and we push and we push, all the time. To be able to perform and play in this kind of atmosphere and this kind of stage."