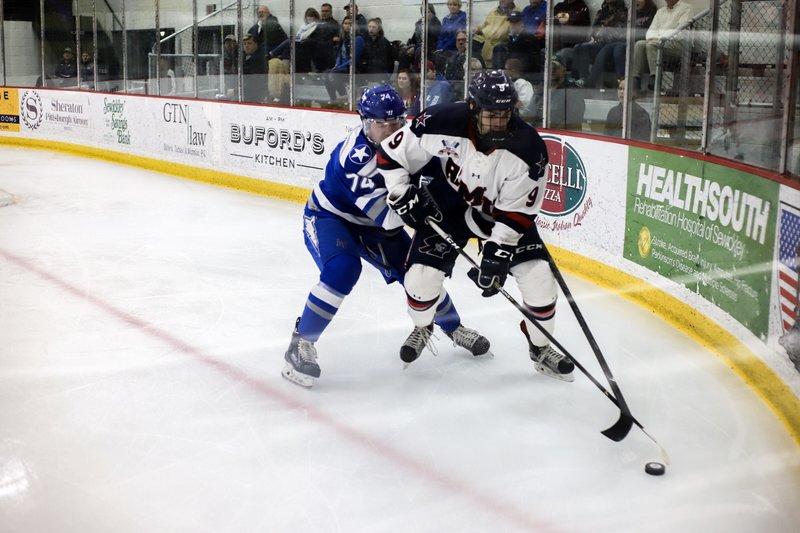 After losing out on a trip to the NCAA Frozen Four tournament last season when losing to Air Force in the AHC finals, the Robert Morris University men's ice hockey team looked to snap their four-game losing streak against Air Force tonight.
Who was there
RMU Held "Armed Forces Recognition Night" in which they recognized fans from each branch of United States' Armed Services. They held a brief ceremony of playing all branches' anthems as well.
Why it happened
The RMU penalty kill really shined bright tonight. They kept Air Force, a team who's powerplay is a key part of their game, scoreless. Through even a five-minute major, the penalty kill was spotless and didn't let Marotte face too many quality scoring chances.
Who stumbled
The RMU offense, on the other hand, stumbled quite a bit. They had 4 breakaways and 2 wide open net chances late in the third that could have been the deciding factor in a different outcome. All night they had solid chances, but just couldn't put the puck in the back of the net.
Who starred
Brady Ferguson, while still being held scoreless, is someone who starred tonight. He was defensively sound and made some phenomenal plays. In the third period on one shift, he intercepted not one but two passes on the point of the AFA powerplay, generating two scoring chances for his team.
Who is next
Luke Lynch is someone to keep your eye on in tomorrows game. Air Force really got under his skin, and while he didn't retaliate tonight, he may get the Falcons back tomorrow by tickling the twine once or twice.