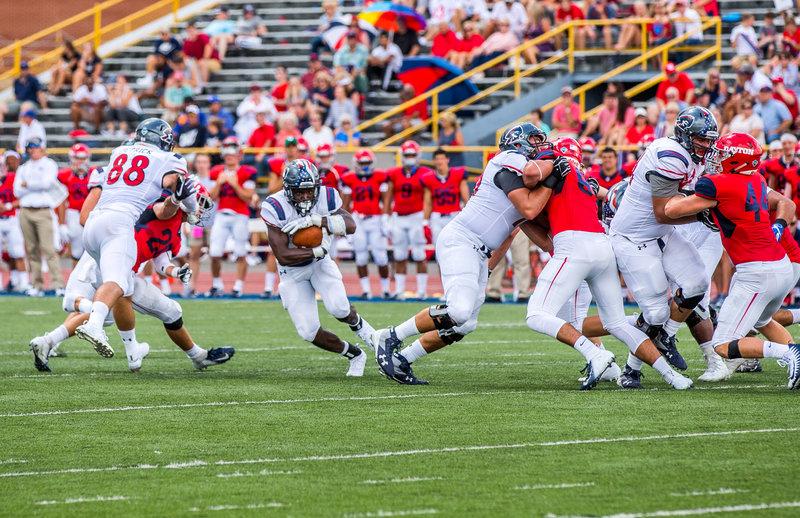 The Robert Morris football team opened up the Bernard Clark era and their 25th season with a 49-28 loss to the Dayton Flyers, with impressive play from RMU quarterback Jimmy Walker and lots of explosive plays from the Flyers. Here is everything you need to know.
Why it happened
Explosive plays early for the Flyers helped Dayton burst out to a 28-7 lead with 7:39 left in the 2nd quarter. This included 31-yard and 64-yard touchdown passes and a 44-yard touchdown run from Dayton running back Tucker Yinger, who put up 140 yards on 11 carries. Despite fifth-year starting quarterback Alex Jeske leaving with an injury early in the game, it didn't seem to do much to slow down the Dayton offense, which only punted the ball once in the entire game.
What it means
Despite the struggles of the Colonials defense, there were a lot of positives in this game. The Colonials produced 416 yards offensively, which is the most for RMU since they visited VMI on Sept. 28, 2013. Jimmy Walker threw for 219 yards and recorded three touchdowns for himself, one on the ground and two through the air. Something RMU has struggled with in years past is finding consistency in their quarterback play, and it looks as though they have finally found that in Walker's second year with the team since transferring from San Diego State.
The loss should give the Colonials a lot to look forward to in conference play when the teams are not nearly as explosive as the Flyers.
Who starred
Jimmy Walker clearly starred in this game. But his receivers looked equally impressive. Tight end Matthew Gonzalez was the team's leading receiver with four receptions, 84 yards, and a touchdown. Tim Vecchio made his mark with 60 yards receiving and a late touchdown, and running back Terence Stephens looked strong as the Bowling Green transfer put up 72 yards rushing and a solid 33-yard kickoff return.
Who stumbled
It was a long day for the RMU defense which recorded just 4 tackles for loss and no sacks in the entire game. And it is hard to make stops on defense when one cannot stop the offense from moving forward in almost any way. The Colonials let up 465 yards to Dayton and also did not force a single turnover. Not a lot of good things to discuss regarding the RMU defense.
Who is next
The Colonials head home to host the Virginia State Spartans in what should be a tune-up match-up in preparation for nationally ranked James Madison the following week.