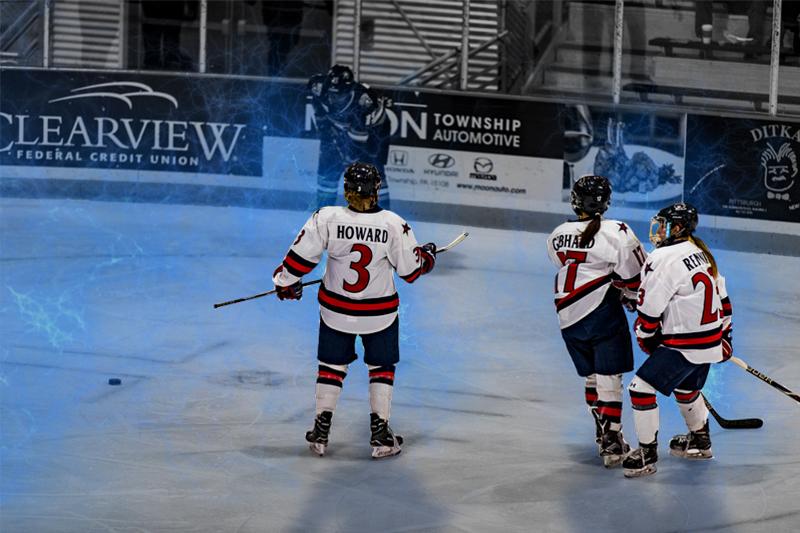 Tori Flick & David Auth
Robert Morris women's hockey has been in the national spotlight in recent years. The newfound success can be placed on one player's shoulders. Brittany Howard can be praised for the program's success. Ever since she donned the red, white and blue for RMU, Howard has been at the top of the program.
Growing up in St. Thomas, Ontario, Howard started playing hockey at a young age.
"I think I started when I was five with my twin brother and older sister," said Howard.
From there, she went on to play for the London Deviletts, of the PWHL, for four years. Howard registered 75 points in her time there. Howard was also named the MVP of her high school team in 2011.
Hockey is not the only sport that Howard has a talent for. She was also named the MVP of her high school basketball team.
An injury sidelined her, causing her to miss a year of basketball. That's when she decided to shift her focus to hockey.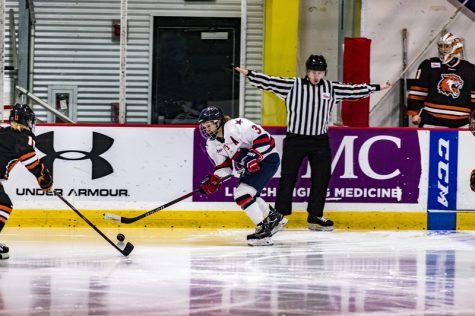 Choosing the right college can be especially difficult for athletes. In 2013, RMU women's hockey had yet to win a conference title or qualify for the NCAA tournament. However, Howard believed RMU was a good fit for her.
"It's a great school. I met the coaching staff, fell in love with the school. The coaches are great here. It was an up-and-coming program, with Thea Imbrogno in the program. It definitely had a lot of excitement behind it," Howard said.
Most freshman years are spent trying to find a rhythm at the new level.
Howard found the rhythm early in her rookie season. She scored 17 goals and added 24 assists, tallying 41 points in 34 games. The 41 points was good enough to be tied for the lead in points on the team.
Howard was also named to the All-USCHO Rookie Team. She was also named to the All-CHA Second Team and the All-CHA Rookie Team.
Her success did not come as a shock to former Robert Morris goalie and two-time Olympic silver medalist Brianne McLaughin.
"It came as no surprise that she became our new leader. I've known all the leaders in the past and there's only been a couple. There's that same characteristic with all of them. They all want it," McLaughin said.
Howard had immediate opportunity when she first arrived at RMU.
"My freshman year, I got lucky. I got to step onto a great line. Right off the bat I got to play with great players. I just wanted to keep moving up and get better each season," Howard said.
After an injury caused Howard to sit out her sophomore season, she came back just as strong in her redshirt sophomore year in 2015. In the 2015-2016 season, Howard scored 17 goals and 23 assists. Her performance was good enough to lead the CHA in points.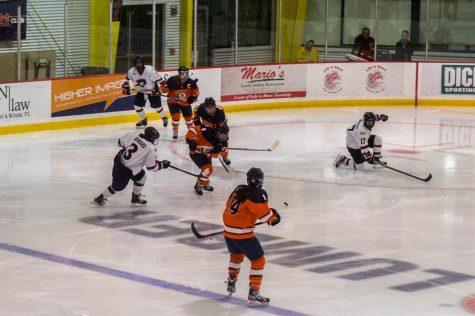 The expectations for the team, especially for Brittany Howard, going into the 2016-2017 season were high. The team and Brittany didn't disappoint. Howard had 20 goals and 30 assists. She was named the CHA Player of the Year and to the All-CHA First Team.
"It was amazing not just on the ice. From the road trips and the changing room, when you say we were a family, we were definitely a family," Howard said.
Howard led the team to their first-ever CHA championship and the program's first-ever NCAA tournament birth.
The big season for Brittany Howard earned her a chance to play in the NWHL for the Buffalo Beauts. The Beauts drafted Brittany with the tenth pick in the draft. The Beauts have had a long line of Colonials playing in Buffalo. Most notably, Brianne McLaughlin.
"I kind of saw that one coming. We've been in contact. That was the first person they asked me about," McLaughlin said.
Howard decided to stay and play her senior year at RMU. Coach Paul Colontino wasn't surprised by Howard's decision to return to Robert Morris.
"Not to say I was expecting it, but just with the way her career's gone, we knew she would redshirt for one year and then come back, finish out and play her four years," Colontino said.
This season is the last for Brittany Howard in a Colonials uniform. She is already the leading scorer in RMU women's hockey history with 146 career points and counting. Her name is also by the record for most assists in a career with 83.
The future is bright for arguably the greatest player in Robert Morris women's hockey history, but don't tell her that.
"I wouldn't say I'm the greatest. I've been surrounded by great players every year I've played on this team," Howard said.
The Buffalo Beauts have already taken notice and offered Howard a spot, but she is going to weigh her options. "I'm not sure what I'm going to do, but it's definitely a good option. I'm going to pursue hockey after university. I'm not sure where, but I'm going to try to play."
The 2017 Robert Morris women's ice hockey team is looking to get back to the top of the CHA and NCAA on the back of Brittany Howard.