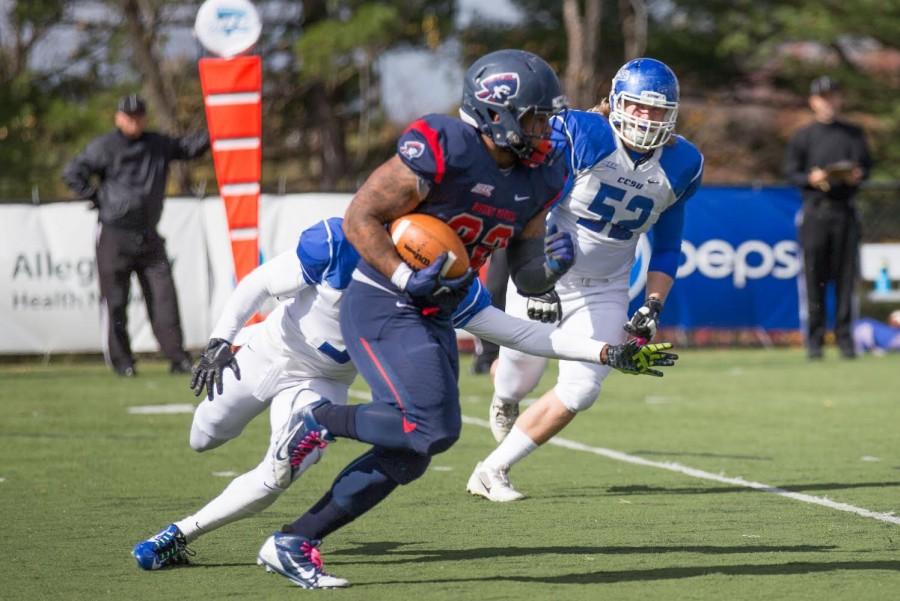 Kyle Gorcey
The Robert Morris University Colonials (1-6, 1-1 NEC) finally got the first win of the season out of the way. They did so in exciting fashion, coming back from over two touchdowns behind in the fourth quarter to beat Central Connecticut State. The challenge of keeping that momentum faces a major obstacle this week, as the Colonials face a team just voted into the FCS Coaches Poll, the #25 Bryant Bulldogs (5-1, 1-0 NEC). To pull off the upset this week, here are some points for the Colonials to focus on in that gameplan if they want to extend their winning streak to two games.
1. Spend less time worrying about Bryant's ground game, and more worrying about Dalton Easton to Chad Ward
The point here to make isn't that Bryant is a poor rushing team. They average over 157 yards per game on the ground, and have multiple players who could gash the team for a big gain. Looking back at last week against Central Connecticut State, the Colonials allowed 224 yards on the ground, yet still managed to win. A big part of that win was RMU's ability to shut down the Blue Devil passing attack. They kept two CCSU quarterbacks to a combined 8-20 for 116 yards and two interceptions. By forcing CCSU's offense to become one-dimensional, it became easier to handle, and the end result was a victory. It will be a tough challenge to contain the Bryant aerial game in a similar fashion to CCSU's, but a big portion of that objective can be accomplished by shutting down one receiver: Chad Ward. Ward's 436 yards are far more than any other receiver on Bryant's roster, and his four reception touchdowns also lead the team. Stopping Ward forces quarterback Dalton Easton to look for either targets, and gives RMU a better chance to replicate last week and turn Bryant into a ground-only team.
2. Isolate Jeff Covitz and Maduka Nwanekezi
The Colonials' passing attack experienced a resurgence late versus Central Connecticut State, finishing with 215 yards and two touchdowns. However, they face a challenge against Bryant in the form of two specific players. Jeff Covitz (5) and Maduka Nwanekezi (6.5) nearly have as many sacks as the entire Colonials team. This same Colonials team has allowed their quarterbacks to be sacked twenty times through seven games. Unless Robert Morris wants to regress back to rushed passes and turning the ball over on interceptions, they need to keep Bryant's top two rushers contained (and have another guy free to block surprise rushers). Treating two guys who have shown they can get to the quarterback as normal players is just asking them to add to their stats. Fun fact: Bryant's only loss this season came on the lone game where they were not able to record a sack.
3. Make a strong attempt to establish both the run and the pass
This may seem like a rather obvious point to make, but sometimes the simple things need restated. The Colonials' two closest games of the season were also, by no coincidence, their two best offensive performances. Last week's win over CCSU saw the Colonials run for 171 yards and pass for 215, and in a three-point loss to North Dakota, they ran for 214 yards and passed for 149. So long as they avoid falling into a deep hole early (they gained similar yardage against Monmouth, but were down early on in the game), the Colonials can compete with teams when the offense is clicking. Getting both aspects of the offense working is the important part though, because as we saw from CCSU last week, an offense that can only succeed at one thing is easier to handle. If the Colonials can't get a rush to go more than two yards, or can't complete a pass from any distance, Bryant just has one thing to stop, something every member of the Bulldog defense would most likely love to see on Saturday.
4. Treat the first quarter as if it's the fourth
The Robert Morris football team played their best football all season when it came down to crunchtime in their game against CCSU. The passing game that had disappointed throughout the season finally clicked, a shaky defense held strong, and the necessary turnovers were forced to ensure the Colonials had a chance to win. To beat an opponent that is ranked in the FCS Polls, it will take that kind of play all four quarters, or a fast start out of the gate, to win. The Colonials don't need to come out attempting to maintain their level of play from the end of last week's game. They just need to hold Bryant on most drives, keep their defense grounded and working, and make sure the offense is driving and earning red zone opportunities. If the Colonials can manage to grab an early lead, the very important factor of momentum will be on their side. As we saw at the end of the CCSU game, momentum can turn one defensive stop into a snowball effect, where the opponents make miscue after miscue, the underdog comes back, and what was a fifteen-point deficit in the final quarter turns into a three-point victory.