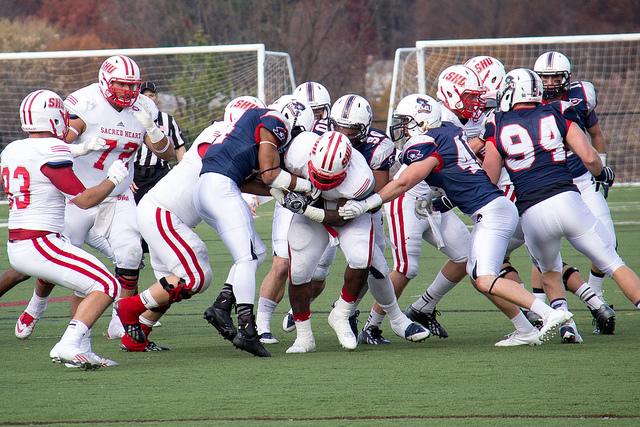 Chris Bombardo
Heading into Northeast Conference play, the Robert Morris (0-5) and Sacred Heart (4-1) football programs are on opposite ends of the spectrum. Heading into the game, popular opinion and statistics say that Sacred Heart is the favorite to win. Here are some keys for the Colonials to focus on in order to pull off an upset.
1. RMU defense must focus on QB RJ Noel
The Robert Morris defense will face something this week that they haven't all season: a true dual-threat quarterback. They had a small taste of what it was like to play against one in their opener vs. Eastern Kentucky, but EKU rotated their two quarterbacks in and out. RJ Noel not only throws for over 190 yards a game, but also runs for 74 per contest, just a yard less than the Pioneers' starting running back. The Colonials have been inconsistent in stopping the run this season, and Noel will be looking to exploit the Colonials in any way possible. Assigning linebackers to spy on Noel on passing plays (preventing him from scrambling) to take away his run option can really help. RMU's secondary is the strongest part of the defense, and forcing Noel to beat them in the air will give them a better chance.
2. Run the offense through Rameses Owens
The two games that the Colonials have given Rameses Owens over 20 carries this season, he has responded with 199 and 154 yards respectively. In the other three games, Owens has 78 rushing yards combined. Sacred Heart has done an excellent job this season of causing trouble in the passing game. Five of their players have two or more sacks, and when the quarterback does manage to get passes off, the Pioneers have 35 pass deflections and eight interceptions on the season as well. The RMU passing game enjoyed a bit of a resurgence during the homecoming game against Monmouth, more than doubling its total of passing touchdowns on the season. New starting quarterback Derik Abbott also threw two interceptions that game though, and this is the not the game for a shaky passing offense to continue to work out the kinks if Robert Morris has any chance to win. Let Owens be the workhorse back and don't give Sacred Heart too much of a chance to harass Abbott and force interceptions. An additional note to support a ground-heavy gameplan: Sacred Heart has yet to recover an opponent's fumble this season.
3. Keep track of Tyler Dube, especially near the red zone
Sacred Heart has a balanced running game, with three players at or just below 50 carries this season. When they take to the air however, it is anything but balanced. 39% of Sacred Heart's passing plays go to one player:  wide receiver Tyler Dube. More importantly, seven of the eight passing touchdowns have been to Dube. It's clear that when the Pioneers look to pass, he is their preferred target. If Robert Morris can't keep him in check, things could look a lot like their loss to Monmouth last week, where they passed for 331 yards, with 144 of those yards to one player in Neal Sterling. Keeping Dube in check, and preventing RJ Noel from scrambling (as mentioned above) completely blows up the Sacred Heart gameplan.
4. Quick start
Robert Morris has only scored twelve points in the first half all season. Consequently, they have faced significant deficits coming out of the locker room to start the second half. Scoring early will keep the game close. Robert Morris has scored more points in the third quarter than any other this season, and Sacred Heart has scored its fewest points in the third. If there is a single point in this game where Robert Morris can strike, it is from the first play of the second half. Momentum can lead to a snowball effect if capitalized on; a quick RMU touchdown to start the second half, coupled with a subsequent stop of the Pioneers on their next drive, could help put Robert Morris in position to make it a game.