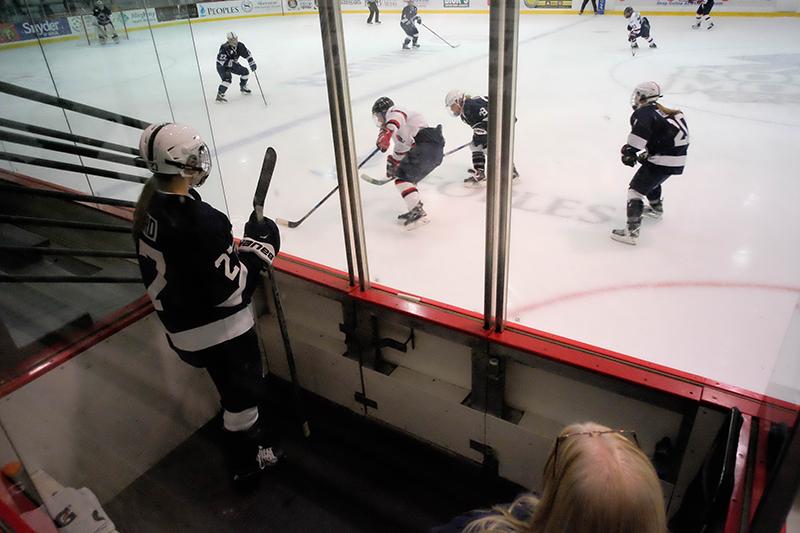 Paul Wintruba
Character is created during times of hardship and struggle. When everything goes wrong, and you are pushed to the breaking point, it is how you respond that defines a person.
Individuals with weak character project outward displays of stress and anxiety, blaming everyone and anyone who can take it off your hands.
Not again. Why am I even in here? Nice call, really. Fantastic..
Strong charactered individuals block out the negative energy, learn how to help those around them, and deflect feelings of helplessness.
Come on, let's go. Get there, get there! Clear it out, just keep stick on puck.
Transcendent individuals surpass all negativity and turn to what lies ahead – the road to success, triumph, and a trip to the Frozen Four.
Just 30 more seconds. When I get out of here, I know exactly where I'm going.
Seconds are an eternity while in there.
10… 9… 8…7…6…
Eyes fixated on the latch, hands shaking in anticipation, just waiting. Yearning to get out.
5…4…3…2…
So close to freedom, so ready to leave that cell.
Then, WHOOSH.
The door flies open. Like a cannonball, she shoots out on the battlefield. Back to the bench, eagerly awaiting the next opportunity to do something warranting another stay.
That, my friends, is life in the box.
A 6×4×12 roofless room, with its Plexiglas walls surrounding a shiveringly smooth, cold white bench not even wide enough to serve as a makeshift bed, houses, although for short periods of time, those who defy the rules of hockey.
As crazy as it might seem, though, the penalty box is not all that bad. For some, it's almost a second home.
Meet Kirsten Welsh, a 5-foot-11 freshman defenseman from Blackstock, Ontario. She currently boasts a mark of 28 minor penalties taken in 30 games for the Robert Morris women's hockey team.
She is certainly no stranger to being locked away for two minutes at a time.
"Usually, I don't even look," Welsh said. "I don't even wait for (the referee) to call the number because I know it's me, so I usually just skate to the box and accept it."
It almost seems like a revolting smelling Catholic confession room – one of denial, self-reflection, and prayer. The quiet gives way for the thoughts inside the perpetrator's mind to take control, a process that takes a matter of seconds.
"After I'm in there for 10 seconds, I'm just focusing on what's happening in the game and how we're gonna kill off this penalty," said Welsh.
Sound familiar? (See paragraphs 4-6)
Focusing. Not allowing negative thoughts to consume and take control for more than the first five seconds, but quickly turning the page – ready and able to accept responsibility once the situation unfolds.
The only unanswered conundrum of the box is how one is forcibly thrown in there to begin with. To do that, a "penalty" must be defined. According to Dictionary.com, a penalty in a sport is "a disadvantage imposed upon one of the competitors or upon one side for infraction of the rules."
Pretty vague. Well, in women's collegiate ice hockey, there are 26 minor, 14 bench minor, 15 major, 14 misconduct and 14 game misconduct penalties that any player can commit during the course of a game that would lead to a stay in the box.
Granted, the majority of these penalties never get called because they are so similar, so it's closer to 10 different penalties per contest that officials usually call.
The biggest difference between men's and women's hockey is checking. Women's hockey does not permit checking another player under any circumstance, which is something the 5-foot-11 defenseman struggles with in games.
"I'm a big kid to begin with," said Welsh. "I mean I can't blame it on that every time, but it's a bit more difficult when I go into the corner against someone, and I need to tone it down a lot. Their head is at my shoulder every time, so it's hard to lay off but not lay off too much."
Very hard, indeed. With the average Division I women's ice hockey player boasting a height of only 5-foot-5, she clearly has the advantage (half a foot, to be exact).
Evening the scales, perhaps, are the boys in stripes, sending Welsh and thousands of others just like her to the box.
Like a child glaring out of the window across the street, wanting to join the neighborhood kids playing basketball, but knowing all too well that you are grounded and can't, hockey rule breakers agonizingly fixate on the puck travelling across the ice – tensing up on each scoring chance.
Yearning for those excruciating two minutes to pass, praying that door latch won't open prematurely. A head sink and slow crawl out of the box starts the most painful skate to the bench – the skate of shame.
It's the lingering effect of the box. It haunts its nomads with memories of disappointment and regret. But, without fail, the risk of getting caught never outweighs the reward of getting away with it.
So, the players walk in, sit down, check the scoreboard, mumble quiet obscenities, get prepared to get back out, and carry on afterwards – fully aware that that would not be the first and definitely not the last time living in the box.