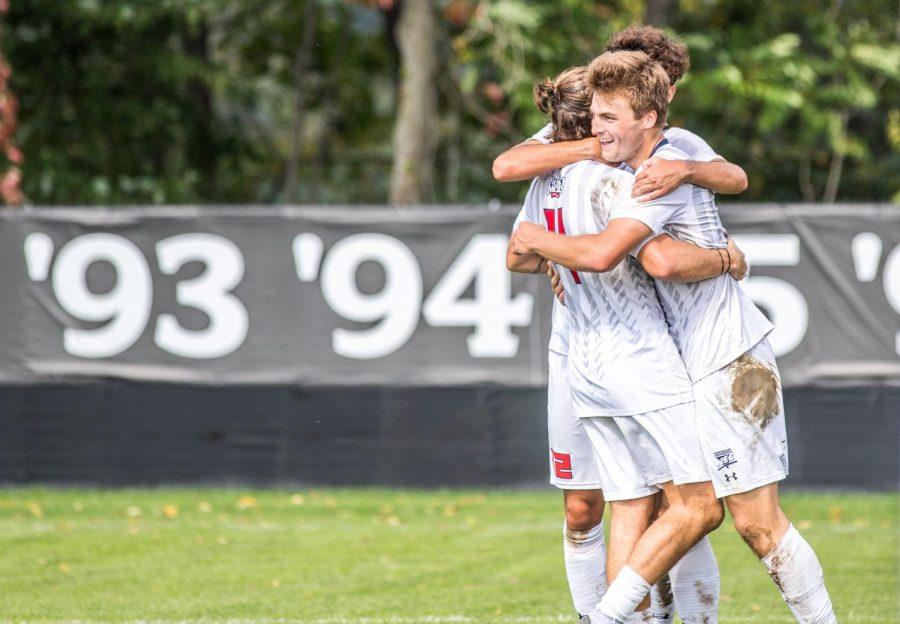 David Auth
CLEVELAND, Oh.– The Robert Morris men's soccer team (0-2) heads to Ohio to take on the Cleveland State Vikings (0-0-1) on Wednesday, September 4th at 7 p.m. The Colonials start to the season has been a little rough, with two losses in a row. The latest loss came against Bowling Green State University Falcons (1-0-1). The Vikings have only played one game, and it ended in a double-overtime tie against the then no. 14 ranked Louisville Cardinals (0-0-1).
Recapping RMU
In the Colonials last game against Bowling Green, the Falcons came into this game and got the upper hand in the first half when they scored two goals. The first goal was scored by freshman defender Colin Iverson, who was assisted by junior defender Achille Robin. The second goal was scored by senior forward Chris Brennan. The Colonials had one shot on goal during this game and RMU goalie, Grant Glorioso, had five saves. The star players of this for the Falcons were Iverson and Brennan with their one goal each to secure the win against the Colonials. The star player for the Colonials was the goalie Glorioso, who kept his team in the game with only allowing two goals to be scored against him.
Recapping CSU
The Vikings last game was against the no. 14 Louisville Cardinals, with the game starting out with Louisville taking the early lead by scoring two goals in the first half. The second half turned in the Vikings favor, however, when they scored two goals to tie the game. The game would end after a double-overtime, as neither team was able to score another goal. The goals scored for the Vikings were scored by senior forward Gabriel Pewu and sophomore midfielder Jannis Schmidt; who also got an assist on Pewu's goal. The goals scored for Louisville were scored by Cody Cochran, who was assisted by Leonard Getz, and an own goal by a Cleveland State. The star players of this game for the Vikings were Jannis Schmidt and Gabriel Pewu, with their goals to get the Vikings on the scoreboard and tie the game. The star player for the Cardinals was Cody Cochran, who scored the goal to put his team ahead by two goals over the Vikings, and the goalie Jake Gelnovatch who had four saves.
Players to Watch
Christian Coridon (RMU)
Coridon is finishing out his last year of collegiate play with scoring the only goal in the first two games the Colonials have played. As a senior, he is one of the main leaders of the team and will need to guide the team back on track heading into the regular season.
Mike Zolnierczyk (RMU)
Zolnierczyk is just starting his collegiate career after the team lost their go-to goalie Winter Fondi to graduation, Zolnierczyk has a lot to step into. He started and played the entire game against the Oakland Golden Grizzlies (1-1) even though the game was a struggle for Zolnierczyk, he was able to stay in the game and finish what he started. Zolnierczyk had 10 saves against Golden Grizzlies with a .667 save average.
Jannis Schmidt (CSU)
A freshman last year, Schmidt has a year of collegiate play under his belt and has already shown that he can score goals to put his team ahead of their competition. Even though he didn't get a lot of time of the field last season, he has come out this season with a drive.
Gabriel Pewu (CSU)
As a senior, Pewu has proven his leadership skills on and off the field for the Vikings. Last season, he set career highs in scoring and points, and it is no different at the start of this season, scoring last week against Louisville.
Prediction
I think the Vikings will take this game away from the Colonials which will increase their losing streak to three, but I think the game will be very close with a score of 2-1 in favor of the Vikings in the end. The Colonials will then look to get their first win of the year as they head to Philadelphia to play the La Salle Explorers (1-0) on Saturday, September 7th.