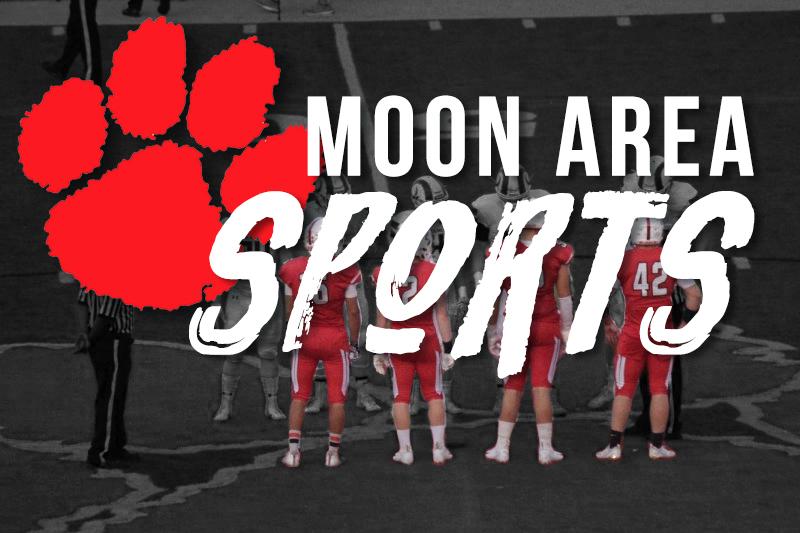 Tori Flick
MOON TOWNSHIP — The West Allegheny Indians (7-2, 7-1) traveled to Moon Stadium to take on the Moon Tigers (2-8, 1-6). This game featured a defensive sided performance from both teams, where the first score was not seen until the third quarter. West Allegheny squeezed out a victory in the end, winning 7-0.
The weather for the game did not aid the offense for both teams. On multiple occasions, there was dropped balls in the open field and fumbles on both sides. The rain kept pouring throughout the game and the air was frigid.
Both the Indians and Tigers offense failed to provide consistency throughout the game. For the Tigers, their lack of efficiency may have been due to the freshman quarterback, Tyler McGowan, who had to take over the position for an injured Dante Clay. The first two quarters of the game consisted of a series of three-and-outs and a few turnovers. Moon's Malcolm Johnson ripped the ball from Kam Kruze's hands to stop a successful drive for West Allegheny. The Indians, trying to get the ball rolling on offense, attempted to go for it on fourth down twice, but were shut down both times.
In the ending minutes of the third quarter, the Indians took the ball at Moon's 30-yard line due to a poor punt by Moon. The Indians took advantage of this field position and scored off of a six-yard rushing touchdown by Dante Flati to make the score 7-0 in favor of the Indians. These were the only points the Indians needed to secure a victory over the Tigers.
Moon's best chance of tying the ball game came with 5:38 left on the clock when Moon returned a punt to the Indian's 34-yard line. The Tigers would reach the Indian's five-yard line, but would not be able to punch it in due to a botched play on fourth down.
After Moon's promising drive ended, West Allegheny ran the clock out to end the game. The Indians pulled out a 7-0 victory over the Tigers.
This game showcased great defensive play from both teams. This game almost lived up to the potential of last year's game where Moon defeated West Allegheny, in a huge upset, in the last game of the season.
This was the Tigers last game of a season filled with many hardships. Moon will lose many key senior players next year, however, the play from their juniors and sophomores look promising for this young Moon Tigers team.