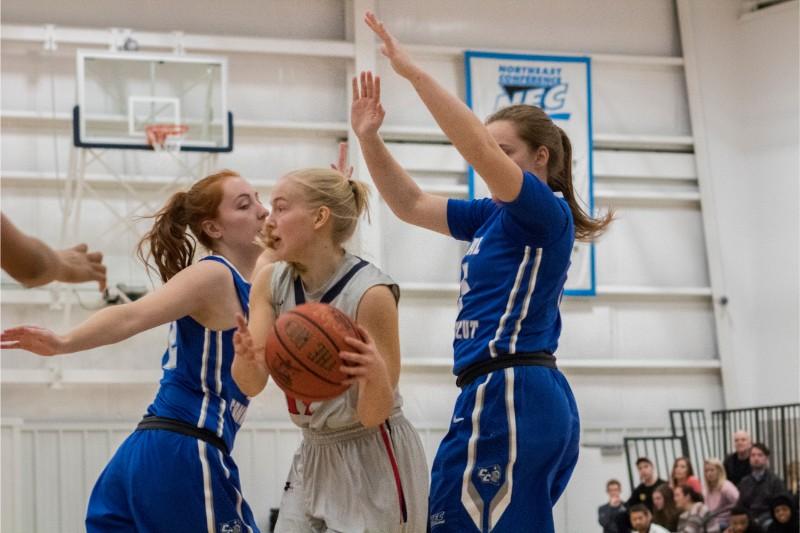 NEC quarterfinals preview: RMU vs. CCSU
The Robert Morris Colonials have ended the regular season with a share of the NEC title. But the RPI rankings were in favor of the Saint Francis Red Flash, ultimately leading to Robert Morris earning the No. 2 seed in the NEC Tournament. Their first match-up in their quest for yet another NEC tournament berth is against the Blue Devils of Central Connecticut State Wednesday at 4:30 p.m.
Here is everything you need to know about the upcoming matchup:
                                                                       Previous meetings:
In both matchups against the Blue Devils this season, the Colonials have come up victorious in relatively controlling fashion, outscoring CCSU 133-98 in the two games combined.
Both games ultimately saw RMU pull away in the third quarter and win by a comfortable margin.
The most recent matchup happened less than two weeks ago in the Detrick Gymnasium in New Britain, Conn., where RMU claimed the 67-51 victory, dropping the Blue Devils to 6-10 in conference play.
Typically, it is very tough to beat the same team three times in the same season, especially when it comes to the NEC. But RMU and Saint Francis (PA) have been so ahead of the pack this season that it doesn't seem fair to use that justification especially when you examine the performances of some of the players in these two matchups this season.
Players to watch:
For RMU senior Megan Smith, the question is which player is going to show up for the game on Wednesday. In her first outing against CCSU, Smith dominated. Putting up a near double-double with 22 points and nine rebounds while shooting a near perfect 9-for-10 from the floor.

In the second game, however, Smith was almost non-existent. In 27 minutes of game time, Smith put up just 4 points and four turnovers while shooting just 2-for-9 in the entire game.
Having a quieter game for Smith could help Central Connecticut's chances, but there are still so many stars to look out for on this RMU team.
Sophomore forward Nneka Ezeigbo averaged 10 rebounds and 11.5 points per game against the Blue Devils this season while committing a combined three turnovers in those two games. It seems as though CCSU has yet to find a way to stop Ezeigbo.
For Central Connecticut State, the two players which have given their most consistent performances against NEC powerhouse RMU have been Kiana Patterson and Sydney Hines.
Hines is the only CCSU player to put up double-digit points in both games against the Colonials this season. But besides her ability to score, Hines has been absolutely silent for the Blue Devils when battling Robert Morris. Hines did not pick up a single rebound in either game against the Colonials and totaled just two assists. If Hines can create a more all-around presence, she could give RMU some trouble.
Kiana Patterson not only averaged 9.5 points per game against RMU but did an excellent job distributing with 4.5 assists per game as well. But her assists have come at a great cost, having a combined seven turnovers in two games have almost eliminated all the benefit from her assists. For Patterson, limiting turnovers will be a huge key especially against one of the best defenses in the nation.
Keys to the game
Robert Morris: Scoring

The only area that Colonials have truly struggled in this season has been being able to consistently score. That was made blatantly obvious in the third quarter at Saint Francis (PA) in which Jessica Kovatch couldn't miss and RMU could not even buy a single shot to go in. Or at Saint Francis Brooklyn when despite the impressive defensive performance, their offense could not put up even 50 points against the Terriers. Consistency in making baskets will be a key for RMU throughout the tournament especially with such a young team.
Central Connecticut State: Limiting Turnovers
In their most recent matchup against RMU, the Blue Devils had an astonishing 25 turnovers. Robert Morris does an excellent job of creating offense off of their defense thanks to high energy players like Jocelynne Jones. If the Blue Devils hope to keep their season alive until at least the fourth quarter, they have to make sure they keep possession and force RMU to create offense in other ways besides forcing turnovers.