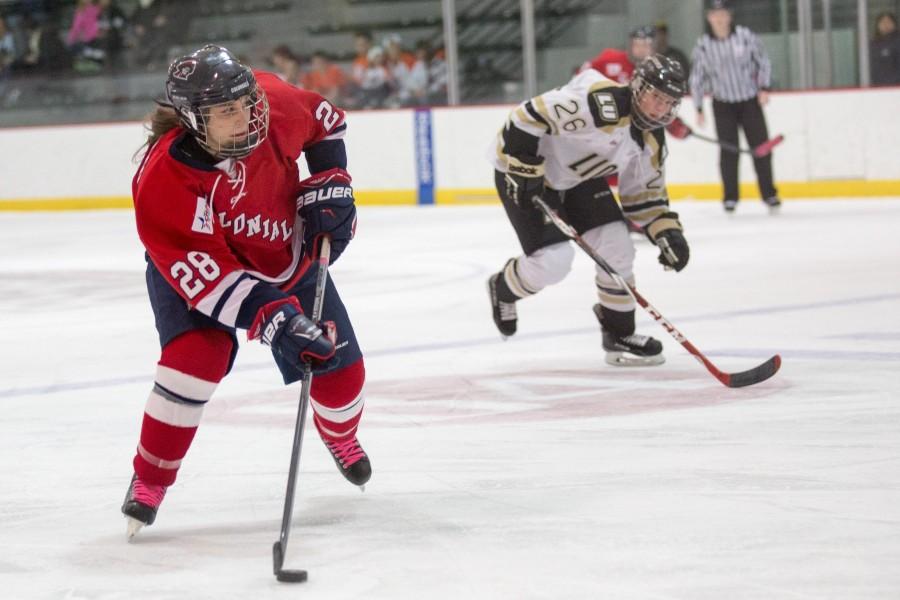 Kyle Gorcey
Amanda Pantaleo couldn't have picked a better time to net the first goal of her collegiate career.
With 21 seconds remaining in overtime and the score knotted at one, it seemed as if Robert Morris was going to settle for a draw against College Hockey America rival Lindenwood.
Though thanks to a Rikki Meilleur pass of the boards, RMU had one last opportunity.
Meilleur's feed found a streaking Mackenzie Johnston, who then fed a perfect cross-ice pass to Pantaleo on the odd-man rush.
And with one flick of the wrist, the game was over.
Pantaleo's wrister beat LU goaltender Nicole Hensley glove side, giving Robert Morris (7-14-3, 4-5-2) an exhilarating 2-1 sudden death win over the Lions (7-14-1, 4-6-1) Friday night at the Island Sports Center.
"Rikki started off with a really nice chip to [Johnston] and [she] just basically pulled up and made a really nice pass to me on the 2-on-1 and I just took the shot," the freshman forward said of her game winner.
Because of a slow first and second period, which only featured a combined 26 shots between the two clubs, the Colonials made a few adjustments – one being energy – heading into the final frame.
"We came out a little flat so we kind of knew we had to pick it up in the rest of the game," Pantaleo said. "We just kind of got it together in the dressing room and we did what we needed to do."
The other modification was individual play.
"We focused on one-on-one battles and we knew if we won those to get possession of the puck then we'd eventually get one in the net," said Johnston.
Though despite the alterations made to the game plan, Lindenwood struck first midway through the third after Holly Dietzler hammered home a loose puck in front of the net.
Robert Morris would respond six minutes later courtesy of Johnston's rifle from the right faceoff circle.
The Barrie, Ontario native's seventh tally of the season put an end to an RMU scoring drought of 128:57, dating back to January 16's 3-2 OT loss to then No. 4 Quinnipiac.
Robert Morris goalie Jessica Dodds iced the Lions two power play opportunities during the last seven minutes of regulation, ultimately setting up Pantaleo's overtime heroics.
Not only did Robert Morris begin its Skate for the Cure weekend series with a victory, but it was also able to raise funds to support the mother of a women's hockey alum suffering from lung cancer by raffling off an autographed jersey signed by the entire 2014-15 team.
"It was a really good organization and to just kind of get the girls to do something for the community was nice," Pantaleo said. "We raised a lot of money for something as simple as selling cupcakes and it's nice to see all the fans supporting it."
Johnston agrees.
"Any win is a good win, but for us, it's great to win when we have such a great cause right now with so many fans coming out to support it," she said. "So it's good to win for them."