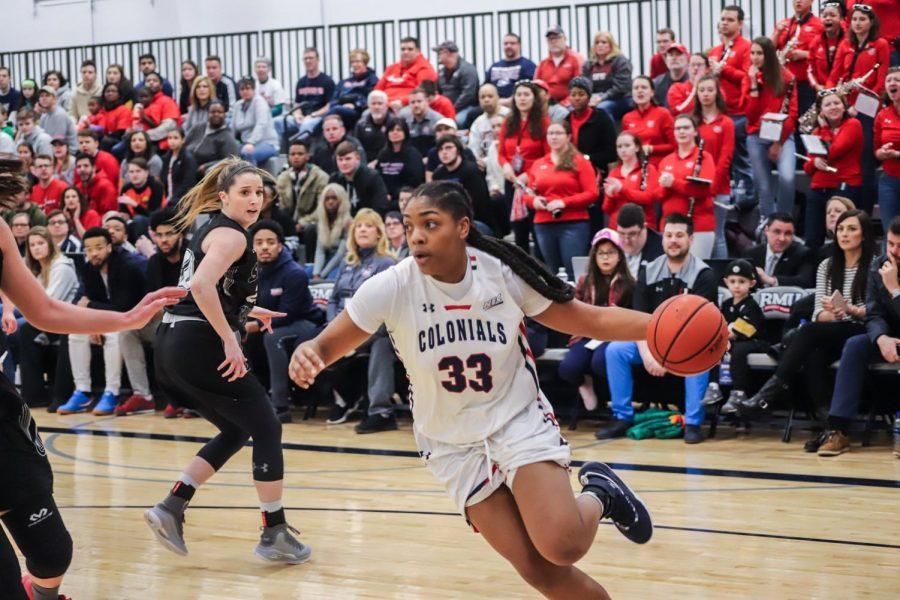 David Auth
MOON TOWNSHIP– The RMU women's basketball team (2-3) returns to the UPMC Events Center on Wednesday to begin a three-game homestand that begins with a matchup against the Pitt-Johnstown Mountain Cats (6-1, 2-0 PSAC).
Recapping RMU
The Colonials are looking to snap a two-game losing skid after falling in a heartbreaker on the road against Kent State (4-2). The Colonials had an 81-77 lead over the Golden Flashes with 12 seconds to go in the fourth quarter, before giving up a three-pointer and turnover for a game-winning layup with one second to go. In some positive news, Nneka Ezeigbo hit the 1,000th point of her career in the game. After dropping another close game last home game against Columbia (3-3), RMU will look to rebound against the D-II Mountain Cats.
Scouting Pitt-Johnstown
Pitt-Johnstown comes into this game on a four-game winning streak, having won by double-digits in three of those four games. This upcoming matchup against RMU will the Mountain Cats' lone D-I opponent this season. Despite that, they should not be overlooked by the Colonials and will look to pounce if they come out flat. This Pitt-Johnstown squad is a strong offensive force, having scored 70-plus points in five of their seven games so far.
Players to Watch
Nneka Ezeigbo (RMU)
Ezeigbo has been the Colonials' most dominant player in nearly every game so far this season, including against Kent State. Other than scoring the 1,000th point of her career, the senior put up 18 points against the Golden Flashes, even though she was limited to only 17 minutes of play thanks to foul trouble. She has scored double-digit point totals in four straight games and fell only one rebound short of her third double-double of the season against Kent State.
Isabella Posset (RMU)
Despite her turnover at the end of the last game, Posset played her best game of the season against Kent State. Her 14 points were a season-high so far, as she went 4-8 from the field, including one three-pointer. She also drew a solid amount of fouls and went 5-7 from the line. The sophomore's defensive game has also gotten better and better, as she now has 12 steals on the season.
Gabrielle Smith (Pitt-Johnstown)
Smith is the senior leader for this Mountain Cats squad and is an offensive force to be reckoned with so far. She has averaged 20.6 PPG this season, including a 34-point performance earlier in the month. She is also shooting about 51% from the field and about 83% from the free-throw line. Smith played a season-low 23 minutes in their last contest, a blowout game, so she will likely be rested up for the game against RMU.
Prediction
The Colonials desperately need a win to refocus their season after two really tight losses, and the lower-ranked Mountain Cats should provide a perfect opportunity to do so. While the RMU defense will be tested against the fast-paced Pitt-Johnstown team, they have the talent level to outplay the D-II school. I predict a nice win for the Colonials 73-65 as they turn things around and look towards their next game.