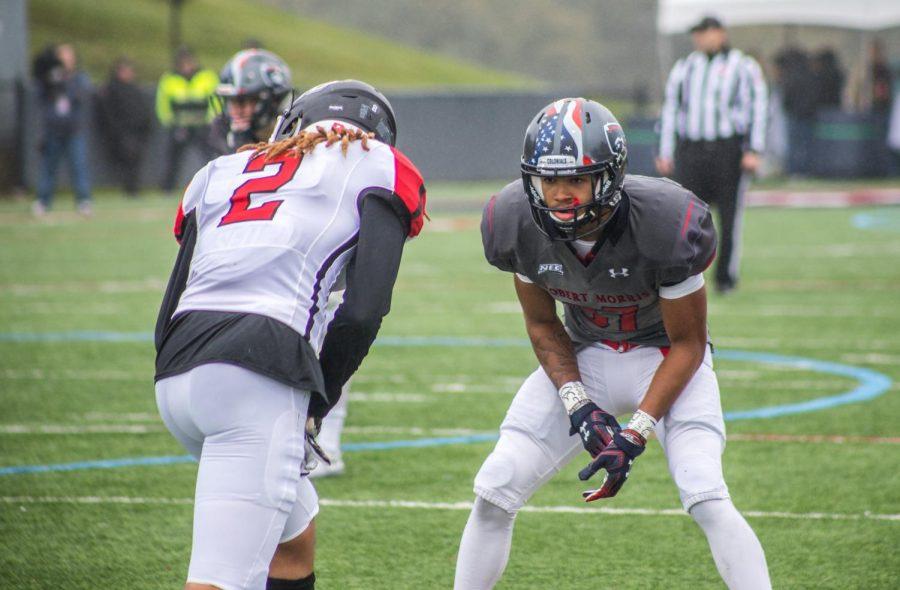 MOON TOWNSHIP — The Robert Morris football team (2-8, 0-5 NEC) will host the Wagner Seahawks (3-7, 2-3 NEC) in the Colonials' season finale. RMU fell to Western Kentucky in heartbreaking fashion last week, as they lost their 23-16 halftime lead en route to a 40-39 overtime defeat. As for Wagner, they are coming off of a 52-36 victory over the Bryant Bulldogs. Both teams will be wrapping up their season with this matchup.
Wagner sits in fourth in the NEC, and Robert Morris is in last in the NEC. Will the Colonials earn their first conference win of the season? Will they carry momentum into next year? Let's take a look at what could happen on Saturday.
Looking at the Colonials

This season may not have been one that Colonial fans had hoped for, but there are several signs that the program will soon be heading in the right direction. On Saturday, the Colonials have a chance to end this season with a big win at home. Both of RMU's wins this season have come at home, and a win would give them a winning record (3-2) at Joe Walton Stadium this year. A victory would also give the fans a lot of optimism not only for the future of the program under Bernard Clark but for next season as well.
As for this season, the mostly great offensive play has surprised many. In last week's loss, the Colonials not only scored 39 points, but they totaled 426 yards as well. The rushing offense ranks 4th in the NEC averaging 151 yards per game. Jimmy Walker's on-field play has put the Colonials passing offense in the 3rd position in the NEC. The Colonials average 209.2 yards per game.
Last week, Walker threw for four touchdowns and 261 yards. On top of that, the running game remained strong as Terence Stephens ran for 132 yards. He would also find the end zone not only on the ground but through the air as well.
Defensively, the Colonials have struggled this season. They have allowed a whopping 507.8 yards per game. RMU's defense also allows an average of 43.7 points per game. Add this to the fact that their rushing and passing defenses are the worst in the conference, and you can see why the Colonials have struggled. However, Bernard Clark is a defensive coach and I would not be surprised if the Colonials defense became a force to be reckoned with. As for Saturday, Wagner's offense is second to last in the conference, so the Colonials could find success against them.
Scoping the Seahawks

Wagner has won only three games this season, which is only one more than Robert Morris. Of those three wins, two of them came against teams that narrowly edged out RMU. Wagner knocked off Saint Francis 23-22, while SFU beat RMU 20-7 in a game where the Colonial offense uncharacteristically struggled. Another Seahawk win came against Bryant. Wagner knocked off the Bulldogs by a score of 52-36. Robert Morris lost to Bryant 49-46, but that game was also very early in the season as it kicked off conference play for the Colonials.
Statistically, Wagner has had their own struggles this season. They are just ahead of the Colonials in many categories. One that catches my eye, in particular, is scoring offense. The Seahawks average 26.7 points per game, which barely leads RMU. However, they do have the NEC's leading rusher in Ryan Fulse. He averages a staggering 148.1 yards per game and has nine touchdowns on the season. Other than Fulse, the Seahawks do not have many weapons. The rushing offense is ranked sixth in the conference despite Fulse's efforts and the pass offense ranks fifth.
Defensively, they have some problems as well. Wagner allows 43 points per game on average. They also allow 446 yards per game. Their rush and passing defenses rank 6th and 5th respectively. They will need to try and tame the RMU offense in this one if they want to walk away with the victory. As for RMU, they will need to stop Fulse if they want to grab their first NEC win.
Players To Watch
Jimmy Walker, Quarterback, RMU
Walker has thrown 19 touchdown passes this season in what has been a year of resurgence for the RMU offense. His connection with Matthew Gonzalez has been a very bright spot for this Robert Morris team this season. It will be exciting to see that connection once again as the season comes to a close. Walker's play will determine whether or not the Colonials capture an NEC victory this season.
Terence Stephens, Running Back, RMU
The transfer running back has been exciting to watch this season. The future for Stephens is very bright. He has tallied four touchdowns this year and has also proved he is a great kick returner. He will have a good chance to tally yet another 100 plus yard game this weekend against the Seahawks.
Bernard Clark Jr, Head Coach, RMU
Is this allowed? Can I pick the head coach as a player to watch? I say I can. Bernard Clark has people excited about the future of this program. Granted this season may have been rough, but there are several positive takeaways from it as well. The future seems bright. This weekend, see what Clark does to ensure his team ends this season on a high note. See what decisions he makes to allow his team to get a conference win. I, for one, am interested to see what Clark has up his sleeve, and frankly, you should too.
Ryan Fulse, Running Back, Wagner
The NEC's leading rusher could potentially have a field day against the Robert Morris rush defense. There is even some talk of Fulse potentially being drafted in the upcoming NFL Draft. Do not miss your chance to see Fulse take on the Colonials, and see if the RMU defense can shut him down.
Prediction
Another year of Colonial football will soon be in the books. As for the final game of the season, I honestly can see this one going either way. It is a winnable game for both teams, but I think it comes down to whether or not the Colonials can stop Fulse. Even if they don't, I believe RMU can get a win over this Wagner team. This offense will have another fantastic outing and lead the team to victory.
Final Score: RMU 41-Wagner 36