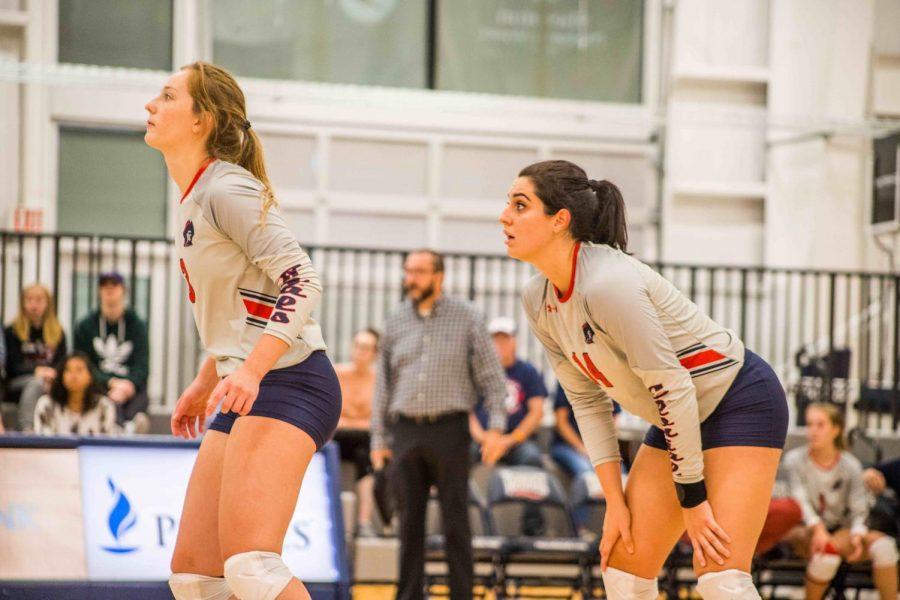 David Auth
MOON TOWNSHIP– The Robert Morris women's volleyball team will begin their season at RMU Sheraton Invitational on Friday and Saturday, hosted in the new UPMC Event Center. The team will host the Manhattan Jaspers, Elon Phoenix, and McNeese State Cowgirls. The Colonials hosted Ball State in a scrimmage last Saturday, marking the team's first live action in the event center.
Recapping RMU
The Colonials come into this season off an 11-18 season with a 5-9 NEC record. The team looks to improve on the road and at neutral sites after going only 3-8 and 1-5 respectively. RMU found success at home last year as they posted a 7-5 record at the North Athletic Complex. The home court advantage should help a fairly inexperienced team. With no seniors on the roster, this young team will look to build as much momentum as they can to work off of as the season begins.
Previewing McNeese State
McNeese State has a lot of work to do this season to take a positive step forward. The team finished with a 10-22 record but went 8-8 in conference play. The team struggled outside of conference play, in addition to their struggles on the road and at neutral sites. The Cowgirls went 3-10 on the road and did not win a neutral site game, going 0-9. An improved out of conference record will result in more early-season wins and momentum going forward.
Previewing Elon
After coming off of a 13-15 season that concluded with six consecutive losses to end the year, Elon is looking to move forward in a positive direction. The Phoenix struggled mightily in conference play, only going 4-12. Team errors were a big issue last season, and playing a cleaner game will help keep the team in more games this season. Elon has the potential to take a step forward this season and earn a better conference record.
Previewing Manhattan
Manhattan struggled the most out of any team in the tournament in 2018. The Jaspers recorded a 5-27 record, a .156 winning percentage, winning three games at home and two on the road. Another young team with eight underclassmen, four freshmen, and four sophomores, Manhattan will be locking to build for the future and develop their young players throughout the season.
Players to watch
Emma Granger (RMU)
Granger was the main source of offense for the Colonials last season, recording a team-leading 286 kills. The junior middle blocker will return for her junior season after leading RMU in blocks with 103. She will look to lead the Colonials offense once again and will be a force to be reckoned with all year long.
Keegan Nelms (McNeese State)
This senior outside hitter finds herself on the preseason All-SLC (1st team) after a dominant 2018 season. She led the team with 314 kills and was second on the team with both 21 service aces and 254 digs. Nelms plays a strong game with the potential to score points whenever she needs to. If McNeese State is looking to improve this season, she will be right in the middle of it.
Vivian Donovan (Manhattan)
Donovan impressed in her collegiate season with the Jaspers. She recorded a team-high 224 kills in her freshman season and also served up 29 aces. Donovan should take a greater step forward for Manhattan this upcoming season and will have better numbers as a sophomore, which should make opposing teams gameplan against her.
Kodi Garcia (Elon)
This junior setter from Tomball, Texas, ran the offense for the Phoenix in 2018. She recorded 810 assists and 34 aces, both leading the Elon team. If Elon is going to have a good season and put their six-game losing streak to end last season behind them, look for Garcia to be the catalyst in 2019.
Prediction
The Colonials will defeat McNeese State and Manhattan, but struggle and lose to Elon this weekend. They will beat McNeese State in a scrappy back and forth game and rebuilding Manhattan, who is trying to find their own identity. Elon will provide a test for the Colonials and give them the best match of the three. Garcia will lead the Phoenix over RMU, but the Colonials will be ready to go heading into the Golden Flashes Classic at Kent State.