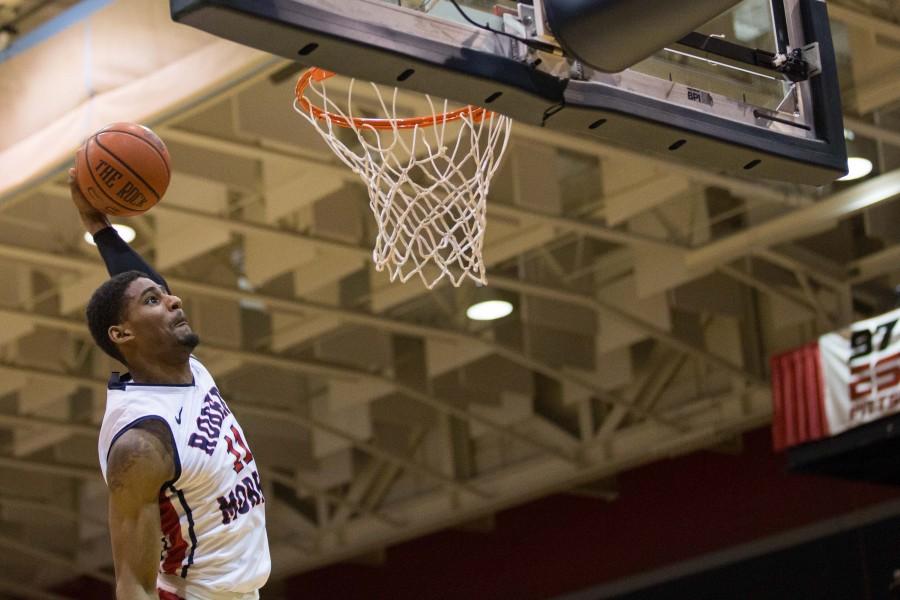 Kyle Gorcey
The shoot around period prior to every Robert Morris basketball game is a critical time for Rodney Pryor.
During this 15 minute stretch, Pryor assesses his confidence level for the game at hand through the amount of shots he sinks from different spots on the floor.
And judging by Thursday night's performance, the junior college transfer knew he was going to be a factor long before the first whistle.
Pryor exploded for 25 points and three other Colonials scored in double figures as RMU (15-14, 11-6) rolled to a 91-59 victory over Wagner (10-18, 8-9) to maintain a second-place tie with Bryant in the Northeast Conference standings.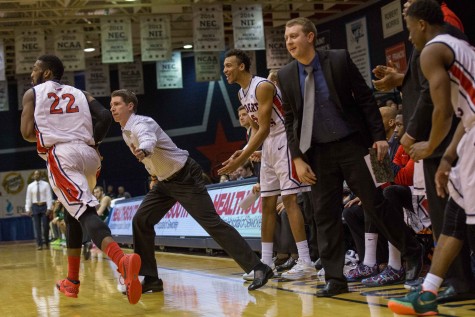 "Obviously one of our more complete games, offensively and defensively, of the year. I thought we did a great job coming out of the second half and kind of having the same urgency that, in games past, we haven't had," head coach Andy Toole said. "… It was a game that we needed, there was a lot on the line for the game, obviously to try to figure out some of the seeding stuff, and I'm glad the way the guys were able to come out and perform."
In a manner uncharacteristic of the previous four games, Robert Morris built an early advantage, using an 11-0 run three minutes in to catapult itself to an eight point advantage. From there, a 57 percent performance from the field enabled the Colonials to take a 15 point lead into the locker room.
And once the second half began, RMU picked up right where it left off, draining six of its first seven shots.
Every time the Seahawks tried to mount a comeback, Pryor had an answer, netting all but seven of his tallies during the final 20 minutes of play, leading to the season sweep of Wagner.
"I think mentally and physically I'm where I need to be going into post-season; shooting the ball well, guys are finding me, getting open looks," said Pryor, a native of Evanston, Ill. "So when I see the ball go in, it just raises my confidence and I need to make sure I stay aggressive."
One of the main reasons why Robert Morris was able to cruise to victory so easily was the fact that it found a way to contain NEC leading scorer Marcus Burton, limiting him to a mere six points, his second lowest total of the season.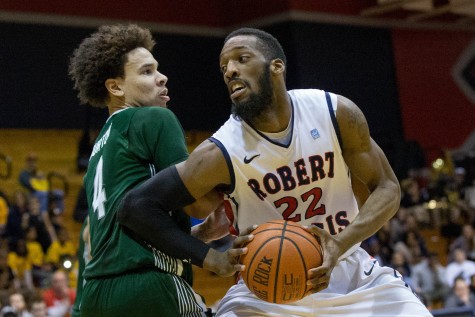 "We did basically the same thing. He's been shooting bad lately so we tried not to let him have this game," said senior Lucky Jones, who contributed 15 points and eight boards coming off the bench. "Obviously [Burton's] their main piece. When he's going, that's when they're going, so just trying to eliminate him out of the offensive scheme. That's what we did tonight."
Though they are already guaranteed at least one home game in the league playoffs – a quarterfinal contest on Mar. 4 – with a win over Saint Francis (Pa.) on Saturday, RMU could potentially host one of the semifinal matches as well.
"It's always cool when you play at The Chuck. We're trying to keep it going and not look past anyone. We might even see Wagner again next week," Jones said. "We got to make sure we keep our heads straight, keep practicing hard and keep playing hard."