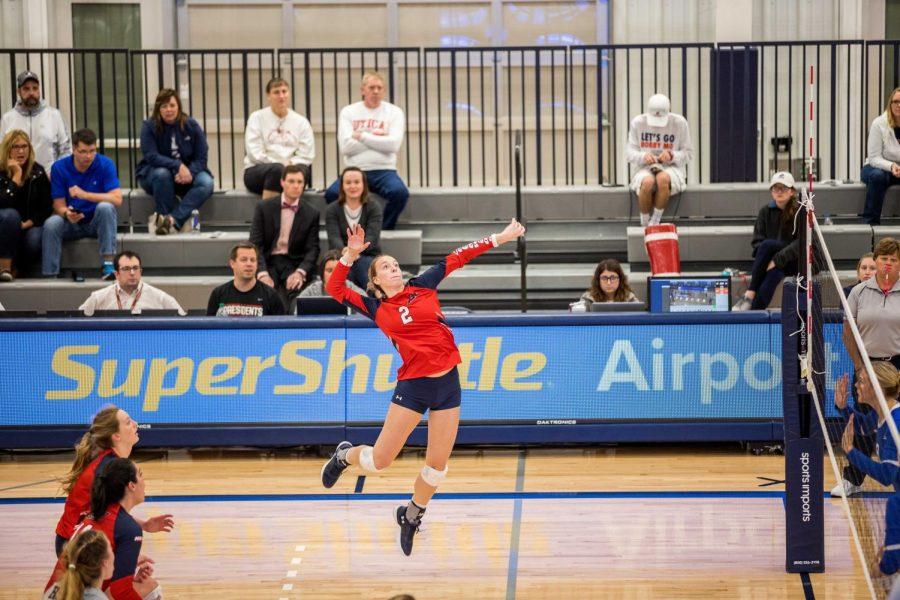 The Robert Morris University Colonials volleyball team (7-11, 1-3) defeated the Saint Francis Brooklyn Terriers (5-13, 1-4) 3-1 on Friday night. The Colonials were able to win the first two sets of the match before dropping the third to the Terriers. However, RMU was able to bounce right back and pick up the fourth set and the win.
Here is everything that you need to know:
Why it happened:
The Colonials were able to start off the night strong and win the first set. Although the beginning of the set was tight, the Colonials were able to pull away from the Terriers midway through the set and go up by as many as eight points. This lead would be too much for the Terriers to overcome, and RMU would go on to take the first set 25-20.
The second set saw the Colonials to jump out to an early lead. They would sustain the lead for a while, but the Terriers would come back to tie the game at 19 a piece and briefly take the lead at 20-19. However, the Colonials would regain the lead and go on to win the set 25-22 to go up 2-0.

The third set, however, would go to the Terriers as they would hop out to an early lead and eventually run away with the set 25-14 to make cut the Colonials lead in half at 2-1.
The Colonials would respond right back and win the fourth set 25-17. RMU started off the set with the lead and never looked back, despite efforts by the Terriers to mount a comeback.
What it means:
This win is the first since conference play started for Colonials, and it was much needed. After dropping their first three matches on conference play, this victory could get RMU back on track that they were on heading into Northeast Conference play as the Colonials went through a stretch where they won six of eight.
Who was there:
The Terriers came to the North Athletic Complex on a two-match skid after they were swept by both the Bryant Bulldogs (13-8, 3-1) and the Central Connecticut State University Blue Devils (6-9, 3-1).
Who starred:
Taylor Lord was the star on the night for the Colonials as she led the team and set her season high with 16 kills. Another top performer on the evening for RMU was Emma Granger who was able to put up 16.5 points on the night.
Who stumbled:
The Terriers were the ones who stumbled on the night, as the three sets that the Terriers lost were not fairly close. The Terriers played extremely well during the third set, but they were unable to maintain their play in the fourth and final set.