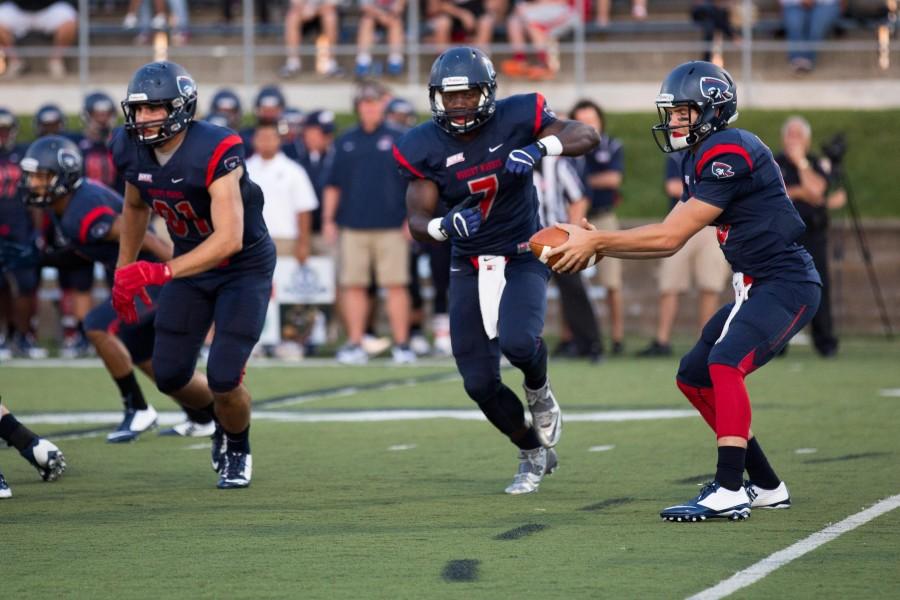 Kyle Gorcey
There was a different feeling in the air at Joe Walton Stadium as the Robert Morris football program took its first step of a new era under head coach John Banaszak.
A new regime, brand new jerseys, a new head coach and a new offensive system highlighted the occasion for RMU as they took on high-powered Eastern Kentucky out of the Ohio Valley Conference. Despite all the visible revisions to the new-look Colonials, Banaszak and company were ultimately unable to change the most important aspect of the night:
The game's end result.
The Colonials fell to Eastern Kentucky 29-10 in their season debut Thursday night, marking the second consecutive year the Colonels handed Robert Morris its first loss in the season opener. The freshly installed spread offense was not in synch throughout the game, and it showed on the scoreboard.
Quarterback Luke Brumbaugh didn't play badly, but his nerves were evident at first. He missed on some throws, and did not display the accuracy he's shown through camp thus far. The Seton LaSalle product could not establish consistent cohesiveness within the offense.
"I think we'll be alright," he said. "Our offense had a lot of missed opportunities. Our defense won us that game but we just couldn't finish. We'll fix that, we're young and started so many freshman tonight. Nerves are definitely going to be there with a big team like that."
He finished 28-of-51 for 222 yards, setting a record for most pass attempts in a single game. With no support from the run game, Brumbaugh was forced to grow up quick in his first career start.
"[Luke] did some good things. I thought he scrambled well. I thought he played with a lot of poise," said Banaszak. "Not getting a running game going certainly played a big factor in our offense. Without being too disappointed, I'd have to say I'm a little bit surprised that we could not run the ball at all against them.
The stat sheet did not bode well for a tired RMU defense, letting up 624 yards of total offense to Eastern Kentucky. However, they did keep the Colonials within striking distance up until the fourth quarter and forced four EKU turnovers.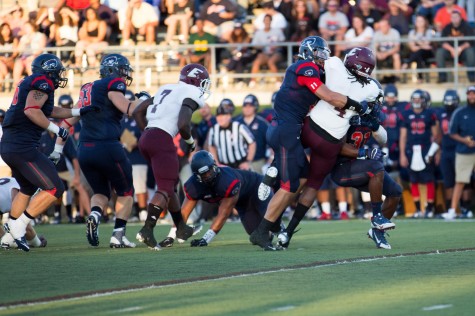 "The biggest thing is that we've got to know what we're supposed to do out there," said defensive coordinator Scott Farison. "We got caught in some situations where you give them easy plays because we weren't doing what we were supposed to do. It's something that's all correctable, which is a good thing moving forward."
Mutiple quick three-and-outs from the RMU offense caused the defense to spend majority of the game on the field, which had to have played a factor in terms of fatigue.
"We run a lot during practice," said junior cornerback David Taylor, who notched two interceptions in his first career start. "I think it was more of a mental thing for us."
Eastern Kentucky got on the board first at the 04:16 mark in the first quarter, when fullback Channing Fugate caught a swing pass and broke two Robert Morris tackles before striding untouched for a 42-yard touchdown.
With 14:52 left in first half, the Colonials made it a 7-3 game with a 39-yard field goal by senior Hunter Khaleghi, however it was quickly answered by a 18-yard touchdown rush from EKU quarterback Jared McClain on the ensuing drive.
McClain, a senior, did not the start the game at quarterback for Eastern Kentucky. The Colonels went with University of Cincinnati transfer Bennie Coney to begin the contest, but switched to McClain after a sub-par first quarter.
"The quarterbacks, when you've got 63 scholarships you can have a lot of quarterbacks in your program," said Banaszak. "They all played well. They're athletes and they made plays and kept their offense on the field."
After three Eastern Kentucky field goals made the score 23-to-3 heading into the final quarter, Robert Morris finally found the end zone when freshman Rameses Owens darted up the middle for a 17-yard score. Owens only rushed 10 times for 38 yards , but did show a few flashes of potential as a youngster. Other than him, not much amounted from the RMU rushing attack.
"This offense is designed to run the football," said Banaszak. "Until you look at the film, you don't know where the break down was, but we just didn't get the seams we've seen all through camp."
This is certainly not the start Banaszak and the Colonials were looking for in the seasoon opener. It won't get any easier next week for them, either. They take on University of North Dakota in Fargo next weekend, a team they lost to 52-0 in their season opener two years ago.
"I'm not disappointed one bit," said Banaszak. "We worked hard in training camp. We worked hard tonight, and I'm okay with that. I don't like losing, I can promise you that, but there are some things that we can do. We're going to give an awful lot of positive reinforcement to our football team in the next few days."