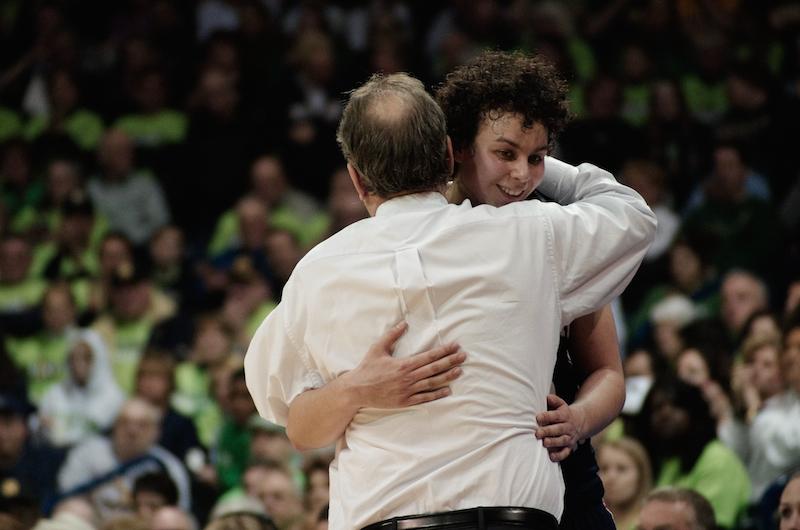 Paul Wintruba
It's an old adage in both life and sports that all good things must come to an end eventually.
For the Robert Morris women's basketball team, that ending came rather forcefully and abruptly Saturday afternoon as top-seeded Notre Dame flexed its muscles to a 93-42 victory in Toledo, Ohio.
Sophomore guard Michaela Mabrey led all Notre Dame scorers with 16 points off the bench. Senior forward Natalie Achonwa ended with 15 points and six rebounds.
Five Irish players finished with double-digits in scoring, while four garnered at least six rebounds.
Of course, a tiny mid-major school like Robert Morris, even coming off a fantastic run that ended with a Northeast Conference championship, never really had a shot at defeating a Fighting Irish team that is considered to be one of the nation's top two 'elite' NCAA women's basketball programs.
But winning this game was never really what it was about for head coach Sal Buscaglia and the rest of the RMU squad.
This contest, win or lose, had far more meaning.
"I wouldn't replace one of those twelve with anybody in the country," said Buscaglia in a highly emotional postgame press conference. "See, I don't care about the score to this game. I just care that I'm going to miss those two young ladies down there. [Pointing to seniors Artemis Spanou and Kelly Hartwell]"
First, it was potentially the send-off for Spanou. The greatest player in the history of Robert Morris women's basketball finished her final collegiate contest with just seven points and six rebounds, far below her season average.
The two-time NEC Player of the Year struggled heavily against a talented Notre Dame front court that surprised many people by double and triple teaming her throughout most of the afternoon.
"We respect every team we play. But when we get on the court, it's a war out there," said Spanou. "Getting double and triple teamed from a team like Notre Dame shows a lot of respect to my face."
Her frustration was evident, but as always, the Greek native displayed great class and respect for the game, giving 100 percent effort even in a blowout loss until Buscaglia elected to take her out with 51 seconds remaining.
She was greeted by an emotional hug from the 37-year head coach, but it didn't quite hit that the Colonials had just saluted their rock and centerpiece of the program for the last time. 
"These four years have been wonderful for me. Finishing my senior year winning the conference and coming here for the first time, it was a great experience," she said. "It's great. I'm just going to remember the people I played with, my coaches, and all the experiences we had together."
That wave of disbelief came postgame, when Buscaglia, fighting back tears, loudly expressed how thankful he was of his team captain.
"The only reason we're sad is because of when you hear the ball bouncing at 10 o'clock at night, and I'm in my office 14 hours most days near the arena, and I don't hear that ball bouncing," he said. "That's going to make me sad because 90 percent of the time, that's Artie bouncing that ball."
Second, this was an important growing experience for the Colonials. A 51-point loss had to be expected when facing the No. 2 team in the country with three freshmen in the RMU starting lineup.  
A player like Anna Niki Stamolamprou, who led Robert Morris with 12 points on the day, benefited greatly from the blowout loss just by going against opposing guards amongst the likes of Kayla McBride and Jewell Loyd.
Forward Cassie Oursler, a freshman that many around the RMU program feel has the potential to develop into an elite player, benefited from experiencing just how hard it is to rebound against a team of that size.  
Every individual on the 12-player roster experienced the intensity of the NCAA tournament for the first time in their careers.
And their head coach couldn't be more proud.
"Coach is half Italian so he's emotional," said Spanou with a slight chuckle. "I've never seen him that emotional though. I'm really happy and respectful that he said those things about us and the way he respects us, we respect him too."
So yes, the loss to Notre Dame was a disappointment. Not for the final outcome, but because the team didn't perform to the level they're capable of.
Remembering Robert Morris' 2013-14 season for the 51-point domination they took as a No. 16 seed facing off against a No. 1 seed does this team, program and university no justice.
Rather, recall the positives; the broken records, exciting finishes and conference championship. Those are the memories that will define this team's legacy, a group of young women that took a preseason motto of "No Quit" and applied it to each of their lives, both on and off the court.