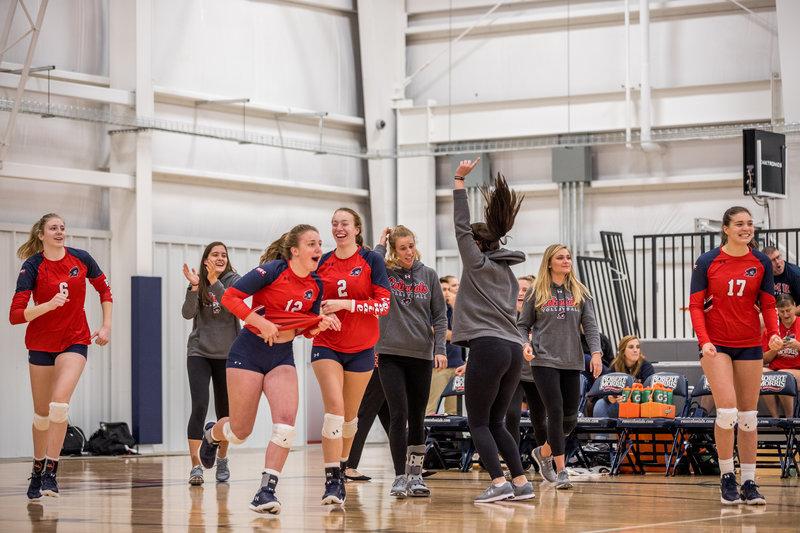 Moon Township, PA — This weekend, the Robert Morris Colonials volleyball team (6-8, 0-0 NEC) hosted the RMU-Sheraton Invitational at the North Athletic Complex. They went 2-1 in the tournament, beating both the Eastern Michigan Eagles (8-6, 0-0 MAC) on Friday at 4:00 p.m., and the Houston Cougars (13-2, 0-0 American) on Saturday at 10:00 a.m. The Colonials would also face the Purdue Fort Wayne Mastodons (9-4, 0-0 Summit League), losing 3-1.
The Colonials have now won six out of their last eight games. Over the past two days, the Colonials have played three games, and sophomore setter Whitney Brown said that between games, "we just try to drink a lot of water, eat our food, and stay off our feet."
Game #1 vs Eastern Michigan:
For the first game of the tournament, the Colonials won a hard-fought match against Eastern Michigan, 3-2. After winning the first set 25-19, Eastern Michigan would drop the next set 27-25 to the Colonials. The Eagles would win the next set 25-15, to retake the lead in the match, but it would be their last. The Colonials would win the next two sets, 27-25, and 15-12 respectively, and win the match 3-2. Sophomore Emma Granger would lead the Colonials with 16 kills and 2 aces. Skylar Clements had 4 blocks, and Whitney Brown added 49 assists for the Colonials.
Game #2 vs Houston:
In the second game in as many days, the Colonials again won in five sets, this time beating the Houston Cougars. The Cougars would come out of the gate strong, winning the first set 25-15, and then winning the second set 25-18. However, Robert Morris would storm back, winning the third set by a score of 25-23, the fourth by a score of 27-25, and finally winning the fifth, and the deciding set, by a score of 15-12, to give the Cougars only their second loss of the year. The Colonials were again led by Emma Granger, who had 14 kills, 2 aces, and 4 blocks. Allie Yurkovich had 18 digs, and Whitney Brown would lead the Colonials in assists, with 33.

Game #3 vs Purdue Fort Wayne:
For the third and final match of the tournament, and the second on Saturday, the Colonials would face off against the Purdue Fort Wayne Mastodons. The Mastodons would win the first set by a score of 28-26 and then win the second set 25-23. The Colonials would win the third set, they're first of the match, by a score of 25-15. The fourth and final set would go to the Mastodons, winning 25-16, and winning the match by a score of three sets to one. Whitney Brown had 39 assists for the Colonials, leading the team, and Emma Granger led the team in kills with 16 and blocks with 4.
Next up for the Colonials:
Next weekend, the Colonials start NEC conference action, as they travel to New Britain, Connecticut to take on the Central Connecticut State University Blue Devils (3-8, 0-0 NEC) on Friday at 7:00 p.m. The Colonials then take on the Bryant Bulldogs (9-5, 0-0 NEC) in Smithfield, Rhode Island, on Saturday at 5:00 p.m. When asked about the start of conference play, head coach Dale Starr said, "The momentum can only help, we had nowhere to go but up … but credit to the kids, they kept to the script, and they realized that the hard work was only going to pay off."