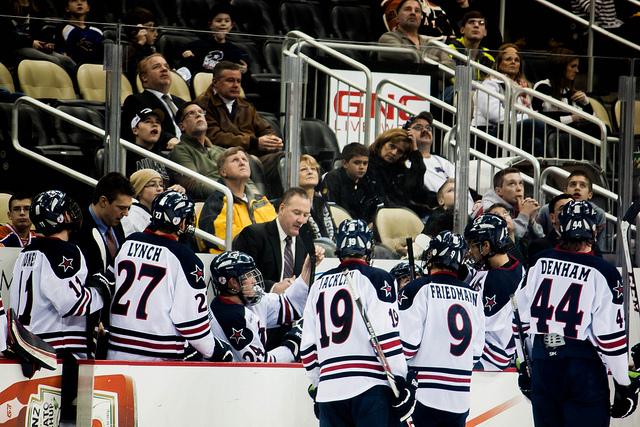 Last March,  the Robert Morris men's hockey team waited anxiously as the final seconds ticked away in the Atlantic Hockey Association championship game against Canisius for what seemed like an eternity. At the final horn, the entire Colonial bench surrounded head coach Derek Schooley while he hoisted the AHA championship trophy into the air.
It was a storybook moment for Robert Morris, especially after all the team had been through to reach that point.  But that was last year.
"Last season is last season," said senior captain Cody Wydo. "It's not going to help us with anything this year."
The Colonials were picked to finish second behind rival Mercyhurst in a coach's preseason poll and are currently in USCHO's poll in the receiving votes category with 27 points. That's quite a jump from a year ago, when they were projected to finish seventh in the preseason poll.  The club rebounded from a 2-10-2 record in the first half of the season to finish fifth in the conference.
"We're looking forward to the challenge of being picked higher," said Schooley. "It's something you can't shrink from, but that being said, no season champion is won in September on a piece of paper."
With 19 returning players, depth is the name of the game this season.
 OFFENSE
Production is returning from last year. All RMU forwards, with the exception of last year's captain Colin South, will be back.
The line of Jacklin-Wydo-Lynch will most likely be at the forefront of the offensive power.  Throughout seven 2014 AHA playoff games, the line tallied 13 goals and 16 assists for 29 points.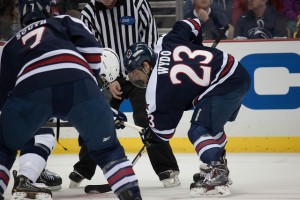 Wydo is the reigning leader in goals with 65.  Last season, he was responsible for 54 total points. Junior Zach Lynch notched 28 assists last season, the most on the team.  His four shorthanded goals and 159 shots on net set new program records. Senior Scott Jacklin nabbed 15 goals and 38 points last year, a season best for the forward.
"As far as depth up front, we have three lines that can score at any given time," said Jacklin, one of the team's assistant captains.  "Our fourth line is more of an energy line. They just try and keep the puck in the other team's end and try and use their bodies."
Of course, the fourth "Wagon Wheel" line is expected to take the ice by storm again this season.  It's a line led by junior Greg Gibson, who earned a five game point streak at the end of last year.
"We have four good lines up front that can play and the people who won't get played they could be in the lineup any day," Wydo said.  "I think that'll be good for the team."
DEFENSE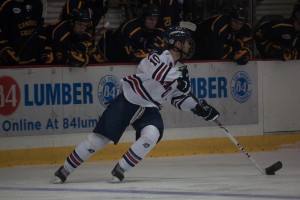 With the graduation of Andrew Blazek and Evan Renwick, the Colonial defense will surprisingly still stand on sturdy legs.
"Those will be two tough positions to fill," said junior assistant captain Tyson Wilson.  "[Renwick] was more of a PK specialist and Blazek more of a power play specialist.  I'm going to be playing both this year. I'm going to try and bring little bits and pieces from their game into my game this year."
Wilson finished the season second in blocked shots with 83 and first in points by a defenseman with 19. Sophomore Jon Rey will be a key returner for defense as well.  As a freshman, he posted 12 assists, 47 shots on goal and a +12 rating.
Last year's defense allowed an average of 35.51 shots on goal and blocked 16.20 shots.  Two statistics that should remain nearly intact, thanks to returners.
"We've got four guys coming back that have played a lot, and we've got three freshmen defensemen coming in and they look good in practice so far," said goaltender Terry Shafer.  "I'm not too worried about the guys in front of me.  I know they're going to do a good job."
GOALTENDING
Shafer returns to the lineup this season after a hip injury that occurred in the third game of the first round of AHA playoffs.
"It's a long, long summer not being able to skate much until the start of August, so it's really been good to be back out on the ice," he said. "It feels good.  100 percent."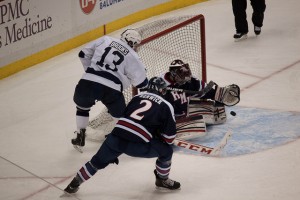 Sophomore Dalton Izyk replaced the injured Shafer last season.  The transition from one netminder to the next gave the Colonials trouble at times, but did end up working out.
Now there's competition for the net, a rare luxury for a hockey team.  The pair's save percentage is nearly identical; Shafer wiith .911 and Izyk with .917.
"It's healthy competition," said Izyk.  "Everyone pushes each other just like the forwards and [defensemen] do.  Everyone's competing to play.  We're all very close.  It's a friendship competing.  Everyone is still friends, but whoever is best will play."
"We're all on the same team so we all got to be pulling the rope in the same direction otherwise nothing is going to come of it," said Shafer.
In addition to the tandem, the Colonials welcome freshman Andrew Pikul.  Prior to RMU, he finished the regular season with the Brockville Braves with a .905 save percentage.
"He's got a great attitude; he's got a great work ethic," Shafer said. "There's no reason why he shouldn't be a big part of the program here down the road."
The expectations are high for the club this season. But as Schooley referenced, expectations only get a team so far.
"[We've got to] just do the same thing we did at the end of the year," said Jacklin.  "Keep our effort level up, compete level, and just do what we did last year.  We know what it takes to win so I think it'll be an even easier transition from the year before."
The Colonials dropped their first exhibiton match against Ryerson 1-0.  They now look towards their first regular season game against Lake Superior State this Friday at 7:05.