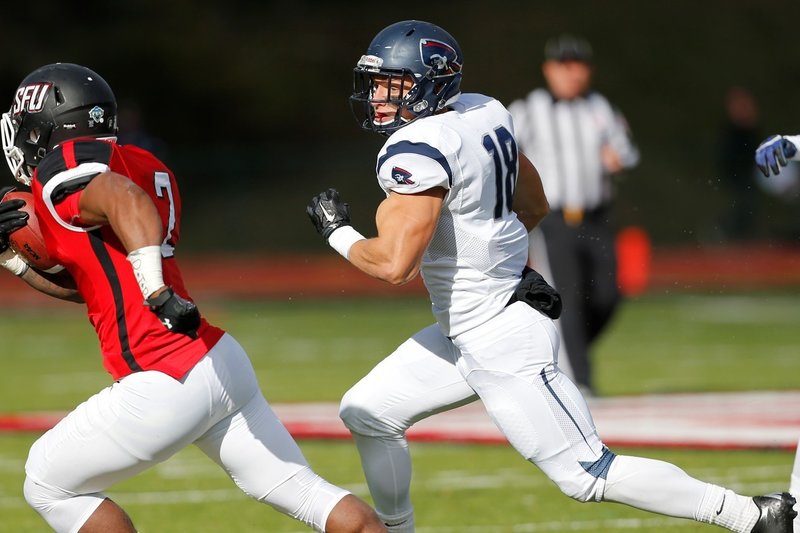 RMU Athletics
After securing its first win of the season last week against Malone University, 21-19, Robert Morris will be bringing back one of its primary play-makers in the secondary in senior safety Andy Smigiera.
The New York native has not played for the Colonials since the end of last season, due to an upper-body injury he suffered in training camp in August.
Last season, he served as one of RMU's defensive captains, amassing 62 total tackles, including 11 passes defended and one forced fumble.
"He will be a captain, and we're excited to see him play," said head coach John Banaszak. "It's gonna be a situational thing more than anything. He'll be on the field all the time, there's no doubt about it."
Smigiera earned 2015 All-Northeast Conference Second Team, Academic All-District First Team and FCS ADA Academic All-Star Team honors after his stellar season.
With the addition of Smigiera to an already sound defensive unit — one that's forced an average of one turnover per game this season — coach Banaszak is confident in what his three-year starting safety can do for the team.
After all, Smigiera was one of three Colonials to be named to the All-NEC Preseason team.
"He brings an awful lot of experience from the free safety position," said Banaszak. "He brings an awful lot of talent back there. He's just an excellent football player."
On the other side of the ball, sophomore quarterback Marr Barr will not play against the Flames on Saturday, despite taking over the helm in the second quarter of last week's contest versus Malone.
"(Barr's) throwing arm did not recover from the game, as we thought it would (have)," Banaszak said.
Instead, it will be redshirt-freshman Andrew Romanchak, the converted safety, that will start for Robert Morris. Romanchak started the previous three games, including last week before he was pulled in favor of Barr in the second quarter.
In his first collegiate appearances at quarterback, Romanchak has gone 36-of-80 for 271 yards and two interceptions. Though, prior to exiting the game against Malone, Romanchak was 8-of-9 for 68 yards.
And that has his head coach optimistic.
"Andrew has improved with every game, and he's improved every practice," said Banaszak. "He throws the ball much better than he did week one, and he's starting to have some confidence in himself, which is absolutely necessary for quarterbacks to have."
The Colonials travel to play non-conference foe Liberty University on Oct. 1. Kick-off is set for 7 p.m. and is available to stream on ESPN3.