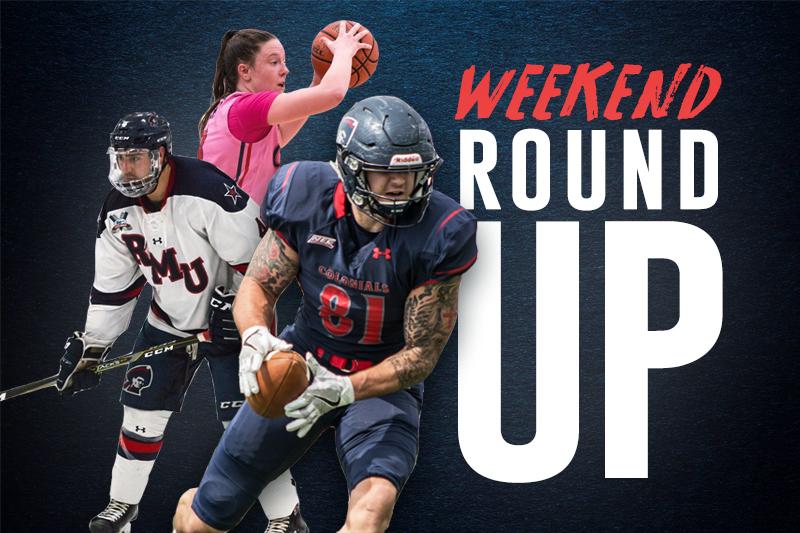 Tori Flick
In case you didn't follow what happened with RMU sports over the weekend, here is a quick round-up to bring you up to speed on what happened.
11/9/18:
Men's Basketball: RMU – 60; Missouri State – 74

Robert Morris men's basketball (0-2) couldn't come out on top against the Missouri State Bears (2-0) when they dropped the game 74-60 on Friday afternoon. RMU Colonial Charles Bain played for 15 minutes in the first half and scored 14 points. The first half ended 33-29 Missouri State. The second half ended up with Bain scoring the most points out of everyone in the entire game when he scored 25 points overall and played 31 minutes in total as well. Robert Morris continues the 2018 National College Basketball Hall of Fame Classic on Wednesday, Nov. 13 at 7:30 p.m. when they return home to face the Mount Aloysius College Mounties, who will be playing their season opener.
Men's Hockey: RMU – 2; Penn State – 7
Robert Morris men's hockey (3-5-1, 2-3-1 AHC) lost a lopsided game to the Penn State Nittany Lions on Friday by a score of 7-2. The only goals scored by Robert Morris were in the second period when Alex Tonge and Grant Hebert scored. Tonge scored with assistance from Nick Lalonde and Daniel Mantenuto. Hebert scored with assistance from Justin Addamo and Lalonde. Penn State got their goals from Evan Baratt in the first period. Aarne Talvitie, Nikita Pavlychev (on a power play) and Sam Sternschein scored in the second period. Alex Limoges, Alec Marsh, and Pavlychev scored in the third period to cause RMU to lose the game 7-2.
11/10/18:
Football: RMU – 39; Eastern Kentucky – 40
Robert Morris (2-8, 0-5 NEC) suffered their third consecutive loss on Saturday when they dropped a very close game to the Eastern Kentucky Colonels (6-4) by a 40-39 final score. The first quarter involved RMU taking a 10-6 lead when Jimmy Walker threw a 23-yard pass to Terence Stephens for a touchdown, and a field goal from Nick Bisceglia. The second quarter ended 23-16 in favor of Robert Morris when Stephens had a nine-yard run for the touchdown for the first touchdown of the quarter, putting RMU up 16-6 first, and then 23-16 when Delano Madison took a 24-yard pass for the touchdown.
The third quarter resulted in the Colonels tying the game at 23 apiece when LJ Scott scored a touchdown on a two-yard run. The fourth quarter resulted in Warren Robinson taking the ball for a 19-yard run and Bisceglia kicking a field goal, putting the score at 33 points even. Eastern Kentucky ultimately won the game when RMU's comeback effort came up short after Scott won the game on a two-yard run in overtime. Robert Morris finishes their season on Saturday, Nov. 17 against the Wagner College Seahawks (3-7, 2-3 NEC) at 12 p.m.