Women's Lacrosse Playoff Preview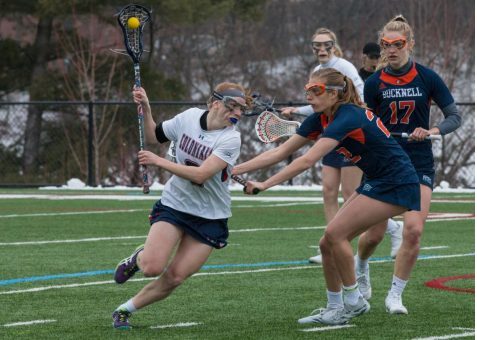 The Robert Morris Women's Lacrosse team seems more than ready heading into the NEC Tournament later this week. The Colonials are riding a three-game win streak heading into the tournament, and will undoubtedly look to keep that momentum going.
The journey to the NEC Tournament was not an easy one, as the Colonials seemed to have their backs against the wall earlier this season. At one point they even had a four-game losing streak. This skid sent their record to 2-5 at the time. However, RMU was able to rebound and finish at 9-8 overall, and their conference record ended up at 5-2 which tied them for third in the NEC. Here is what to look out for in the NEC Tournament, including teams to watch, and how RMU can win the conference.
Players to Watch:
Shannon Lynch (RMU)- RMU points leader Shannon Lynch will most certainly be a player to watch in the tournament. The Albany transfer netted 23 goals and also dished out 23 assists for a big 46 point season. She has had three hat tricks in the Colonials last five games as well. All in all, Lynch is a crucial member of the team and she could definitely be a difference maker in the NEC tournament.
Melanie Gandy (RMU)- Melanie Gandy is also a difference maker that the Colonials can count on as well. Gandy was second on the team in points with 38. Although she is only a sophomore, Gandy has proven to make big plays when the team needs her. Her 12 goals in the team's last five games were a big part of their success during that stretch. She looks to keep her great play going in order to propel RMU to a conference title.
Mia Tornetta (RMU)- Freshman goalkeeper Mia Tornetta is another player to look out for. Tornetta played in all 17 games as a Freshman which is no easy feat. Tornetta helped RMU finish in third for goals against in the regular season and in fourth for save percentage. Her defense also helped her in a big way by coming in second for forced turnovers. Tornetta and her defense will hope to continue their solid play as the Colonials look to make an impact later this week.
Keys For Winning the Conference Title
1. Get the Offense Rolling

It goes without being said, but the Colonials will need to score more goals if they want to win the NEC Tournament. They placed 5th in the conference for goals scored with just over 11 per game. In order to find success, they are going to have to find a way to put the ball in the back of the net. RMU is second in the conference with shots per game, but despite all these shots, the Colonials struggled to score. They are last in the conference in terms of shooting percentage. This is why shooting the ball more effectively is a must if they want to walk away from this tournament with any success.

2. Play Clean
The Colonials led the NEC in fouls per game. Their near 30 fouls per game will get them into a lot of trouble against NEC leaders like Bryant. RMU must play more carefully and limit the foul calls against them. If they can do this, they will have a much better chance of success come Thursday.
3. Win The Turnover Battle
As mentioned earlier, RMU does a great job forcing other teams to turn the ball over. They rank second in the NEC in forced turnovers. As for the Colonials themselves, they are second to last in terms of turnovers. Their 18 turnovers a game will have to be improved upon. Causing a lot of turnovers means almost nothing if you are giving the ball right back to the opponent. Ball protection must be emphasized in order for RMU to make a run in this tournament.

Team To Look Out For: Bryant
Bryant not only finished in first in the NEC at the conclusion of the regular season, but they lead the conference in almost every category. They lead in goals scored, points, shots, shot percentage, least turnovers and more. All of this contributed to the Bulldogs' 6-1 conference record. Bryant did lose their last game of the regular season by a final of 12-6 against Mount Saint Mary's. However, aside from that loss, they have dominated the conference and won their match-up against RMU convincingly with a final score of 15-9. Bryant is a dangerous team and if the Colonials play them, they will need to play a great game in order to knock them off.

The #3 Colonials will be taking on #2 Wagner (11-5, 6-1) in the first round of the NEC playoffs later today at 4pm. The winner of that game will take on the winner of #1 Bryant (11-5, 6-1) and #4 Mount St. Mary's (10-6, 5-2) which takes pace at 1pm.